With a surge of recent ads geared at young adults and some ski towns asking for a penalty waiver, Obamacare is getting lots of attention in Colorado. Whether Coloradans sign up for these new insurance plans or not, they and the rest of Colorado will want to know which hospitals offer more affordable rates.
NerdWallet Health built a Best Hospitals tool to help patients investigate the cost of hospital care in their local areas. Using this data we analyzed the 100 most common treatments at 45 hospitals in Colorado to find the top 10 most affordable hospitals. We asked the following questions:
1) Which Colorado hospitals offer the highest number of affordable treatments, and where are they located?
2) What are these treatments?
3) How satisfied are patients of these hospitals?
The Top 10 Most Affordable Hospitals in Colorado
1. Poudre Valley Hospital—Fort Collins, CO
The only hospital in Fort Collins, Poudre Valley has 270 beds and serves residents of northern Colorado, southern Wyoming, and western Nebraska. Poudre Valley is one of many hospitals in the University of Colorado Health system and has been designated a Magnet Hospital for excellence in nursing since 2000. It was also a Thomas Reuters Top 100 Hospital from 2003-2007. This year, the hospital was indicated to be High-Performing by U.S. News & World Report in 8 specialties, including pulmonology and nephrology. Poudre Valley has affordable treatments for appendicitis, kidney damage, and asthma, among others, as well as a high patient satisfaction rate of 82 percent.
2. Arkansas Valley Regional Medical Center—La Junta, CO
Arkansas Valley Regional Medical Center (or AVRMC) comprises a 90-bed main building and a separate Nursing Care Center. The Nursing Care Center building has a storied history; it was built as a sanitarium for tuberculosis patients and then converted to a hospital when tuberculosis treatments were discovered. AVRMC holds the core values of compassion, respect, quality, trust, and progress, but their patient satisfaction rate of 55 percent (the second lowest in all of Colorado) does not necessarily reflect these values. Nevertheless, many affordable treatments can be found here, including those for tuberculosis (not surprising considering the hospital's history), COPD, and internal bleeding.
3. Montrose Memorial Hospital—Montrose, CO
This 75-bed non-profit hospital serves southwestern Colorado. Accredited by the Joint Commission, Montrose Memorial has a patient satisfaction rate of 73%, just above the national average of 71%. Find affordable treatments for stroke, angioplasty, and pacemaker implantation here, and recover from your heart procedure with Mountain View Therapy, the rehabilitation department at Montrose Memorial. The therapy program offers cardiovascular-pulmonary rehab, among other types.
4. Memorial Hospital Central—Colorado Springs, CO
Another affiliate of University of Colorado Health, Memorial Hospital Central is the official hospital of the Colorado Springs U.S. Olympic Training Center. With a patient satisfaction rate of 72%, Memorial offers affordable treatments for shingles, hip and knee replacements, and staph infection. It was one of 225 hospitals in the nation to be awarded a Consumer Choice Award from the National Research Corporation for 2008-2009. In 2007, it was designated a Top 100 Cardiovascular Hospital by Thomas Reuters.
5. Medical Center of the Rockies—Loveland, CO
This Level II trauma center and 166-bed hospital specializes in heart and trauma care. With heart attack response times nearly twice as fast as the national standard, treatment for heart attack is both affordable and of good quality at this medical center. Patients being treated for dehydration or drug poisoning can also find affordable treatments here. This medical center receives High-Performing rankings from U.S. News & World Report in 5 specialties including orthopedics and geriatrics. Medical Center of the Rockies received Magnet designation in 2010, is one of the two "greenest" hospitals in the nation according to the U.S. Green Building Council, and boasts an 87 percent satisfaction rate—one of the highest in all of Colorado.
6. Delta County Memorial Hospital—Delta, CO
This year, Delta County Memorial celebrates 100 years of service to Delta County. It has come a long way from the 6-bed house opened by two sisters in 1913; the now 49-bed non-profit hospital features 24/7 emergency room services as well as cardiac and pulmonary diagnostic testing. Find affordable treatments here for fainting, spinal stenosis, and heart rhythm disorders such as atrial fibrillation—and a patient satisfaction rate of 70 percent.
7. McKee Medical Center—Loveland, CO
This 132-bed hospital employs 172 physicians who are supported by almost 900 employees and 500 volunteers. Having opened just before the Big Thompson Flood of 1976, the hospital proved to be an important establishment in Loveland. A 2013 Truven Health Analytics Top 100 Hospital and HealthGrades Distinguished Hospital, it is not surprising that McKee holds an 80 percent patient satisfaction rate. Patients with fluid in their lungs, diabetic ketoacidosis, or kidney damage can find affordable treatments here.
8. Penrose-St. Francis Health Services—Colorado Springs, CO
Founded in 1887 as the first hospital in Colorado Springs, Penrose-St. Francis Health Services is a non-profit, faith-based organization. The two campuses—Penrose Hospital and St. Francis Medical Center—are affiliated with 782 physicians, house 522 beds, and provide $120 million in charity care annually. Penrose-St. Francis has been one of HealthGrades' America's 50 Best Hospitals since 2008. With a satisfaction rate of 77 percent, patients looking for affordable treatments for blockage of leg veins, hernia, or heart muscle infection will likely have a positive experience here.
9. St. Mary's Hospital & Regional Medical Center—Grand Junction, CO
A hospital that began as a 10-bed wooden frame building in 1896, St. Mary's now has more than 350 beds and employs approximately 300 physicians and 2,000 staff members. Ranked as High-Performing in cancer, ear, nose, & throat (ENT), and nephrology by U.S. News & World Report, St. Mary's offers affordable treatments for repair of aortic aneurysm, spinal fusion, and knee fracture or dislocation. Seventy-six percent of St. Mary's patients say they would definitely recommend this hospital.
10. Community Hospital—Grand Junction, CO
Community Hospital is a 78-bed acute care hospital that is part of the Colorado West Healthcare System. The only hospital in the western United States to be both Joint Commission and American Osteopathic Association accredited, Community Hospital partners with the Mayo Clinic for off-site laboratory services. With a 76 percent satisfaction rate, affordable treatments for congestive heart failure and sepsis can be found here.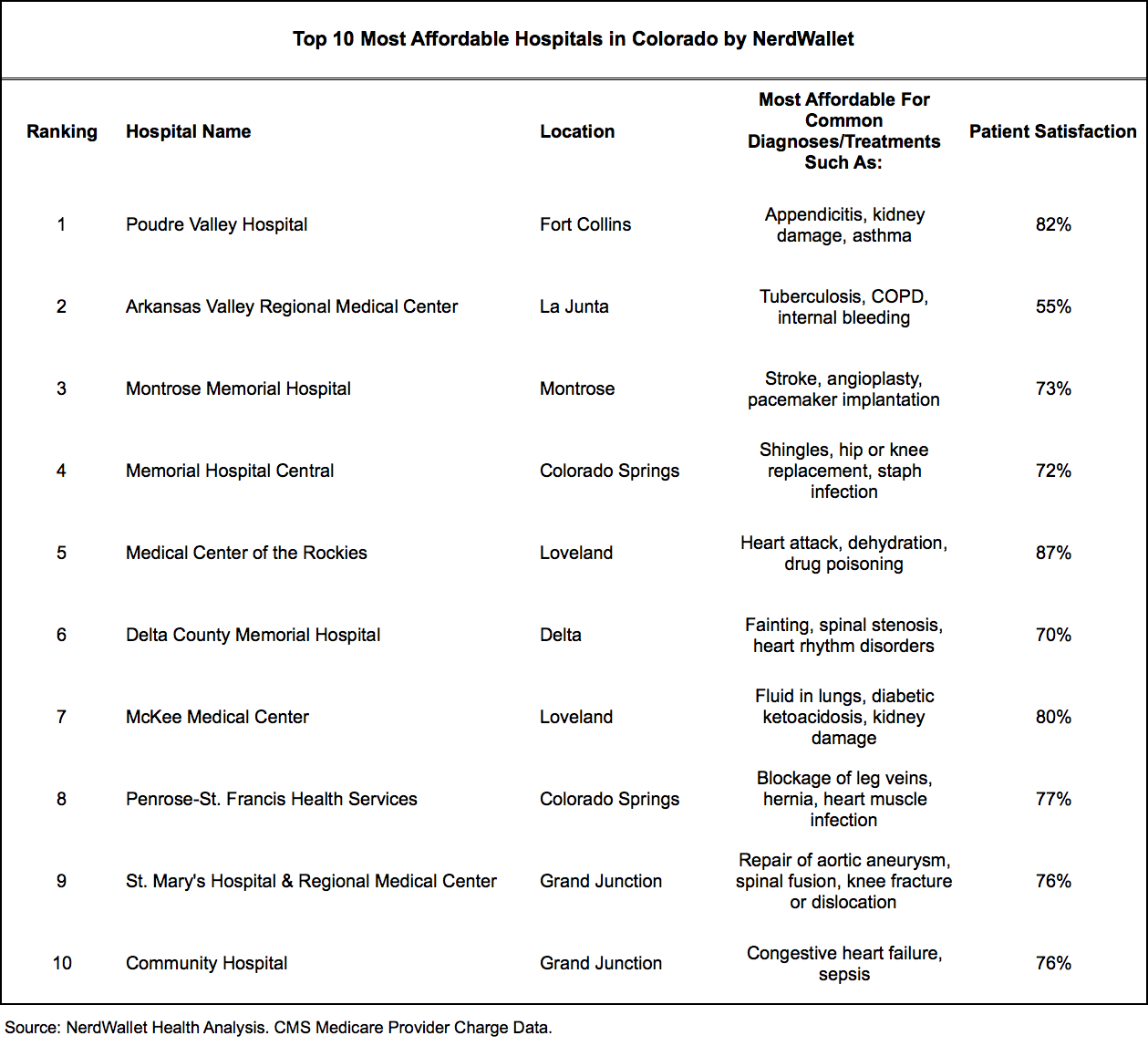 Learn more about health insurance options in Colorado.
Methodology:
Affordability: Using CMS Medicare Provider Charge Data, we calculated which of 45 hospitals in Colorado has the lowest price for each of the 100 most common medical procedures. We then summed the number of times that each hospital had the lowest price and ranked based on which hospitals had the highest number. The data are for services billed for Medicare patients.
Procedures/diagnoses: For the procedures that each hospital was least expensive, we presented the most commonly known.
Patient satisfaction: Patient satisfaction ratings were obtained from HCAHPS, a nationally administered survey on patient satisfaction. "Satisfied" was taken to be patients who reported, "I would definitely recommend this hospital" on this survey.
Hospital characteristics: Individual hospital websites and U.S. News & World Report Best Hospitals.
Colorado flag photo courtesy of Shutterstock