More than 100,000 currently insured New Yorkers will lose their health plans due to Obamacare's more stringent policies, and these individuals will need to purchase new plans or choose to pay the penalty for not having health insurance. With traditionally high health insurance prices, New Yorkers should weigh their options, including considering how much care costs without insurance. NerdWallet Health built a Best Hospitals tool to help patients investigate the cost of hospital care in their local areas. Using this data we analyzed the 100 most common treatments at the 50 largest hospitals in New York to find the most and least affordable hospitals. We asked the following questions:
1.Which New York hospitals offer the highest number of affordable treatments, and which offer the highest number of most expensive treatments?
2. What are these treatments?
3. How satisfied are patients of these hospitals?
The Most Affordable Hospitals in New York
Our Lady of Lourdes Memorial Hospital—Binghamton, NY
This Catholic hospital has served Binghamton since 1925, growing from a 25-bed hospital to one that includes a hospice program, an outpatient surgery center, and a regional cancer center. Lourdes recently completed "Mission 2012", a three-year, $70 million construction project that involved the expansion of existing facilities, construction of new buildings, and investment in new technology. The hospital is a New York State Designated Stroke Center and is one of HealthGrades' 2013 America's 100 Best Hospitals for orthopedic surgery and joint replacement. Find affordable treatments here for stroke, heart attack, and emphysema, among many others. With a higher-than-average patient satisfaction rate of 78 percent, Lourdes patients should expect a positive experience here as compared to many other hospitals in New York.
Rochester General Hospital—Rochester, NY
This 528-bed acute care, teaching hospital is the flagship establishment of the Rochester General Health System, which includes seven additional affiliate campuses. More than 7,000 employees support over 1,500 medical and dental staff members, and the hospital has referral relationships with Cleveland Clinic and Roswell Park Cancer Institute. Rochester General has the largest emergency department in its region and cared for more than 100,000 patients in 2012. U.S. News & World Report ranked Rochester General as High-Performing in 10 specialties and as the #17 hospital in New York. With a patient satisfaction rate of 76 percent, patients can come here for affordable treatments for asthma, drug poisoning, and blood clots in their lungs, among others.
Strong Memorial Hospital-University of Rochester Medical Center—Rochester, NY
Strong Memorial emphasizes its range of highly specialized services, including comprehensive neuromedicine, neonatal intensive care, and organ transplant (Strong has one of the top three largest liver transplant services in the nation). This teaching hospital was ranked #1 in the Rochester metro area by U.S. News & World Report and earned national rankings in seven specialties (diabetes, gastroenterology, gynecology, nephrology, neurology, pediatric orthopedics, and urology). Strong was among the first two percent of U.S. hospitals to be designated a Magnet Hospital for excellence in nursing. With the highest patient satisfaction rate in this study (79 percent), Strong offers affordable treatments for tuberculosis, pneumonia, and appendicitis.
Crouse Hospital—Syracuse, NY
This hospital celebrated its 125th year in 2012 and houses one of the oldest and largest outpatient surgery programs in the United States. Crouse is central New York's largest maternity care provider and also features programs for stroke care, diagnostic and interventional cardiac care, and chemical dependency treatment. In addition, the Crouse Hospital College of Nursing trains nearly 300 nursing students annually. Since 2006, Crouse has won various awards for cardiac and stroke care from the American Heart Association and American Stroke Association, respectively. Patients can find affordable treatments here for pacemaker implantation, spinal fusion, and staph infection, as well as a patient satisfaction rate of 70 percent.
Buffalo General Medical Center—Buffalo, NY
This 501-bed acute care medical center is a teaching affiliate of the University at Buffalo School of Medicine and Biomedical Sciences. Ranked nationally as #49 in pediatric neurology & neurosurgery by U.S. News & World Report, Buffalo General features specialty centers for cardiac care, stroke/neurology, orthopedics, minimally invasive surgery, and emergency services. Buffalo General offers affordable treatments for cardiac catheterization, internal bleeding, and surgery to the hip or thigh bone, but its patient satisfaction rate falls at just 64 percent—below the national average of 71 percent.
St. Elizabeth Medical Center—Utica, NY
St. Elizabeth Medical Center is a not-for-profit, 201-bed hospital that was founded in the mid-1800's. The medical center includes one hospital, five teaching institutions, and 14 community sites, and has recently become a part of the Mohawk Valley Heart Institute and the Central New York Diabetes Education Program. St. Elizabeth has received the National Research Corporation's Consumer Choice Award for nine consecutive years and was recently designated an AETNA Institute of Quality for orthopedic surgery. The medical center offers affordable treatments for spinal stenosis, kidney damage, and surgical infection, as well as a patient satisfaction rate of 71 percent—right in line with the national average.
Glens Falls Hospital—Glens Falls, NY
Glens Falls is the largest hospital between Albany, New York, and Montreal, Canada, and is responsible for operating 29 regional facilities in addition to the main acute care facility. Established by 12 physicians in 1897 as a regional healthcare facility, the hospital has since grown to include a physician network of 225 doctors certified in over 25 specialties. Affordable for vascular operation, dehydration, and anemia, Glens Falls received a patient satisfaction rate of 67 percent.
Coney Island Hospital—Brooklyn, NY
Originally a First Aid station in 1875, this hospital has grown to a 371-bed facility with interpreter services in over 130 languages. Coney Island Hospital has been recognized for clinical innovation in primary care, adolescent medicine, nuclear medicine, and emergency services, and the hospital discharges nearly 20,000 patients annually. While the hospital offers affordable treatments for respiratory failure, hip and knee replacement, and knee dislocation, a low patient satisfaction rate of 54 percent should be noted.
St. Joseph's Hospital Health Center—Syracuse, NY
St. Joseph's serves 16 counties and houses 431 hospital beds. This health center received the 2013/2014 Consumer Choice #1 Award from the National Research Corporation for highest overall quality and image in the Syracuse area—an award that St. Joseph's has won a total of 15 times. The health center has received multiple HealthGrades awards in recent years, including the Coronary Intervention Excellence Award and Joint Replacement Excellence Award. Find a patient satisfaction rate of 78 percent at St. Joseph's, as well as affordable treatments for dizziness and angioplasty.
Faxton St. Luke's Healthcare—Utica, NY
This healthcare system serves Oneida, Herkimer, and Madison counties at three separate campuses—the Faxton Campus, the St. Luke's Campus, and the Center for Rehabilitation and Continuing Care. With 2,900 employees, Faxton St. Luke's is the area's designated stroke center and the number one bariatric surgery center in New York according to HealthGrades. Find affordable treatments for Parkinson's and hip fracture repair here, but beware that the hospital has a lower than average patient satisfaction rate of 61 percent.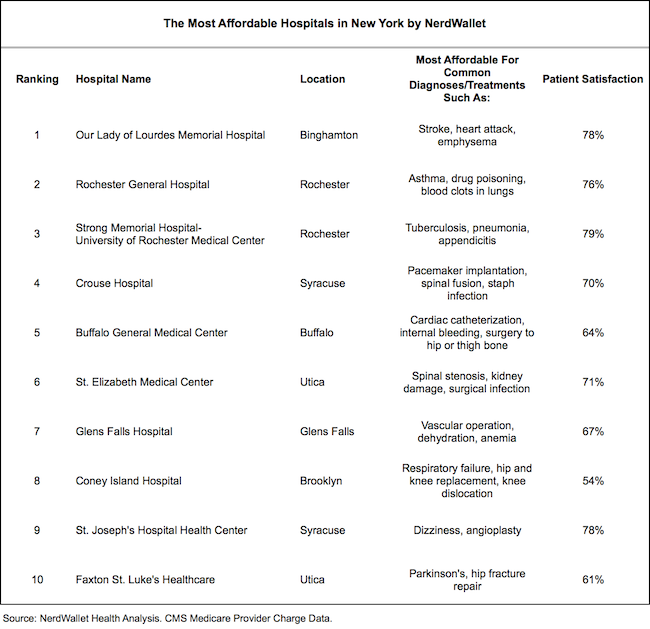 The Least Affordable Hospitals in New York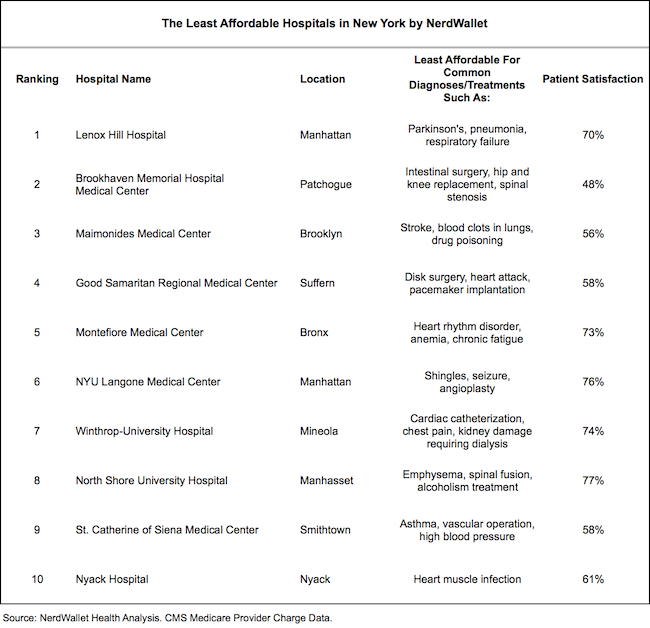 Methodology:
Affordability: Using CMS Medicare Provider Charge Data, we first determined the 50 largest hospitals in New York (of 161 total) by calculating the total number of Medicare patient discharges per year. We then calculated which of these 50 has the lowest price for each of the 100 most common medical procedures, and then summed the number of times that each hospital had the lowest price. For least affordable hospitals, we did the same, but calculated which hospital had the highest price for each procedure. The data are for services billed for Medicare patients.
Procedures/diagnoses: For the procedures that each hospital was least or most expensive, we presented the most commonly known.
Patient satisfaction: Patient satisfaction rates were obtained from HCAHPS, a nationally administered survey on patient satisfaction. "Satisfied" was taken to be patients who reported, "I would definitely recommend this hospital" on this survey.
Hospital characteristics: Individual hospital websites and U.S. News & World Report Best Hospitals.
New York state flag photo courtesy of Shutterstock.