Families around the country are struggling to pay the price of healthcare in America. Meanwhile, hospitals are increasingly asked to justify their prices and savvy patients are learning to negotiate their bills. A new NerdWallet Health study finds Medicare obtains a discount of 73% on the average hospital bill. This finding sheds light on the magnitude of price inflation and the opportunity to pay far less than charged. To illustrate the gap in hospital billing rates and Medicare's negotiated payment rates, NerdWallet Health has compiled a price list of the top five most common hospitalizations in America.
NerdWallet Health's hospital bill analysis includes over 160,000 lines of hospital inpatient pricing data released last month by the Center for Medicare & Medicaid Services. The company's newly released Hospital Price Comparison Tool make this data accessible to patients and their families with a user-friendly tool to research the hospitals, billing rates, and Medicare payment rates in their region.
Summary Findings:
For every $1 Medicare is billed by American hospitals, Medicare pays only $0.27 – that's a 73% discount. Medicare and other insurers typically negotiate with hospitals to achieve better rates. However, an uninsured patient receiving a bill direct from their hospital might expect that bill to be four times higher than what Medicare would pay for the same treatment.
One hospital may charge 30-40 times more than another hospital for the same hospitalization. Treatment of Sepsis, a common life-threatening bacterial infection, is 31 times more expensive to treat in one southern California hospital than in another hospital in Oklahoma.
Hospital bills vary dramatically between states. Driving a few hours can save patients tens of thousands of dollars. For the most common hospitalization, Major Joint Replacement (commonly knee or hip replacement), California hospitals charge an average of $88,239. However, hospitals in next door Oregon charge an average of $41,007.
Medicare pays some hospitals more than they bill. In a small number of cases, hospitals' average billing rate may be lower than the amount Medicare has agreed to reimburse that hospital.
Hospital Pricing and Medicare Discounts for Top 5 US Hospitalizations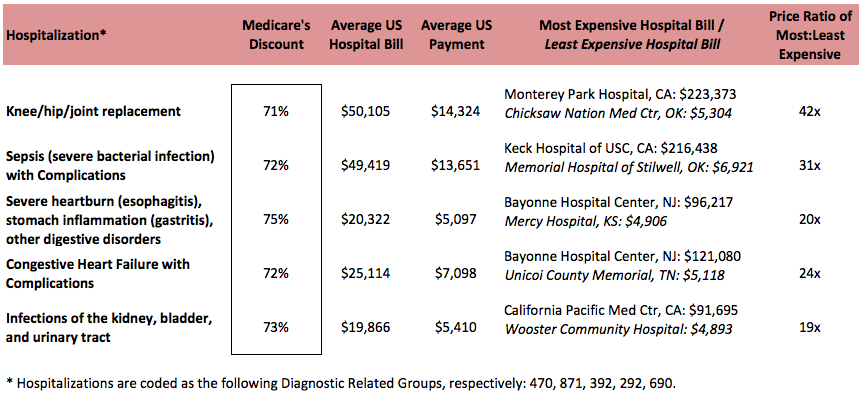 About NerdWallet Health: NerdWallet Health provides transparency to patients, empowering them to choose better and more affordable health care. Please consult a medical professional for medical advice.