Shopping for health insurance can be tough. The money aspect alone can be baffling—how are you supposed to pick a plan when you don't know what premium, deductible, or out-of-pocket maximum means? To add to the problem, you want a plan that's easy to use. Why pay hundreds of dollars a month for something that you can't reap the benefits of?
NerdWallet Health wants to help. We've devised an Easy Index that takes into account some of the basic questions that you might be asking when shopping for an insurance plan. We score plans based on a 5-point system that corresponds to the following questions.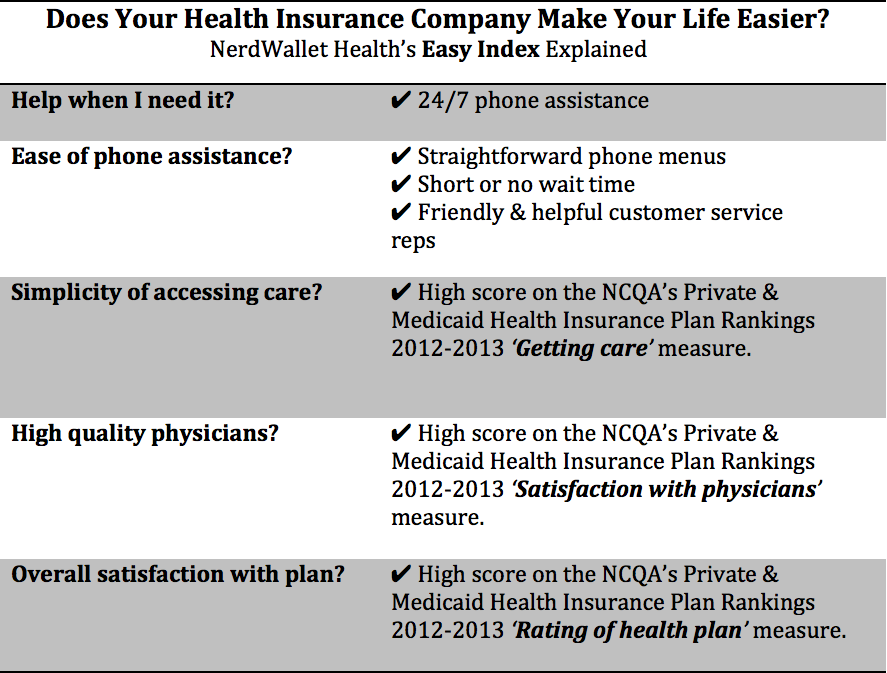 We scored the first two measures based on actual experience with calling each company. The last three measures are based on the National Committee for Quality Assurance's (NCQA's) Private and Medicaid Health Insurance Plan Rankings 2012-2013, which are based on survey data from the Consumer Assessment of Healthcare Providers and Systems (CAHPS).
NCQA is a private, non-profit organization dedicated to improving health care quality. NCQA accredits and certifies a wide range of health care organizations. It also recognizes clinicians and practices in key areas of performance. NCQA's Healthcare Effectiveness Data and Information Set (HEDIS®) is the most widely used performance measurement tool in health care.
The Easy Index is live on our Obamacare Plan Finder web app, which now covers the states of NY and CA. Simply enter your zipcode to see prices alongside our Easy Index ratings for each insurance company offering a plan. We will roll out the Index for additional states over the coming weeks.
See how Covered California plans rank on our Easy Index.