Advertiser Disclosure
Progressive v. Uninsured Drivers: Bodily Injury & Internet Rage
You can trust that we maintain strict
editorial integrity
in our writing and assessments; however, we receive compensation when you click on links to products from our partners and get approved. Here's
how we make money
.
Recently, a terrible story about Progressive went viral. Blogger Matt Fisher wrote about how the insurance giant used its in-house legal team to defend the driver who hit and killed Fisher's sister, in order to avoid paying his family the policy payout they were seeking.
As the story drew outrage from all corners of the Internet, Progressive made one gaff after another, such as setting its corporate Twitter account to robo-reply a stock apology. "This is a tragic case, and our sympathies go out to Mr. Fisher and his family for the pain they've had to endure," said the Progressive account, next to the cheery face of its mascot "Flo." Apparently feeling that mindlessly reiterating its condolences was not enough, Progressive caved to the pressure of the outrage and quickly settled with the Fisher family for "tens of thousands of dollars," according to Fisher family lawyers, as well as paying out for the original claim, according to news reports.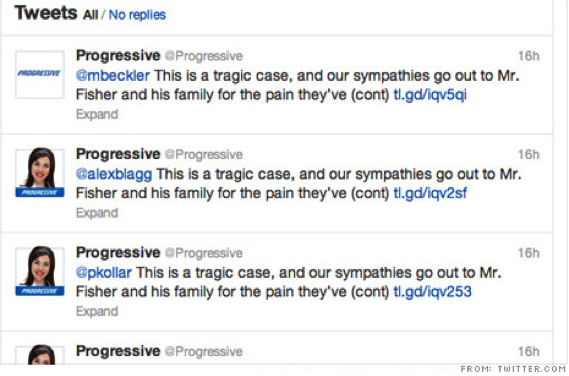 Flo feels bad.
I asked Progressive to speak to the Fisher case, and they gave me another, more refined statement: "Our core values and business ethics will always be paramount in all that we do and we are always looking to do the right thing and settle claims fairly and accurately," Progressive spokesman Jeff Sibel told me. "As the Fisher case pointed out, there is often much more complexity than one observation or perspective. We are constantly reviewing our processes to identify areas where we can learn and improve."
So what is the complexity in this case? What really happened? Why would an insurance company decide it was worth their money to fight this claim in court?
Uninsured Motorist Coverage:
As Matt noted in his blog post, the driver who hit Katie was underinsured. Katie's Progressive policy had a feature that meant Progressive was supposed to pay out the difference between her policy and the underinsured driver's policy value. That feature is called Uninsured Motorist (UM) coverage. Progressive notes: "UM coverage pays our policyholder in the event of an accident caused by a driver who does not have liability insurance, or does not have enough liability insurance to pay damages. Coverage requirements vary by state." There's UMBI—underinsured motorist bodily injury—and UMPD—underinsured motorist property damage.
Most major insurers break out the cost you pay for UMBI coverage transparently. Here's the reference points Progressive gives its policyholders: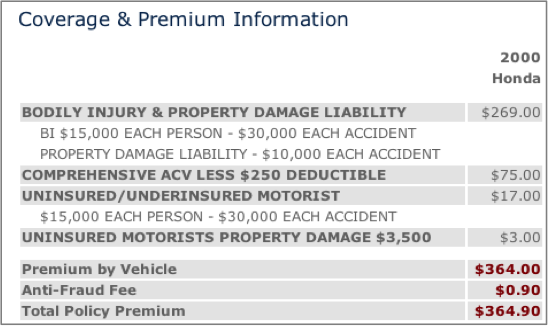 For example, if you happen to own a 2000 Honda in California.
To make the calculation on Progressive's side about whether it was worth it for them to fight the claim in court or not, I'm guessing they had to decide whether the cost of the payout was potentially more than their court costs.
I spoke to Mike Bottaro, a personal injury attorney who handles uninsured motorist claims at the Bottaro Law Firm in Rhode Island. He said that while it's difficult to comment on the Fisher-Progressive case without having read the case file, UM cases often see the insurer "stepping into the shoes of the at-fault party," and that the ordinary laws of negligence remain in effect—meaning a policyholder seeking a UM payment has to establish the wrongdoing of the uninsured driver.  "The plaintiff still has the burden to prove her case," Bottaro explained.  "So if there is a dispute over whether the light was green, or if there are other facts where a jury could find the plaintiff partially or wholly at fault, then Progressive is entitled to raise those issues."
"Insurance companies are for-profit entities who answer to their stockholders like any other large corporation," Bottaro added.  "Unfortunately, the 'profit motive' often is at odds with a UM insurer's duty to treat their insured fairly."
But just because a desire for profit might have them at odds with the Fisher family, that doesn't let Progressive off the hook. When an auto insurance policyholder shells out for their premium, they are paying a distinct sum of money each time—$17, for the Honda driver policy cited above—to the insurance company in exchange for the insurer agreeing to cover these exact kinds of losses. Mike Bottaro agreed: "The law requires insurers to treat the injured person—their insured—with honesty and fair dealing when the injured person is making a claim against an insurance company who expressly accepted money (the insurance premium) in exchange for covering such a loss," he said.
After reading that, you might think you'd rather not pay for UM coverage—why give your insurance company a pile of money specifically for that, when they're going to find that the "'profit motive'" is at odds with paying you your claim? But you have to: most states require you to carry UM insurance to register a vehicle.
And if you do get hit by an uninsured motorist, how can you tell if your insurer will pay without a fight? Judah Fuld, another attorney experienced in UM cases, told me there's really no way to guess. "It is nearly impossible to estimate what type of resources an insurance company will devote to fighting a claim, and when an insurance company would typically settle a claim," Fuld said. "Each insurance company has their own unique set of internal guidelines, which makes it impossible to establish any one general rule as to how those companies deal with claims by their insured. A final complicating factor is that no two-car accidents are similar and each case, with its own unique set of facts and circumstances, will trigger its own claim response."
Matt Fisher's original blog post called upon sympathetic or outraged readers to drop their Progressive insurance. But it's pretty clear that even if Geico or Nationwide does see a spike in new customers fleeing Progressive, that won't solve the problem. In fact, this type of case and claim are predicted to grow much more common. A 2009 study from the Insurance Research Council found that the number of uninsured drivers on the road is rising and set to continue. The IRC said they found a strong correlation between economic downturns and the number of drivers making the illegal choice to go without insurance, and lingering unemployment and other negative economic factors are breeding more drivers without auto insurance.
So the number of drivers on the road without insurance is rising all time—and that spells bad news for law-abiding drivers, who are going to have to fight their insurers tooth and nail to get what they're owed if they end up hurt in an accident by an uninsured motorist. Switching from Progressive isn't going to solve this, it's a systemic issue. Perhaps it's time for lawmakers to take a long look at the Fisher case and think about what they could do to make sure more families don't have to go through this ordeal. Should the penalties for not carrying adequate insurance increase? Should auto insurers be forced to relax their payout standards? Measures like these seem like the way to make a difference, not just boycotting Progressive.