Money is the root of many a murder in the long-running reality TV series "Snapped," according to a NerdWallet analysis. A desire for financial gain, including life insurance claims, motivated nearly a third of female killers profiled on the Oxygen TV channel show, NerdWallet found in a study of the first 247 episodes. Relationship issues were another big reason.
Female killers are relatively rare, accounting for about 10.5% of U.S. homicides from 1980 to 2008, according to the Justice Department's Bureau of Justice Statistics. And the crimes selected for the show aren't necessarily a representative sample of killings by women.
But our analysis did shed light on the many reasons why women kill, and how that matches up in some ways with data and research about the differences between female and male killers.
Conclusions
NerdWallet analyzed murders (and attempted murders) profiled over the first 15 seasons of "Snapped." We found:
32% of cases were motivated by relationship issues, such as infidelity and jealousy
30% were motivated by money, including insurance payouts
19% were tied to self-defense or domestic abuse
7% related to revenge or anger
3% were tied to insanity
3% were to gain custody of children, to protect children or mercy killing of children
6% didn't fit neatly into a category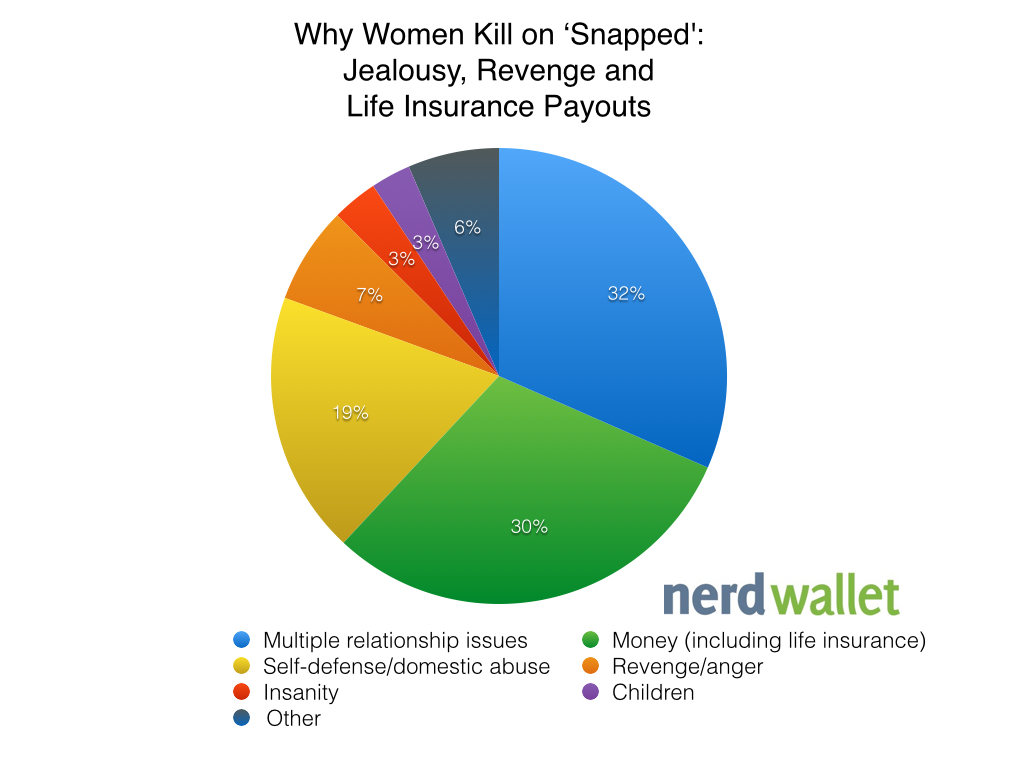 In some cases, it was difficult to discern the main motive for a crime. Many murders stem from causes that are complex and multifacted, and our analysis was subjective and not scientific. Here are some examples of killings featured on "Snapped" and the motives:
Killed for money
Lynn Turner was convicted of using antifreeze to kill two different men for insurance payouts: husband Glenn Turner, in 1995, and boyfriend Randy Thompson, in 2001, according to the Atlanta Journal-Constitution. The paper reported that she collected over $140,000 in insurance benefits after Glenn Turner's death, plus $700 a month from his police pension. She collected a $36,000 insurance payout on Thompson and had hoped to benefit from another $200,000 policy, but it had lapsed.
Pamela Phillips was convicted in 2014 of hiring a former boyfriend to kill ex-husband Gary Triano in 1996, so she could collect on a $2 million life insurance policy, for which she had continued to pay premiums after they separated, according to an Associated Press report on the crime, which occurred in the Tucson, Arizona, area. What's notable here is the method of killing: a car bomb.
Attempted to kill in self-defense
Gail Bennett shot her ex-husband, Tony, in 1990, after he beat her and threatened her with a rifle, according to an account in the Dallas Observer. Tony recovered, and a grand jury deemed the shooting self-defense. In a strange twist, Bennett said Archer County, Texas, Sheriff Presley Lamar Pippin Jr. raped her after the shooting, the Dallas Observer reported. A grand jury declined to indict Pippin, who was later re-elected. In 1992, Bennett won $2 million in a civil case against Pippin and Archer County.
Killed over custody issues
Lee Ann Reidel was convicted in 2004 in the murder of a man killed by a hit man that she had hired to kill her estranged husband, Paul, over a custody dispute, according to Court TV. The report says Reidel fell in love with the hit man, Ralph Salierno, and had a baby with him. Salierno, who was also convicted, mistakenly shot and killed Alex Algeri, Paul Reidel's business partner, outside a Long Island, New York, fitness center.
Killed over relationship issues
Jodi Arias was convicted in 2013 of killing her boyfriend Travis Alexander. During a sensational four-month trial, Arias testified that she shot Alexander in the forehead, stabbed him nearly 30 times and slit his throat from ear to ear in self-defense after he attacked her, according to an Associated Press report. Prosecutors countered that she was enraged because Alexander wanted to end their affair and planned to travel to Mexico with another woman, the report said.
Killed over infidelity
Diane Zamora and boyfriend David Graham were convicted in 1998 of murdering Adrianne Jones when all three were in high school. Zamora wanted Jones dead after Graham said he had sex with her, which wasn't true, according to an account in the Fort Worth Star-Telegram. On Dec. 4, 1995, Graham drove Jones to a secluded place, where he tried unsuccessfully to break her neck, the Star-Telegram reported. Zamora, who had been hiding in the trunk, used a barbell to hit Jones in the head, then Graham shot her twice, the report said. After graduating, Zamora went to the U.S. Naval Academy, while Graham attended the U.S. Air Force Academy. Investigators only started looking into the couple after two Naval Academy roommates reported comments Zamora made to them about a killing.
Killed because of jealousy
Carolyn Warmus was convicted in 1992 of killing her lover's wife. In a case that spurred comparisons to the movie "Fatal Attraction," prosecutors said that Warmus fired nine shots at Betty Jeanne Solomon with a silenced Beretta pistol, then met Paul Solomon for drinks and sex, according to a report in The New York Times. Warmus was convicted in a second trial after the first jury deadlocked.
Killed in revenge
Kimberly Cunningham admitted shooting Coy Callaway Hundley eight times in 2003. She said she confronted Hundley after her 14-year-old daughter said he raped her, the Knoxville News Sentinel reported. A jury acquitted her of murder in 2005, but deadlocked on a reduced charge. She was convicted of voluntary manslaughter in a second trial and sentenced to four years in prison, but the Tennessee Court of Criminal Appeals later cut that to six months, the News Sentinel reported.
Analysis of crimes on 'Snapped'
'Snapped' numbers in context
In the vast majority of cases featured on "Snapped," the killer had a relationship with the victim. That matches federal crime data from 1980 to 2008 that found women are responsible for 29.7% of homicides of intimate partners and are to blame for 25.6% of deaths of other family members.
On the other hand, women committed just 6.3% of homicides related to sex, 4.5% of killings linked to drugs and 1.7% of slayings involving gangs.
A 1992 Emory University study found that women killed their spouse, an intimate acquaintance or a family member in 60% of cases. Men, in contrast, killed non-intimate acquaintances, strangers or victims of an undetermined relationship 80% of the time.
Studying women who kill
In media reports on female killers, experts point to some notable gender differences.
David Wilson, a professor of criminology at England's Birmingham City University, told the BBC in 2014 that women generally kill family members, while men often kill strangers in random confrontations.
Women also use different means than men, Wilson said. "They tend to smother, strangle and poison, and only occasionally they will stab," he said.
In the same report, Kerry Daynes, a consultant forensic psychologist, said women are more "practical and clean," using just enough violence to do the deed.
It's also a matter of practicality, forensic psychiatrist Sigrun Rossmanith told Spiegel Online in 2013. "Naturally, they must compensate for a lack of physical strength. Often they render their victims defenseless in order to actually carry out the act," he said.
James Alan Fox, a criminologist at Northeastern University, told ABC News in 2009 that women are more likely to kill in self-defense or as a result of mental illness.
Women's motivations for killing may be changing with progress in gender equality, Northern Arizona University sociology professor Kathleen Ferraro wrote in The Daily Beast in 2010, after Professor Amy Bishop killed three faculty colleagues at the University of Alabama in Huntsville.
Men who kill have often been motivated by job loss or professional failure, which ties into the traditional male role as breadwinner, Ferraro wrote. "Today's women, however, may achieve great success in almost any profession and experience the same feelings of shame, humiliation or anger at the loss of their reputations."
A reality check
When it comes to issues like murder, it's interesting to talk about women perpetrators largely because they're the exception. But it's also important to keep it in perspective.
Men were responsible for 89.5% of homicides, including over 70% of killings of intimate partners and 74% of deaths of other family members from 1980 to 2008, according to the Bureau of Justice Statistics. Nearly 64% of intimate partners killed were women.
That said, the gender gap in homicide rates fell by nearly half from 1991, when men's rates peaked, to 2008. It's not that women are killing more. It's just that the rate for men has fallen further and faster than the rate for women.
Aubrey Cohen is a staff writer at NerdWallet, a personal finance website. Email: [email protected]. Twitter: @aubreycohen.
---
Crime scene image via iStock.