Advertiser Disclosure
E-Trade Review – 2014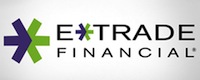 NerdWallet examines the E-Trade online brokerage account and its ongoing promotions, rewards and bonuses offered to help consumers find the lowest prices and best online brokers to sign up for.E-Trade

NerdWallet's Rating: 5 / 5


Pricing

Min. Initial Deposit
$500.00
Stock Trading
$9.99 per trade$7.99 per trade, if you make over
600 trades per year
Options Trading
$9.99 per trade +
$0.75 per contract$7.99 per trade +
$0.75 per contract, if you make over
50 trades per year
Promotions
Up to $600 Plus 60 Days of Free Trades, When You Fund a New Account with $10,000
Receive Cash Bonus: Account must remain open with minimum funding required for participating in the offer for at least 6 months.
Receive Free Trades: Maximum of 500 commission-free trades that can be used within 60 days of opening account
Account offers 60 days of free trades
Account offers $200 bonus if over $25,000 in assets, $300 bonus if over $100,000 in assets, $600 bonus if over $250,000 in assets, and $1,200 bonus if over $500,000 in assets
Editor's Notes
Among the first brokerages to go online, E-Trade began as a higher-priced firm, aimed at investors who were willing to pay a premium for its outstanding investing tools and research resources. Since then, the company has lowered its prices to compete more closely with discount brokerages, while still offering an impressive selection of educational features.
E-Trade sources its third-party research from well-regarded providers like Morningstar and even its standard trading platform is comprehensive. All customers have access to streaming stock quotes and screeners to determine the best financial products for their needs, among other tools, and the platform gets high marks for its user-friendliness. Investors executing more than thirty trades per quarter receive free access to E-Trade Pro, the brokerage's popular desktop client. New customers should be aware, though, that unlike many other companies, virtual trading is not in E-Trade's extensive roster. Those opening new accounts must wait for fund transfers to go through before they can begin trading.
At $9.99, E-Trade's standard commission is manageable, but certainly not as low as many competitors. In exchange, however, E-Trade boasts a selection of products that many of its lower-priced brokerages can't match, including banking services – making fund transfers hassle-free – almost 100 commission-free ETFs and over a thousand no-fee mutual funds. ETRADE also offers a graduated fee structure, benefitting more frequent traders. Investors making between 150 and 1500 trades per quarter qualify for a $7.99 commission rate, and investors with more than 1500 trades report being able to negotiate a further discount, although not necessarily by much.
In addition, many – though not all – of E-Trade's other fees are competitive with discount brokerages, including their margin rates and options fees. There are no surcharges for penny stocks. On the other hand, E-Trade charges an extra $ .005 per share for after-hours trades and an extra $25 for broker-assisted trades.
For very frequent traders, or for buy-and-hold investors, E-Trade's commissions or fees can begin to add up. But for a semi-active investor who can take advantage of E-Trade's resources, the company is a great and dependable online brokerage.
Pros & Cons
Pros
"Terrific research hub." -Barron's
Offers commission-free ETFs
Commission per trade is below $10
Account minimum is below average
Cons
Broker-assisted market orders are an additional $25 per trade
Account Features
Research Tools
Research Reports
(Free)

Realtime Data
(Free)

Analysis Software
($99.95 per month)

Premium Features
Automated Phone Trades
Mobile Access
24/7 Customer Service
Check Writing
Debit Card
Physical Branches
Asset Classes
Stocks
Mutual Funds
Bonds
Futures
Options
Forex
ETFs
Additional Fees
Other Account Fees
| | |
| --- | --- |
| Excercise Fee | $19.99 |
| Paper Statements (per month) | $2.00 |
| Outgoing Wire Fee | $25.00 |
| Annual Account or Inactivity Fee | $0 |
This brokerage is a certified member of FINRA and SIPC.