Advertiser Disclosure
Prosper Personal Loans: 2018 Review

NerdWallet rating: 4.0 / 5.0
Good for: Good credit, debt consolidation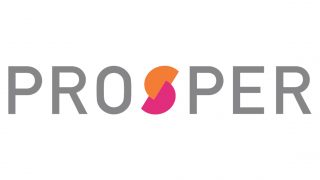 Prosper is one of the pioneers of peer-to-peer, or marketplace, lending. It connects good-credit borrowers with investors who can choose to fund their loans.

Prosper is a good fit for those who:
Have good to excellent credit scores. Prosper's minimum score is 640, but its customers average 710.
Have substantial annual income. There's no minimum requirement, but the average for Prosper borrowers is about $89,000.
Want a loan from an online lender that's been around for a while. San Francisco-based Prosper was founded in 2006.
Prosper at a glance
| | |
| --- | --- |
| Typical APR | 5.99% – 35.99% |
| Loan amounts | $2,000 – $35,000 |
| Time to funding | One to three business days after approval |
| Origination fee | 1% – 5% |
| Soft credit check with application? | Yes |
Click "Check Rates" to apply on Prosper.
» MORE: Best loans for good credit
Prosper personal loan review
To review Prosper, NerdWallet collected more than 30 data points from the lender, interviewed company executives, completed the online loan application process with sample data and compared the lender with others that seek the same customer or offer a similar personal loan product. Loan terms and fees may vary by state.
Prosper doesn't fund loans with its own money like some online lenders do. The company underwrites applicants and charges a fee to match investors with approved borrowers. LendingClub, another big marketplace lender, uses the same model. Other online lenders, such as SoFi, typically use their own capital to fund loans.
Prosper assigns all borrowers a grade by analyzing internal data about its past borrowers' behavior and combining it with traditional credit data such as credit scores and debt-to-income ratios. Your grade, which you can see, determines the interest rate you receive and your origination fee. Investors use it to decide whether to invest in your loan.
How Prosper loans compare
Compare Prosper
Prosper loans aren't as flexible as those from some other online lenders; you can't adjust your payment schedule, and you'll be charged a late fee if you fail to make a payment. LendingClub has slightly more flexible loan terms and a lower minimum loan amount. It lets borrowers file joint loan applications and offers a payment modification plan when borrowers have trouble making payments. SoFi, which offers similar starting rates, offers its "members" social perks like networking and educational opportunities.
How to apply for a Prosper loan
You can apply directly on Prosper's website.
NerdWallet recommends comparing loans to find the best rate for you. Click the button below to see estimated rates from multiple lenders on NerdWallet.
More about Prosper
Prosper loan requirements
Minimum credit score: 640

Minimum gross income: None, but generally high

Minimum credit history: Two years. Borrowers average 11 years

Limitations: Aimed at good-credit borrowers

Maximum debt-to-income ratio: 50% (excluding mortgage)
Prosper lending terms
Annual percentage rate

 range: 5.99% to 35.99%

Minimum loan amount: $2,000

Maximum loan amount: $35,000

Loan duration: Three or five years

Time to receive funds: Typically one to three business days after approval
Prosper fees and penalties
Origination fee: 1% to 5% of the loan amount, depending on the borrower's Prosper grade

Prepayment fee: None

Late fees: The greater of $15 or 5% of the payment amount

Unsuccessful payment fee: $15

Personal-check processing fees: None
Before you shop for a personal loan
Updated Jan. 2, 2018.
---
Personal Loans Ratings Methodology
NerdWallet's ratings for personal loans awards points to lenders that offer consumer-friendly features, including: soft credit checks, no origination fees, payment options, short time to funding, interest rate caps of 36%, and absence of prepayment penalties. Features are considered for their positive impact on consumers' credit history and financial health. We only review lenders that cap interest rates at 36%, the maximum rate financial experts and consumer advocates agree is the acceptable limit for a loan to be affordable. NerdWallet does not receive compensation of any sort for our reviews. Read our editorial guidelines.

 — Among the very best for consumer-friendly features

 — Excellent; offers most consumer-friendly features

 — Very good; offers many consumer-friendly features

 — Good; may not offer something important to you

 — Fair; missing important consumer-friendly features

 — Poor; proceed with great caution