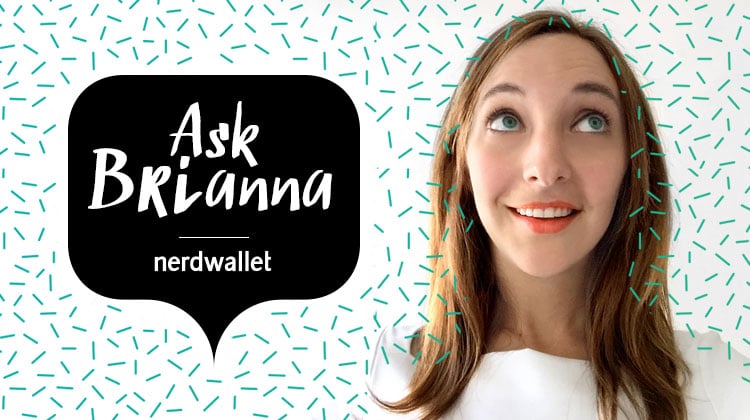 Welcome to "Ask Brianna," a Q&A column that helps 20-somethings prepare for the job search, handle money and manage student loans. Every other week, a new "Ask Brianna" will address these topics with tips I've picked up while writing about this stuff.
Have a question? Send it to [email protected], and I'll send back my best answer. Your question may appear in a future column.
Student loan grace periods can feel like a prolonged spring break, a chance to forget about the money you borrowed and pretend loan-free life will last forever. But six months after graduation, those loans are still there, and it's your job to take control of them as soon as you can. A lot of May 2015 graduates whose first bill just showed up are probably thinking:
I got a letter saying my grace period is ending and my first student loan bill is due. What should I do now?
Answer:
First, if there's one lesson you take away from this column, let it be this: It's possible to keep your loans from taking over your life. You're in the unique position right now to start your repayment journey strong. That means picking a plan that's affordable, figuring out how to budget and making a payoff goal so you're not in debt forever. For that reason, the end of your grace period is an exciting time. I swear.
In undergrad I blindly stumbled through the financial aid process and felt totally unprepared when I had to start paying back my loans. So when I took out a federal loan for my last semester of grad school, I decided to pay attention this time.
That loan went into repayment a few months ago. While it isn't any fun to have more money debited from my bank account every month, at least I knew to pay off the interest before it capitalized and to sign up for automatic payments right away. But I'm getting ahead of myself. Here's a look at how federal loan grace periods compare and a five-step plan you can put in place as soon as yours ends.
| Federal loan type | Grace period availability | Length of time |
| --- | --- | --- |
| Subsidized and unsubsidized direct loans | Yes | 6 months |
| Subsidized and unsubsidized Stafford loans | Yes | 6 months |
| Perkins loans | Yes | 9 months |
| Direct PLUS loans disbursed to graduate and professional students | No. But you will receive an automatic deferment on PLUS loans, which will let you postpone payments. | 6 months |
| Direct PLUS loans disbursed to parents | No. But you can apply for a deferment on PLUS loans, which will let you postpone payments. | 6 months, if you apply |
1. Read your mail.
Starting a few months before you graduate, stay extra vigilant and open mail you might not otherwise read. Federal loans aren't managed directly by the government, so a student loan servicing company will send you letters or emails letting you know when your first payment is due. If you've never heard of the company, and the message looks like junk mail, it's tempting to trash it. But if you do, you'll miss your payment.
On the flip side, don't give out your personal information to any company unless you're sure it's affiliated with the U.S. Department of Education. Figure out who services your loans on the National Student Loan Data System, and educate yourself about potential student loan scams and how to avoid them.
2. Pay off interest that's already accumulated.
Not-so-fun truth No. 1,000 about student loans: Most accrue interest before you start repaying them, both while you're in school and during your grace period. Perkins loans, subsidized direct loans and subsidized Stafford loans are the only types that won't charge you interest until you're in repayment.
Pay off your interest before it capitalizes, or gets added to your total balance. Your loan servicer will send you a notice with the amount of interest that has accrued and instructions on how to pay it off. You're not required to do so, but it's a simple way to reduce the amount you owe early on. Log in to your servicer's online portal and make that payment before your first monthly bill is due.
3. Make sure you're on the right repayment plan.
I didn't pay much attention to my loan exit counseling session when I graduated. So if you're like me, by default your federal loans ended up on the government's standard repayment plan, which splits up your balance into 120 monthly payments. That sounds like a long time, but the standard plan is one of the fastest ways to pay off your loans — and it could be unaffordable if you're still looking for a job or don't earn enough to pay your bills.
Enter the government's income-driven repayment plans, which tie your payments to your earnings. If you have a lot of student debt relative to your income, you'll most likely qualify for income-based repayment or Pay As You Earn. Both cap your payments at 10% of your discretionary income every month as long as you're eligible. Call your servicer to ask which plan makes sense for you.
Read more: Pick the Best Student Loan Repayment Plan in 3 Simple Steps
Unfortunately, private loans don't come with the same options. There are fewer ways to lower your private loan payments if you can't afford them. But it's always better to tell your lender you need help than to ignore your bills. The company might let you make interest-only payments for a few months or lower your interest rate for a period of time; you won't know unless you ask.
4. Sign up for automatic payments.
Once you're on the right plan, automate your payments so you never forget to make them. Each servicer has an online portal where you can link your checking account. It's key, of course, to make sure you have enough in your account each month to cover your bills. Otherwise, you'll pay an overdraft fee.
You always have the option to pay more than the required amount if you want to pay your loans off quickly. Try targeting your highest-interest loans first, which will save you the most money over time. Or pay off smaller loans first if that will inspire you. Ask your servicer how to apply payments to particular loans so your money goes where you want it to.
5. Consider forgiveness, consolidation and refinancing.
Beyond the six federal loan repayment plans, there are additional loan management strategies open to some borrowers.
Loan forgiveness: The government will dissolve your outstanding loan balance after a period of time if you work in certain jobs. Public Service Loan Forgiveness discharges government and nonprofit employees' loans after 10 years of payments. Perkins loan cancellation forgives public service employees' Perkins loans after even less time. If you qualify, follow the certification guidelines for these programs closely so you don't miss out.
Read more: NerdWallet's Guide to Student Loan Forgiveness
Federal consolidation: You can consolidate multiple federal loans into one, which is particularly useful if it will help you keep track of your payments. Consolidation is also necessary to make some loan types eligible for Public Service Loan Forgiveness and income-driven repayment plans.
Read more: Should I Consolidate My Student Loans?
Refinancing: This option is best for borrowers who have steady incomes, good credit and a lot of debt. A private company pays off your loans and replaces them with a new private loan. Your interest rate depends on your credit score, so you could save a lot of money if you qualify for a lower rate now than you initially received.
Read more: Refinancing Student Loans
There's a lot of information to digest when you first start repaying your loans. Get ahead of them now to help ensure you'll pay them off quickly and easily, or at least with as little stress as possible.
Brianna McGurran is a staff writer at NerdWallet, a personal finance website. Follow her on Twitter: @briannamcscribe.