Advertiser Disclosure
Private Colleges More Accessible Than Ever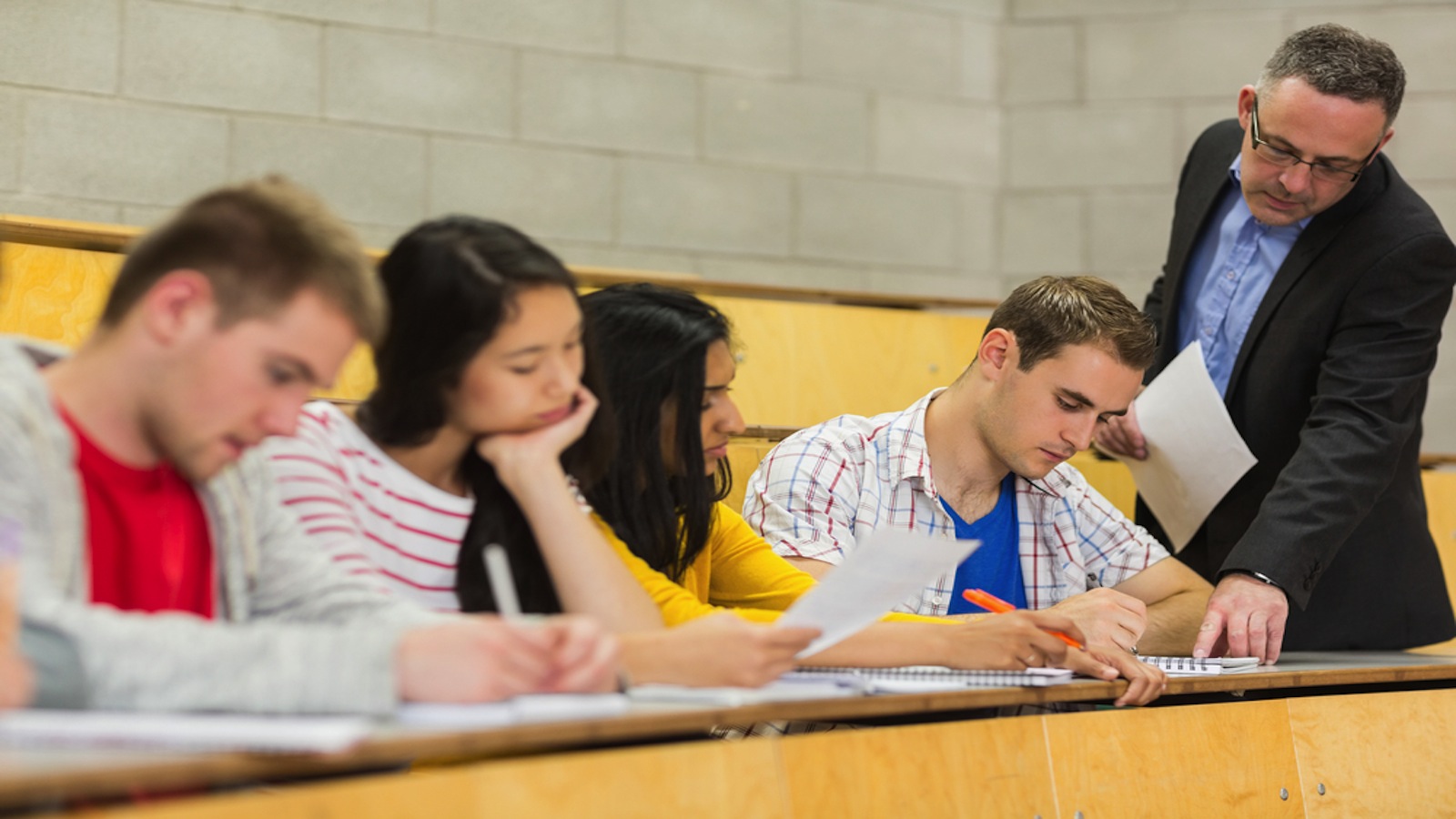 Average private-school tuition after school aid = $16,260
(per student in 2012-13)
Private school educations are often associated with big price tags, but that's not always the case. For many students with financial need, a private college or university may be the best option for finding an exceptional program at a low cost. Today, private colleges are offering a record amount of free money to students in the wake of rising tuition at both private and public schools, which is lowering the cost of attendance at private schools and making their prices more competitive with their public counterparts.
According to a recent study by the National Association of College and University Business Officers, incoming freshmen at private schools were offered an average discounted tuition rate of 45 percent (see box above). This discount comes from an increase in grants and scholarships doled out by the schools and doesn't include federal financial aid, which could further reduce the sticker price for students.
NerdScholar spoke with students from private institutions about the ways financial aid has helped them. All of the students filled out the FAFSA early to make sure they received as much aid as possible. Read their stories here.
[Need help filling out the FAFSA? Visit our FAFSA Guide.]

What's in store for Alexandra's future? Thanks to financial aid, maybe law school. After receiving more than $45,000 in financial aid from the federal government and Scripps College in Claremont, CA, Alexandra was able to enroll in her dream school. Currently in her first year, she says that without the financial aid package, which covers roughly 75 percent of her tuition, she most likely would have needed to attend community college to afford school. At Scripps, she works in her campus' coffee shop as part of federal work-study and she is considering double majoring in legal studies and psychology. "Due to financial aid, I've gotten the opportunity to go to an amazing school with plenty of passionate students that have helped expand and develop my worldview," she says.
About Alexandra: She's been obsessed with Harry Potter since age 5, and is convinced she is getting an owl from Hogwarts (she's still waiting).

For Sonia, a student with a strong academic record, financial aid made all the difference in being able to attend a good college versus a highly selective one. Now a senior at Haverford, Sonia is majoring in English and looking to pursue a job in education reform.
Thanks to financial aid, she has been able to live on campus, enroll in a meal plan, study abroad, participate in clubs and organizations, and "not worry that I'm putting myself and my family in a difficult financial position," she says. In Haverford, she found a school that challenged her academically and fostered a strong sense of community. Without financial aid, though, Sonia says Haverford would have been out of her family's reach.
About Sonia: She went to the same high school as the rapper Macklemore.

Nathan, a senior at Carroll University studying actuarial science, recently accepted a job offer from Liberty Mutual in Boston working for its actuarial department. While 100 percent of his tuition was covered at Carroll—a private liberal arts school located just outside Milwaukee, Wisconsin—Nathan also took out loans as part of his financial aid to help cover his living expenses. Doing that, he says, has helped him assume more fiscal responsibility, as he knows he will have to pay the loans back once he graduates. Without financial aid, Nathan says he would have still been able to attend one of the state schools in Wisconsin, but his aid award helped him afford Carroll, which was his top choice school.
Thanks to financial aid, Nathan says that he has had the opportunity to live on campus, participate in the Actuarial Science Club, play trombone with the Carroll Wind Symphony and Jazz Ensemble, work in the Carroll financial aid office as part of federal work-study for more than three years, work as a tutor, intern in Milwaukee and Boston, and make lifelong friends through these opportunities.
About Nathan: He has played trombone in six countries.

Currently a junior at Carroll, Ashley is studying exercise science and plans to pursue a doctorate in physical therapy. Without financial aid, Ashley says that she would have had to work a full-time job to afford the type of education she is pursuing. Thanks to her financial aid package, which included loans, scholarships, and federal work-study (she is a campus tour guide), she has been able to maintain the high GPA necessary for her program, take advantage of campus life, and participate in groups such as Carroll Students for Animal Welfare, the Physical Therapy club, and the Alpha Gamma Delta sorority.
Approximately 85 percent of Ashley's tuition was covered, freeing her to concentrate on her classes and extracurriculars, such as her time abroad with the school last May to Ireland, London, and Paris. "A trip like this is extremely expensive but was one of the most rewarding and memorable experiences that I have ever had," she says. "Without financial aid paying for so much of my tuition, I would have never been able to afford my trip to Europe."
About Ashley: She is an avid runner and a vegetarian.

Julian, a sophomore at Bowdoin, received grants from his college to cover a significant percent of his tuition. Tucked inside his acceptance letter was the accompanying financial aid offer from the school, which offers students with need grants in place of loans. During his time at Bowdoin, the aid, Julian says, has given him and his family peace of mind while he works toward his degree. Julian is studying art history, religion, and education, and is considering becoming a professor. "I feel so fortunate to get the opportunity to navigate my future with no concern for any outstanding loans that could limit what I could pursue," he says.
About Julian: He was born in Bogotá, Colombia, and used to teach ballroom dancing and etiquette to students in K-12.

A sophomore at Bowdoin, Ian is looking forward to studying abroad next semester. Currently working in the financial aid office as part of federal work-study, and studying earth and oceanographic science, Ian enjoys conducting sustainability and development research and guiding students and parents through the financial aid process. At Bowdoin, he receives grants that cover about 75 percent of his tuition and he will receive money to help cover his expenses while studying abroad. For Ian, the financial aid offers were a big factor in his decision-making process and what ultimately helped him decide on Bowdoin.
About Ian: He has traveled to all 50 states twice.
University classroom image courtesy of Shutterstock.
Data from CollegeBoard and the National Association of College and University Business Officers.