As an English major, you're probably pretty sick of the question: "What can you even do with that degree?" These five English majors give real-life answers to that question as they talk about carving out their own pathways to success.
---
The PR Professional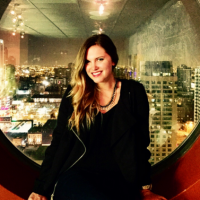 Madeline Carlson
PR professional at Propllr PR Content Marketing
University of Iowa, 2014,
BA, English, concentration in 18th-century literature
Advice to other English majors: "Employers want to know you can write and write well, at least in PR. It's a broad major, and you can apply it to so many different things," Carlson says. "Make it known that you spent so much time writing and editing as an English major."
Her career path: "You hear that majoring in English doesn't exactly lead to some good jobs. I was bracing myself for a long and very stressful job search," Carlson says.
She had public relations aspirations, but no immediate job prospects. By June, Carlson managed to land herself an internship in public relations, which led to a second internship at Propllr, where she was then offered a job.
In her position, she says, she "likes the creative aspect that goes into brainstorming for pitches, staying up-to-date on trends that are going on and figuring out how to gain the interest of people you're reaching out to."
---
---
The Lawyer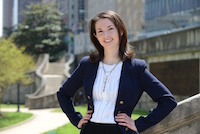 Avery Blank
Attorney and women's advocate
Colgate University, 2008, BA, English and Spanish;
University of Maryland Law School, 2011
Advice: Blank says your cover letter and resume are your first opportunity to show off to an employer how well you can communicate. "One of my personal mantras is, 'You are your own best advocate.' When you have the communication skills to be able to advocate for yourself, you will be able to excel in whatever you do," Blank says.
Career path: Blank's English degree has always come in handy. "I feel and I know I can do anything because I can write well and speak clearly," she says.
After graduating with a dual degree in English and Spanish, Blank pursued a career in law. Her work took her to all levels of government, including the White House and the Maryland General Assembly.
Now Blank works for a consulting company and think tank, where her clients are in government and institutions with needs related to homeland security, crisis management and emergency response. "To be successful as a lawyer, you have to be an excellent writer and an excellent speaker," Blank says. "The key is being able to distill and digest a lot of information and translate very complex ideas to your audience."
---
The Executive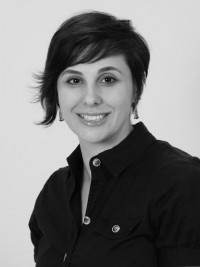 Angela Trombatore
Vice president of the Devon Group
St. John's University, BA, English, 2004; MA, English, 2005
Advice: "Don't let anybody tell you your degree is not useful, because that's the first step in creating fear. You went to college for a reason and you gained valuable skills," Trombatore says. "You learned how to think, and that is something that is so invaluable. You also learned problem-solving, and you shouldn't be afraid to market that."
Career path: Trombatore intended to become an English professor, but halfway through her master's degree program she decided against it. "When I graduated, I thought to myself: I've got great analytical skills, I can write, I can read — what would be a good translation? I ended up looking into marketing positions." Trombatore started at an IT services firm, where she found a niche in communications and worked in branding, writing sales material, web content and case studies. Her work in marketing soon transformed into a career in public relations, which she's done ever since.
"When you think about public relations and marketing, you want to be able to help companies tell their stories and deliver the message to the right people — the ones who need their services and solutions," says Trombatore. "The ability to synthesize information from multiple sources and listen to people talk about what makes their company awesome, that's the skill that came from being an English major."
---
The Social Media/Content Guru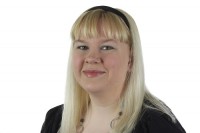 Mandy Kilinskis
Content and social media manager for Quality Logo Products
North Central College, 2009,
BA, English, creative writing concentration
Advice: Even if you don't find your dream job right away, Kilinskis says she's proof you can make the most of your situation. "Once you're in a job, you need to always look for opportunities to show off your skills, whether it's writing for the company blog, picking up something to write if the marketing department is in a crunch or telling HR and your supervisor 'I have an interest in this and I'd love to be able to do more,'" Kilinskis says.
Career path: Kilinskis didn't get a job that related to her degree right away, but she was able to use her skills to work her way up. Though she started in data entry, she soon began writing for the company blog. The head of the content department realized she could write well, and when the department expanded two months later, she was able to switch.
"I'm very lucky the company is open, so if you have skills and passion, they'll accommodate you and incorporate that into your job. I think a lot of good employers will do the same," she says.
---
---
The Editor in Chief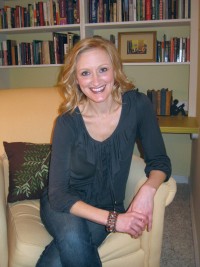 Sara Lynne Hilton
Founder and editor in chief of Lilybell Magazine
Hope College, 1998, BA, English
Advice: "I would also say if someone was an English major you want to be realistic about what it means to live that kind of lifestyle — what being an editor and writer means," Hilton says. "Amidst the glory stories, most writers and editors are not rolling in fat stacks of cash. But most English majors are creative, and I would caution against any creative making a career choice solely based on money. You want to balance your happiness against income."
Career path: Hilton's first job out of college was in insurance. She hated it, but student loan payments were due. Luckily, within eight months, she found an editing job. From there, she climbed to more senior roles. This year, Hilton founded Lilybell Magazine, a digital magazine for girls, and serves as editor in chief. Throughout her career she says she has leaned on skills she honed in college.
"We interview people, we find what's interesting, but the story is never the topic really. The story is when you peel back the layer and you find this mess underneath," she says. "In English, we took great works of literature and read it and dissected it and looked for meaning beneath the words that are being said. Those aspects of studying literature helped me tell really great stories."
More from NerdWallet:
Anna Helhoski is a staff writer covering personal finance for NerdWallet. Follow her on Twitter @AnnaHelhoski and on Google+.