Advertiser Disclosure
The Best Money Moves for Students in January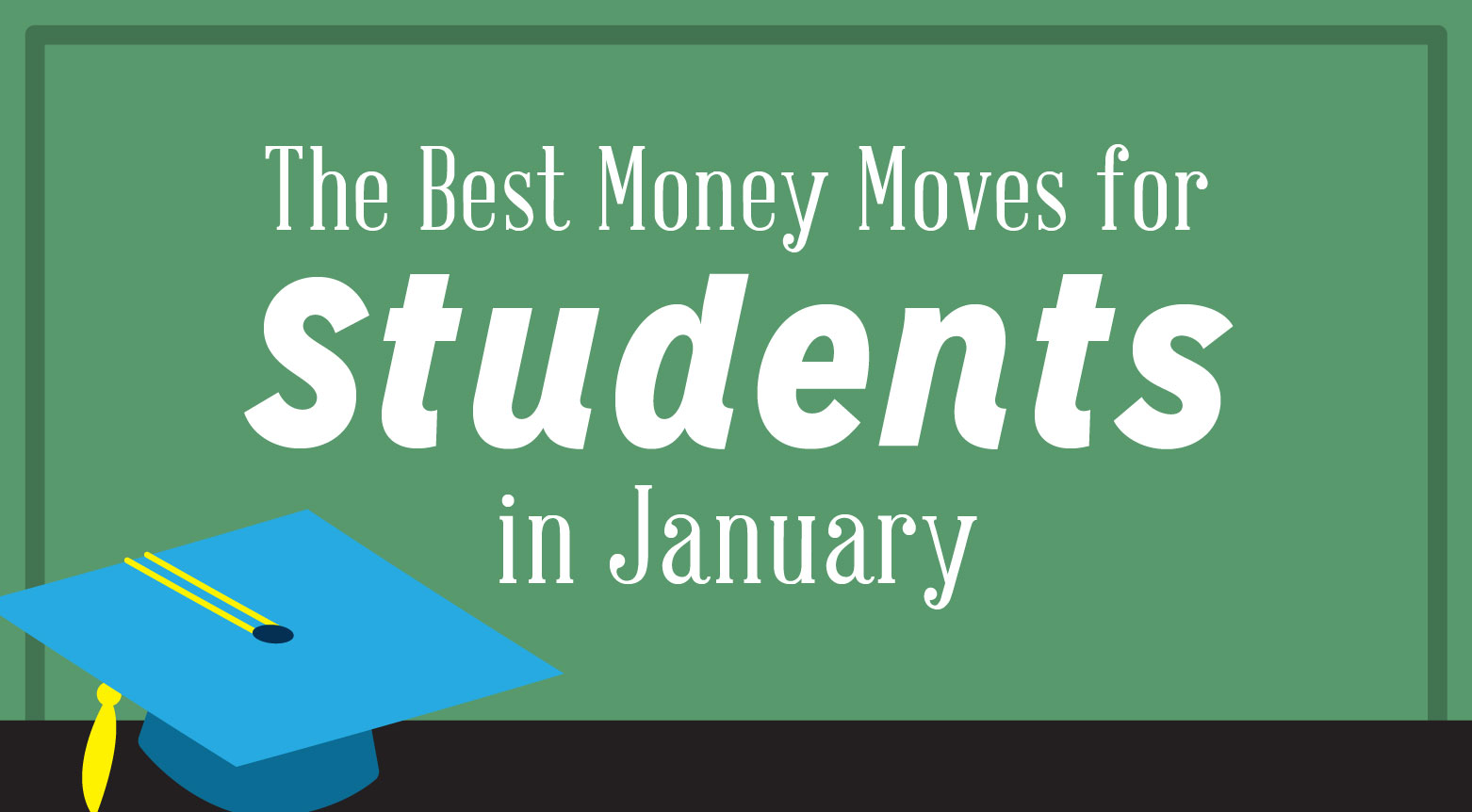 This month's spring semester kickoff is the best time to find your financial footing, from navigating credit cards for college students to creating a budget and filing taxes.
"Being a new year and a new semester, college students can look at their financial situation through fresh eyes," says Ebeth Fielder, a spokesperson for Michigan First Credit Union and its Young & Free Michigan program. The program is designed to provide real-world financial and budgeting tips for college students.
In between late-night cram sessions, papers, parties, classes and the sweet dreams of spring break, there are some key moves you can make to improve your financial life.
File your FAFSA early
 The U.S. Department of Education office of Federal Student Aid began accepting FAFSA applications on the first of the month, so now is the time to file. It may seem early, but since financial aid is awarded on a first-come, first-served basis, you'll be ahead of the pack.
Since you'll need tax return information for the current year in order to submit, you can choose to either use the previous year's tax returns or wait until you or your family files income taxes for the year. If you want to file early and you opt to use the previous year's return, you can return to your online form later to update with information from your new tax return.
Create a monthly budget
Starting in January, you need to allocate every single penny you'll have for the month, then repeat the process each month, suggests Rachel Cruze, a personal finance expert and co-author of "Smart Money Smart Kids." This means, laying out your income during the semester against expenses you expect to have.
"I know a budget doesn't sound like fun for most college students, but it's necessary," says Cruze, who describes a budget as something that simply tells your money what to do.
Think about how much money you'll have for the month and divvy up where it goes. Include things like bills you have to pay (such as electricity or rent), food and activities. While you may allocate some money for discretionary spending, Fielder suggests looking at material purchases with a dollar sign in mind.
"When I got my first job and I was getting paid $7.50 an hour, it made me think twice about buying a T-shirt that cost $12," she said. "Changing your perspective on how much things actually cost can make a difference when you make your budget."
Find credit cards for college students
The bad news is, you can't get your own line of credit until you're 21 years old. But there is some good news: Once you reach the magic age, many credit card companies offer credit cards specifically designed for college students. These cards may not offer high limits, but they are easier to get if you don't have much credit history. The best ones typically have low annual percentage rates and no annual fees. Some even offer rewards tailored to student spending and for on-time payments or good grades. Compare the best student credit cards for rewards, interest rates, signup bonuses and fees. If you're having trouble getting a credit card, find a co-signer with a solid credit score and annual income to better your chances of getting approved.
However, you have to establish healthy credit habits to avoid going into debt. First you need to get and review a copy of your credit report, suggests Rakesh Gupta, a professor at Adelphi University who teaches a seminar for freshman called "Your Money AND Your Life." You can get your free credit report annually from each of the three major credit reporting agencies: Experian, TransUnion and Equifax.
Gupta also suggests that you:
Pay your bills on time.
Pay more than the minimum due on your credit card.
Keep outstanding credit card balances low in relation to your credit limit.
Check your credit card statements carefully for errors or unauthorized charges.
Find the best rates on loans
When you are looking for a loan, be a savvy consumer and shop around for the best rate, suggests Valerie Moses, development specialist at CFE Federal Credit Union based in Florida. This means that you shouldn't necessarily accept the first loan you're offered.
"The intimidation level college students deal with when it comes to financial institutions is overwhelming," Fielder says. "I tell them they can't let themselves be intimidated by that because financial institutions want your business."
When you're torn between a few different loans, use a student loan calculator to compare rates, monthly payments and more.
While you're considering any loan, be cautious, advises Michael Clark, an Orlando-based certified financial planner. "The best advice I can give is for the student to ask someone older than them (like 5 years older) for advice and guidance about student loans," he says. "Most of the time, the person will explain any mistakes they may have made with student loans."
Take advantage of tax credits
Tax-filing season starts Jan. 20, and there are two important tax credits the IRS offers that you might be eligible for that can help offset the costs of your education.
The American Opportunity Credit is available during your first two years of college, and has a maximum of $2,500 per student. The credit is available to people with a modified adjusted gross income of $80,000 or less for individuals and $160,000 for joint returns.
If you don't qualify for the American Opportunity Credit, Bill Hendricks, CEO and co-founder of the online tax software company Common Form, suggests students try to apply for the Lifetime Learning tax credit. It's available to students at any level — undergraduate, graduate or professional — and can be worth up to $2,000 in savings.
You can't apply for both credits in the same tax year, and you can't claim any credits if you claim a tuition and fees deduction in the same year. Only parents or students can claim the credit, but not both. You can claim either credit by completing Form 8863 and submitting it with your tax return.