Advertiser Disclosure
NerdScholar Favorites: Men in Nursing Programs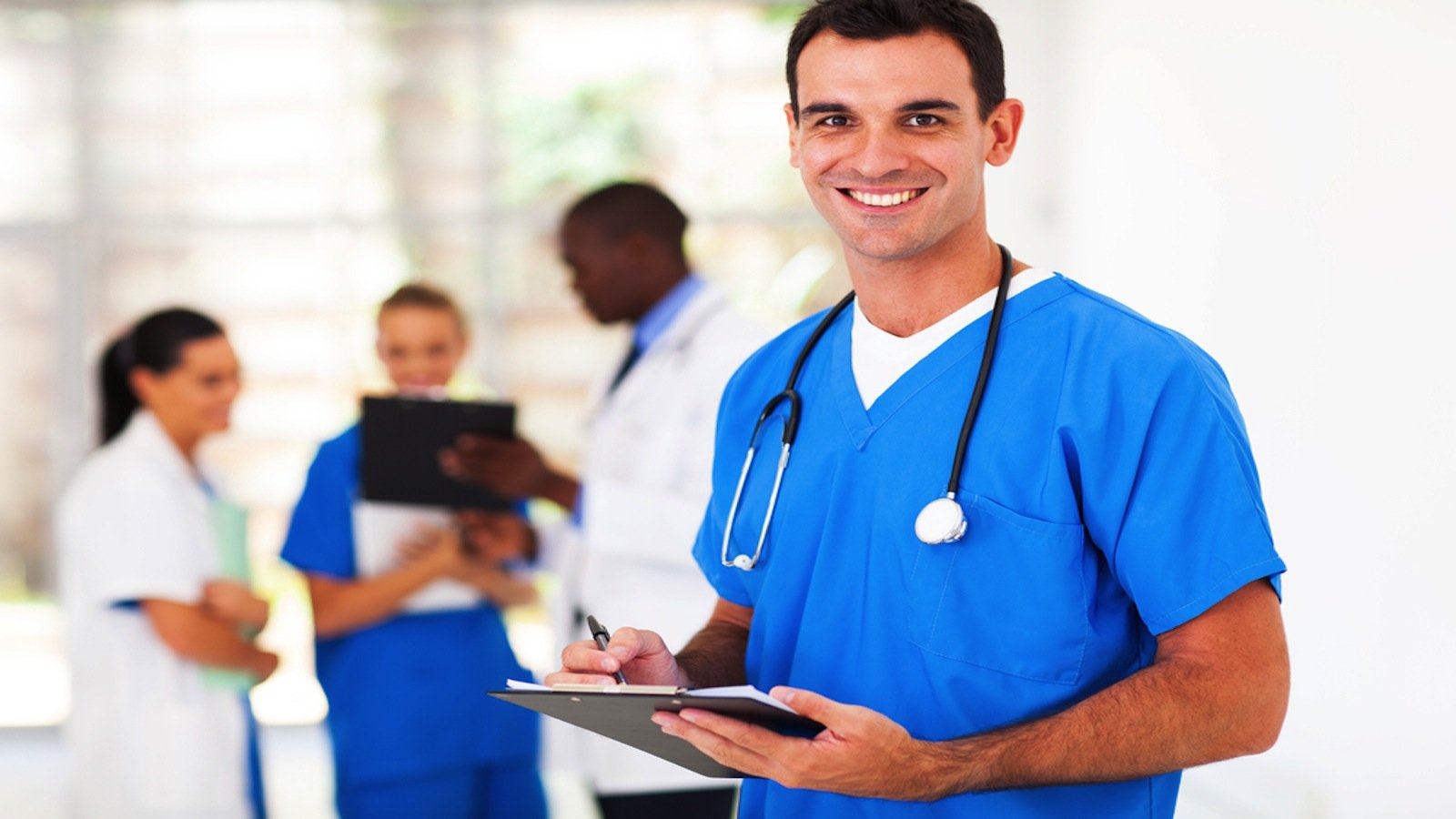 When someone says the word nurse, the first image that comes to mind is probably of a woman. But that stereotype discounts a small but growing percentage of the workforce comprising men in nursing.
Male nurses totaled about 9 percent of all registered nurses in 2011, according to the Department for Professional Employees. That number is up from 7 percent in 1995—but where it gets interesting is in the overall increase in the number of employed nurses, which grew by 10 percent between 2003 and 2011. With both the number of job openings and the number of males in the field on the rise, nursing seems to be a profession ample in opportunity men.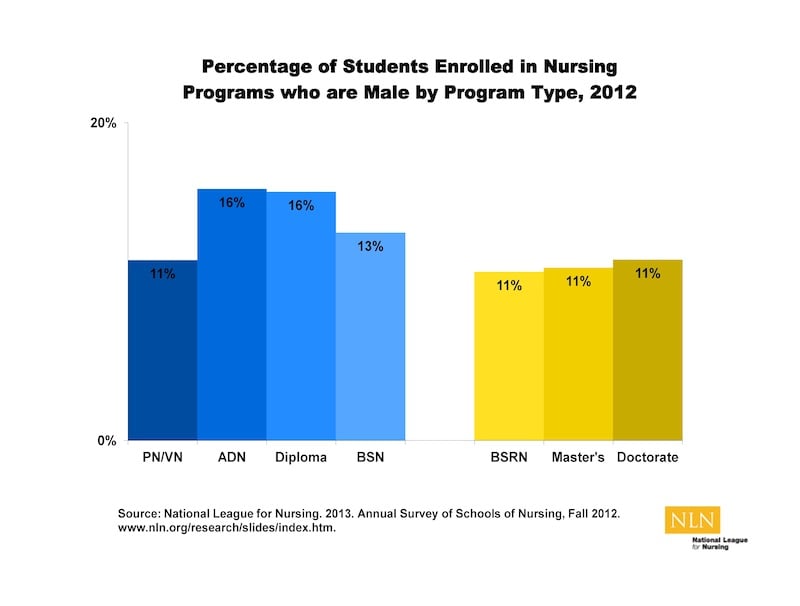 "While more men are being drawn to nursing, especially as a second career, the profession needs to continue efforts to recruit men," a report released by the Institute of Medicine in 2010 states. "Their unique perspectives and skills are important to the profession and will help contribute additional diversity to the workforce."
Patients sometimes feel more comfortable speaking with a nurse or doctor of their same sex, particularly when a health issue is gender-specific. For this and many other reasons it's advantageous for hospitals and health facilities to have male nurses on staff.
In a recent piece, NerdScholar highlighted top programs for women in business—another area of great gender disparity. Much like with women in business, the pipeline for male nurses is well under way. In 2011, 12 percent of students enrolled in undergraduate nursing programs were men, and the number was even higher in accelerated degree-granting programs.
NerdScholar has chosen some of the top programs for male nursing students and we encourage anyone considering this admirable profession to pay particular attention to these schools:
At UW-Oshkosh, the Accelerated Online Bachelor's to BSN (ACCEL option) is a popular option for male students. Over the program's 10-year history, 27 percent of matriculants have been men. The program appeals to men, who often come to nursing after earning a bachelor's degree in another field, because of its non-traditional and inclusive means to obtaining a bachelor's degree in nursing in one year. Brent MacWilliams, assistant professor and program leader, serves as a role model and mentor for male nursing students. "ACCEL students become almost like family to each other and to the faculty who work closely with them," he says.
Men are also supported in the traditional nursing option. Students are invited to participate in local chapter meetings of the American Assembly for Men in Nursing, even before their acceptance into the program, where they learn from mentors and explore volunteer opportunities. Bonnie Schmidt, president of the Great Lakes Chapter, says that "all nurses share professional values, but there is a need to celebrate differences and promote diversity among nurses. UW-Oshkosh provides a platform to achieve a sense of belonging and equality in the profession."
The Pitt School of Nursing, a top-ranked school by both U.S. News & World Report and the National Institute of Health, is playing a crucial role in the changing composition of the nursing profession. The school runs a very active "Men in Nursing" student and faculty group, which meets several times each term, and the retention and graduation rates for male students are over 98 percent, with most of them joining the nursing profession immediately upon graduation. Their undergraduate experiences have encouraged a significant number of male students to go on to pursue graduate education. At Pitt, nursing students can participate in clinical experiences in pediatrics, women's health, psychiatric and mental health nursing, and community health, among other areas, at the adjoining University of Pittsburgh Medical Center.
In addition to meeting monthly, the men in nursing student organization at Iowa plans events intended to recruit more men into nursing. Examples of recruitment activities include programming for local Boy Scout troops, and giving talks at local high schools on the career possibilities for men (and women) in nursing.  The organization also provides community service opportunities and raises funds for student travel to an annual convention for a national men in nursing organization—the American Assembly for Men in Nursing. Local and national meetings offer the students a chance to network with other men in the Iowa nursing program as well as nurses and students from around the country. Assistant professor Todd Ingram says that the organization offers special support to the often-overlooked minority in nursing: men.
This school of nursing prioritizes the recruitment of male students. The university—whose enrollment of male students exceeds the national average of 14 percent—values the diversity that men bring into the classroom and the clinical experience. The school's Men in Nursing Club provides a framework for nurses and student nurses to meet, discuss, and influence factors which affect men as nursing students and as nurses in the healthcare workplace. Some topics of discussion include how to better humanize health care; highlighting the increasing contributions being made by men within the nursing profession; and advocating for continued research, education and dissemination of information about men's health issues, men in nursing, and nursing knowledge at the local and national levels.
The Men in Nursing initiative at Gateway Community College in Connecticut is specifically designed to promote nursing as a viable career option for males. The initiative focuses on educating males about the benefits of the profession such as job opportunities in a variety of healthcare settings, flexible work hours, and a competitive salary. The Men in Nursing Scholarship helps one male student to launch his education in nursing at the college. The college's male alumni often return to the school to mentor other male nursing students. Sam Osei, class of 2006, is just one example of this. When not working as the team leader of Gaylord Hospital's spinal cord unit, Sam works to recruit high school students to the profession while continuing to teach by example through his other higher education endeavors in healthcare. A graduate of the nursing program is awarded an Associate in Science degree and is eligible to take the National Council Licensing Examination for Registered Nurses.
[Keep in mind: Nurses are eligible for the Public Loan Forgiveness Program.]
Do you know of a great program for male nursing students? Highlight it in our comments section below.
Note: Superlatives, noted in blue banners, are inclusive of the group of schools listed in this article only.
---
Male nurse image courtesy of Shutterstock.