Advertiser Disclosure
Packing Their Bags: Record Number of Foreign Students at U.S. Universities
While the U.S. has a trade deficit in most areas of commerce, there is one area where the U.S. has a strong trade surplus: education.
Nearly 820,000 students left their home countries to study at U.S. higher education institutions in the 2012-13 school year, compared to 283,332 U.S. students studying abroad in 2011-12 (the most recent year with available data). Both are record numbers, according to the Open Doors Report on International Education Exchange, published by the Institute of International Education (IIE) and the U.S. State Department.
Asian nations are leading the charge—Chinese students alone account for nearly 30% of all foreign students, followed by India and South Korea. In all, eight of the top 10 countries of origin of U.S. international students were Asian nations. The fastest growing nation on the list? Saudi Arabia, which sent 30.5% more students to the U.S. in 2012-13 than in the previous school year.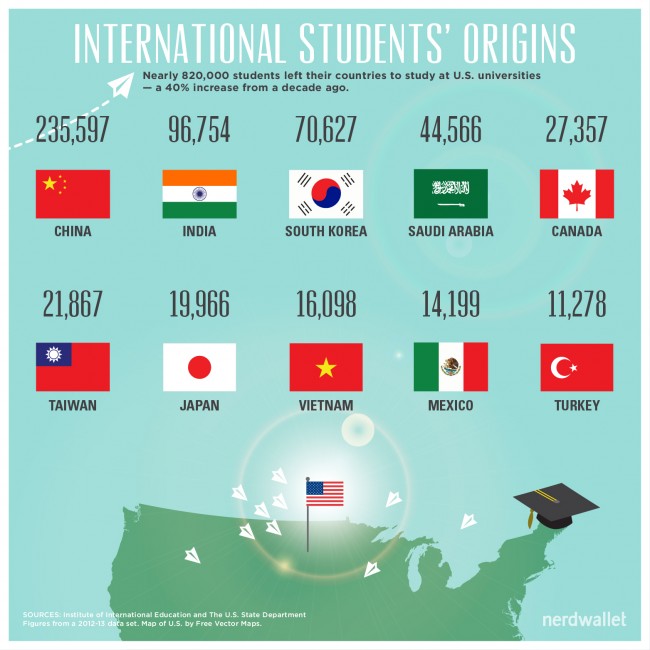 In all, there are about 40% more foreign nationals studying in the U.S. than a decade ago.
But the Asian affection for an American education appears to be one-sided. Western European nations—the U.K., Italy, Spain and France—dominate outbound destinations for U.S. students. Only two Asian nations—China (No. 5) and Japan (No. 10)—make the top 10, according to IIE. Only 1% of U.S. and U.K. students are interested in studying in China, according to a British Council survey earlier this year.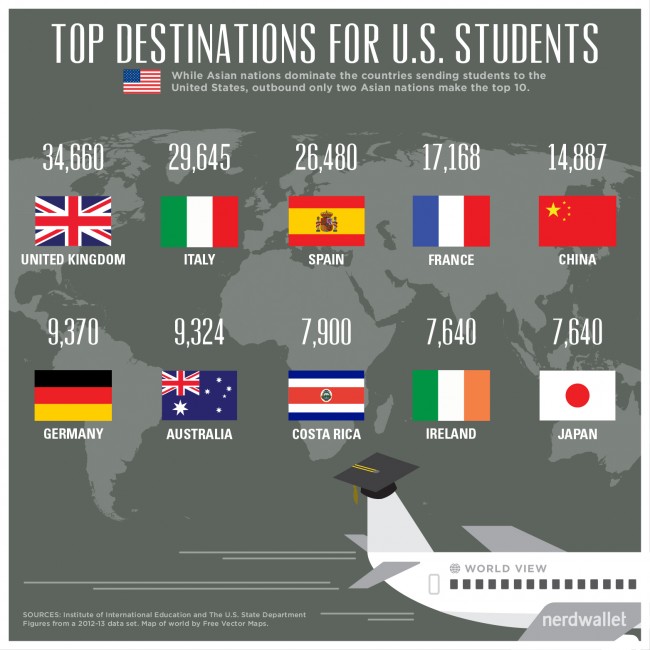 The number of U.S. students studying overseas has roughly tripled in the past two decades. The rate of growth, however, has greatly slowed since the 2007-08 school year in the wake of the financial crisis.
Foreign students added $24 billion to the U.S. economy in the 2012-13 school year, according to IIE.
That growth of foreign students looks to continue. The British Council estimates U.S. and the U.K. will continue to be the No. 1 and No. 2 top destinations for foreign students in the next 10 years.
Will foreign students crowd out U.S. students looking for placement? Numbers from the IIE suggest the answer is no.
True, the percentage of foreign students at universities reached a record level of 3.9% in 2012-13, but that figure has largely bounced between 3.3% and 3.7% in the past decade. There are more international students, but the growth of domestic students at universities is keeping relative pace: There were 21.3 million students at American universities in 2012-13, compared with 16.6 million a decade ago.
---
Image of traveling student via Shutterstock.
Infographics by Brian Yee.