Advertiser Disclosure
IRS Rules Could Cost Students $4 to $7 Billion Following Doubled Interest Rates
You can trust that we maintain strict
editorial integrity
in our writing and assessments; however, we receive compensation when you click on links to products from our partners and get approved. Here's
how we make money
.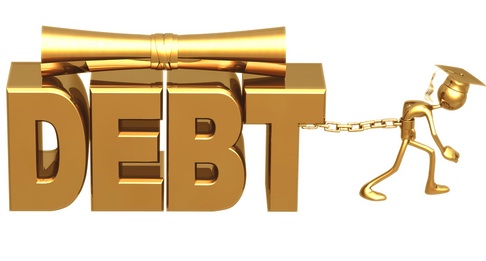 Earlier this month, the Senate rejected a plan to freeze interest rates on subsidized Stafford student loans at 3.4%. With the Congressional recess quickly approaching in August, college students may be forced to lock in 10-year Stafford loans at 6.8%. However, one topic that hasn't been widely discussed is the loss in tax savings students will face upon graduation.
NerdWallet Taxes crunched the numbers to figure out just how much these new rates and the lost tax benefits will impact students' bank accounts as they struggle to pay off their loans over the next 10 years.
Key Findings
IRS limitations on interest deductions alone could cost the top 5% of high income grads up to $4,000 over 10 years; combined with higher interest rates, their costs could increase by $8,800 over the same period
An increase of just $1,000 in the student interest deduction limit could save students up to $7 billion over 10 years
IRS income eligibility requirements penalize new grads who earn more than $75K by not offering them any tax deductions
Congress Unlikely to Raise the Interest Deduction Limit
Even though student loan rates have doubled, the $2,500 limit is not set to increase anytime soon, as the IRS set the limit for years 2001 and beyond back in 1986 in the Internal Revenue Code.
Congress also has no plans to push the IRS to raise the limit. Earlier in April, House Rep. Charles Rangel introduced a bill to amend the Internal Revenue Code by raising the cap from $2,500 to $5,000, presumably to offset the doubling of student loan interest rates. According to Govtrack.us, a government transparency monitor, the bill has only a 1% chance of making it through committee and is unlikely to be passed in time to help students.
Students Can Save Up to $7 Billion in Taxes if IRS Increases Deduction Limit by $1,000
 If Congress were to increase the deduction, students would realize considerable tax savings. Let's consider Sally, who we assume will graduate with a starting salary of $50K per year and carries $23,000, the maximum amount of subsidized Stafford loans allowed. We also assume that she files her taxes as single and takes 10 years to pay off her loans.
At the new rate of 6.8%, Sally has to make annual payments of $3,284, but under current IRS limitations, she is only allowed to deduct $2,500 on her tax return. If the IRS raised the limit by $500 to $3,000, as it has done historically, Sally would save an additional $614 over the life of her loan, and $964 if the limit were raised by $1,000 to $3,500.  At the $3,500 limit Sally would realize the most tax savings because she could deduct her entire annual payment.
Like Sally, if each of the 7 million students borrowing subsidized loans were eligible for the deduction and realized this extra $964 in tax savings, collectively they would save roughly $7 billion over ten years.
| | | |
| --- | --- | --- |
| Scenario | IRS Interest Deduction | Extra Tax Saved |
| Worst | $2,500 | $0 |
| Middle | $3,000 | $614 |
| Best | $3,500 | $964 |
Higher Income Grads Don't Qualify for the Tax Deduction
In addition to limiting the amount of interest students can deduct, the IRS also imposes income restrictions. Sally's numbers assume that she remains eligible for the entire $2,500 deduction throughout her ten-year repayment period, an unlikely scenario because she will probably receive salary raises and bonuses that eventually make her ineligible for the full or even a partial deduction.
The table below shows the eligibility breakdown for new grads with different starting salaries based on information provided in IRS Publication 970.
| | |
| --- | --- |
| New Grad's Salary | Eligible for Deduction? |
| Below $60K | Yes |
| Between $60K-$75K | Partially |
| Above $75K | No |
If Sally were lucky enough to graduate with a job paying $75K a year, she would not get to use any of the $2,500 deduction, so the burden of increased interest rates and payments falls squarely on her. In that case, she would pay $4,800 in extra interest and lose $4,000 in tax benefits, totaling $8,800 of increased costs. The table below summarizes total costs imposed on students by the interest rate hike and the IRS interest deduction limit of $2,500 based on their income at graduation.
| | | | | |
| --- | --- | --- | --- | --- |
| New Grad's Salary | Eligible for Deduction? | Additional Interest | Lost Tax Savings | Total Costs |
| Below $60K | Yes | $4,826 | $614 – $964 | $5,440 – $5,790 |
| Above $75K | No | $4,826 | $4,036 | $8,862 |
According to David Hersch, CPA and tax manager at Armanino LLP, a Bay Area accounting firm, the IRS deduction limit and income restrictions effectively "penalize students for obtaining a good education and making a good income coming out of school."
He also noted that unmarried college grads "are further penalized because they cannot take advantage of the higher income thresholds allowed to married couples filing a joint return."
In short, higher interest rates coupled with IRS interest and income limitations will discourage students from borrowing for their higher education needs. For those who do borrow under the higher rates and who earn top paying jobs following graduation, they lose the tax benefit from the IRS interest deduction.
Recommendations for Students
So what is a student to do short of lobbying Congress? The interest rate increase on federal loans may force students to take out private sector loans at even higher variable rates. It is tough for students to get favorable private sector rates without excellent credit and a parental cosigner, but these other options can help.
1. Minimize Overall Loans
The best option is to limit the amount of borrowing from any sources, public or private, by competing for fellowships, scholarships, grants or participating in a work-study program.
 2. Consider Crowdfunding
To fund additional borrowing needs not met by work-study or scholarships, students can consider campaigning for funds in the burgeoning crowdfunding sector, which can offer lower rates than Uncle Sam or commercial banks.
 3.  Research Tax Credits
For students who don't qualify to use the $2,500 deduction or who want to realize tax benefits, they may consider using tax credits under the Lifetime Learning credit or American Opportunity credit.  Depending on a student's tax bracket and other eligibility requirements, educational credits can be more valuable than interest deductions when it comes to tax savings. However, the credits must be used in a year in which a student paid tuition, so students should take advantage of the credits while they're still in school.
 Methodology
The calculations above assume that the hypothetical average student Sally borrows the total maximum allowed under subsidized Stafford loans ($23K) at 6.8% and takes 10 years to pay off the loan.  Interest accrued over the 6 month grace period following graduation is capitalized and added to the loan principal.  Lost tax benefits from the $2,500 limitation assume that students have an average tax rate of 20%, file as single, and qualify for the full amount of the deduction in each year of the 10-year loan repayment period. Aggregate calculations assume that 7 million students (the same number who currently carry subsidized Stafford loans) will also borrow these loans for the academic year 2013-2014.
Read More From NerdWallet:
Student loan image courtesy of Shutterstock.
---