Mortgage Market Roundup: Interest Rates (June 25, 2015)
First-time homebuyers dove into the market at their highest rate in nearly three years as mortgage rates remained largely unchanged, according to Freddie Mac's weekly mortgage market survey.
30-year fixed-rate mortgages held steady at 4.02% with an average 0.7 point for the week ending June 25, 2015. A year ago, the rate averaged 4.14%.
15-year fixed rates dipped slightly to 3.21% with an average 0.6 point. The same term priced at 3.22% a year ago.
5-year adjustable-rate mortgages were 2.98% with an average 0.4 point. Last year at this time, an identical ARM averaged the same 2.98%.
"Mortgage rates were little changed this week," said Sean Becketti, chief economist for Freddie Mac, in a news release. "Buyers appear anxious to purchase homes before the expected increase in interest rates later this year. Given the tight inventory of homes for sale, a 5.1-month supply at the current sales pace, home prices are being bid up."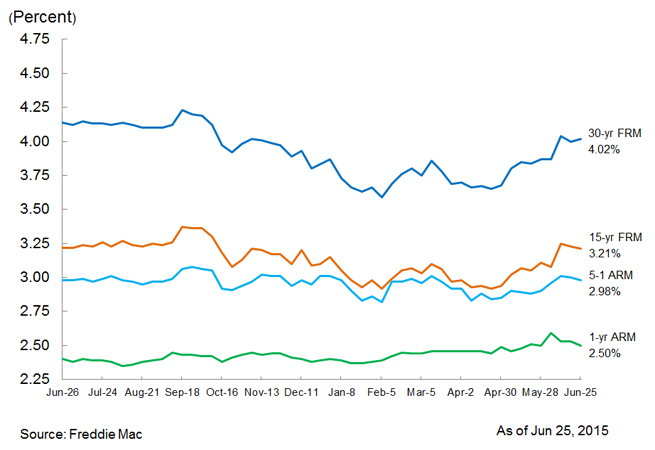 National housing market continues rebound
Across the nation, the housing market is continuing to solidify, according to Freddie Mac's market analysis. The mortgage finance company's Multi-Indicator Market Index, a measure of stability in the housing market in all 50 states, is up 33% from its all-time low in October 2010 — although it's still in a range that indicates a "weak" market overall.
More than half of the U.S. is in a stable market range, with the states seeing the most improvement month-over-month including Washington, Indiana, Tennessee, Oregon and Mississippi.
"We saw a significant improvement in housing markets nationwide, with 10 more metro areas and nine more states moving within range of their benchmark, stable level of housing activity," said Len Kiefer, deputy chief economist for Freddie Mac. "The West and Southwest areas of the country continue to lead the way, especially Colorado, Oregon and Utah, and California is right there as well. Unlike a year ago, when the most improving markets were those hardest hit by the Great Recession, we're now seeing stable markets among the most improving as well."
Applications and home sales heat up
Home purchases and refinancings are trending up, according to the latest survey by the Mortgage Bankers Association. Mortgage applications were up 1.6% from a week earlier, and refinancings gained 2%, for the week ending June 19.
In another sign of heat in the housing market, new single-family home sales rose 2.2% in May, the fastest pace since February 2008. Tom Woods, chairman of the National Association of Home Builders, says rising builder confidence is tempered only by the challenge of meeting growing demand.
"Our builders are seeing motivated buyers and the release of pent-up housing demand," Woods said in an NAHB news release. "However, builders are facing supply chain challenges, which is affecting the inventory of new homes."
Meanwhile, existing home sales, as measured by the National Association of Realtors, increased in May to their highest level since November 2009.
"Solid sales gains were seen throughout the country in May as more homeowners listed their home for sale and therefore provided greater choices for buyers," said Lawrence Yun, chief economist for the Realtors group. "However, overall supply still remains tight, homes are selling fast and price growth in many markets continues to teeter at or near double-digit appreciation. Without solid gains in new home construction, prices will likely stay elevated — even with higher mortgage rates above 4%."
First-time homebuyers made the leap in May, accounting for 32% of sales, a gain of 30% over April. It was first-time buyers' highest share of the market since September 2012, according to the National Association of Realtors.
The median existing-home price in May was $228,700, up nearly 8% from a year earlier.
More from NerdWallet:
Hal M. Bundrick is a staff writer at NerdWallet, a personal finance website. Email: [email protected] Twitter: @halmbundrick.
---
Top image via iStock.