Mortgage rates moved higher for the third week in a row, influenced by the threat of inflation and mixed signals regarding the economy. Meanwhile, a new index provides insight into a given area's residents — and how their presence could impact the value of your home.
Freddie Mac's just-released weekly survey of lenders shows the following average rates for the most popular home loan terms:
30-year fixed-rate mortgages averaged 3.73% with an average 0.5 point for the week ending March 17, 2016.  A year ago, the rate averaged 3.78%.
15-year fixed rates averaged 2.99% with an average 0.4 point. The same term priced at 3.06% a year ago.
5-year adjustable-rate mortgages priced at 2.93% with an average 0.5 point. Last year at this time, the same ARM averaged 2.97%.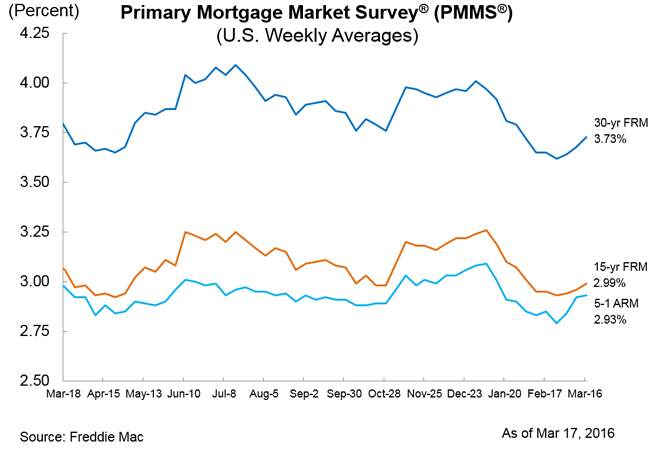 "Treasury yields increased heading into this week's (Federal Reserve) meeting, partially in response to modestly higher inflation readings. Thirty-year mortgage rates kept pace, rising five basis points to 3.73%," Sean Becketti, chief economist for Freddie Mac, said in a release.
Home refinance activity is continuing to slow though purchase applications remain steady, according to the Mortgage Bankers Association weekly report.
Purchase applications were up 0.3% for the week ending March 11, 2016, as refi applications fell 6%. Overall, home purchase loan applications remain 33% higher than the same week one year ago.
How neighbors can impact a home's value
When house hunting, there appears to be one key piece of information that homebuyers should seek out: whether the neighbors have criminal histories. A new index developed by RealtyTrac identifies ZIP codes with high concentrations of registered criminal offenders and shows a correlation with lower home values and higher foreclosure rates.
The index scores an area on a range from 0 to 100, with a higher rating indicating a higher number of criminal offenders (including sex offenders, child predators, kidnappers and violent offenders) as a percentage of the total population. Offenders within a half-mile radius of a home can be identified.
"This new index provides concrete evidence that registered criminal offenders pose not only a potential safety risk for homeowners and their families, but also a potential financial risk for what is likely a homeowner's biggest asset," said Daren Blomquist, senior vice president at RealtyTrac.
The company says the higher the offender index, the lower home values and home equity will be in an area.
Real estate agents are not legally required to provide such information to prospective homebuyers, and multiple listings services rarely offer such data alongside home listings.
The index report is available free at homedisclosure.com, though users must sign in to receive it.

More from NerdWallet
How much house can I really afford?
Compare mortgage rates
Find a mortgage broker
Hal Bundrick is a staff writer at NerdWallet, a personal finance website. Email: [email protected]. Twitter: @halmbundrick
---
Image via iStock.