First-time homebuyers have mortgage rates on their side — now if only home construction could get a jolt. Rates are holding firm, but new housing starts stalled in January.
Freddie Mac's just-released weekly survey of lenders shows little change in the following average rates for the most popular home loan terms:
30-year fixed-rate mortgages averaged 3.65% with an average 0.5 point for the week ending Feb. 18, 2016.  A year ago, the rate averaged 3.76%.
15-year fixed rates averaged 2.95% with an average 0.5 point. The same term priced at 3.05% a year ago.
5-year adjustable-rate mortgages priced at 2.85% with an average 0.4 point. Last year at this time, the same ARM averaged 2.97%.
"After another week of financial market oscillations driven by rumors of potential limits on oil production, the 10-year Treasury yield edged up 5 basis points, and the 30-year mortgage rate remained unchanged at 3.65%," Sean Becketti, chief economist for Freddie Mac, said in a release. "Despite this week's uptick in Treasury yields, the 10-year is still 54 basis points lower than it stood at the end of 2015, while the mortgage rate has dropped only 36 basis points over the same period."
Meanwhile, the rush to refinance continues, according to the Mortgage Bankers Association weekly report. Overall, mortgage loan applications increased 8.2% from one week earlier, led by a 16% increase in refis, the highest volume of refinancing in more than a year.
Purchase applications were down 4%, but are still 30% higher than the same week one year ago.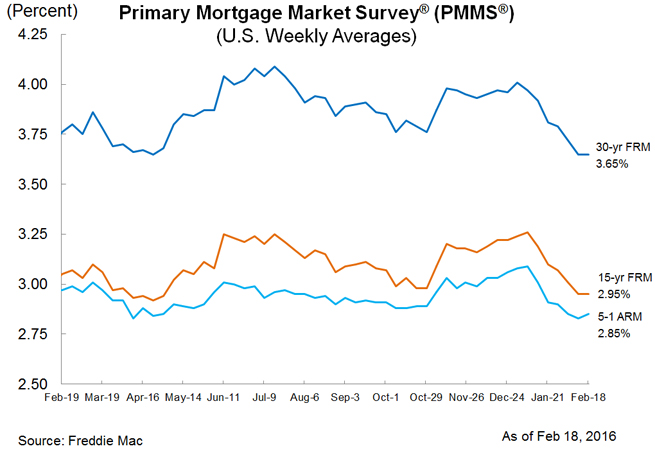 Construction stalls, but industry experts remain upbeat
The demand for new housing is rising but builders have been slow to ramp up construction. January saw another drop in housing starts, falling 3.8%, according to the U.S. Department of Housing and Urban Development and the Commerce Department.
However, industry insiders remain optimistic.
"Despite the modest dip in starts this month, we expect to see ongoing, gradual growth in housing production in 2016," David Crowe, National Association of Home Builders chief economist, says. "An improving economy, solid job creation and pent-up demand for housing should keep the market moving forward."
Brad Hunter, chief economist for Metrostudy, a real estate research and consulting company, says there is evidence young adults are beginning to form their own households in larger numbers across the nation, which may spur builders to break new ground.
"Lot development — the best leading indicator for 'starts' — is up sharply compared with two years ago, but there was a slight downtick in that measure at year-end that bears further monitoring," Hunter says. "Our data show mixed results across the country, with 80%-plus increases in California markets and strong increases in Florida, versus a year-ago. It's a complex set of factors, but we expect that the increase in household formations will drive construction higher."
And Jonathan Smoke, Realtor.com's chief economist, is also looking for newly nesting younger buyers to drive construction.
"January is the slowest month of the year for new construction, so it's not a good month to judge near-term trends," Smoke says. "Despite the weaker than expected January readings, the trends affirm our view of solid but not record-breaking growth in 2016. Demand for housing remains robust as a result of strong household formation."
More from NerdWallet:
Hal Bundrick is a staff writer at NerdWallet, a personal finance website. Email: [email protected]. Twitter: @halmbundrick
---
Image via iStock.