Mortgage Market Roundup: Interest Rates (8/6/15)
Mortgage rates turned slightly lower this week while lenders shuffled a greater volume of paperwork for new loan applications and home loan refinances.
"The employment cost index rose 0.2% in the second quarter, the lowest quarterly increase in its 33-year history, and ADP's Private Employment Report missed expectations for private jobs in July," Sean Becketti, chief economist for Freddie Mac, said in a release. "Uncertainty about the economy helped drive down Treasury yields early in the week, and thus mortgage rates fell 7 basis points to 3.91%, the lowest level since June 4th."
[Read More: Compare Mortgage Rates]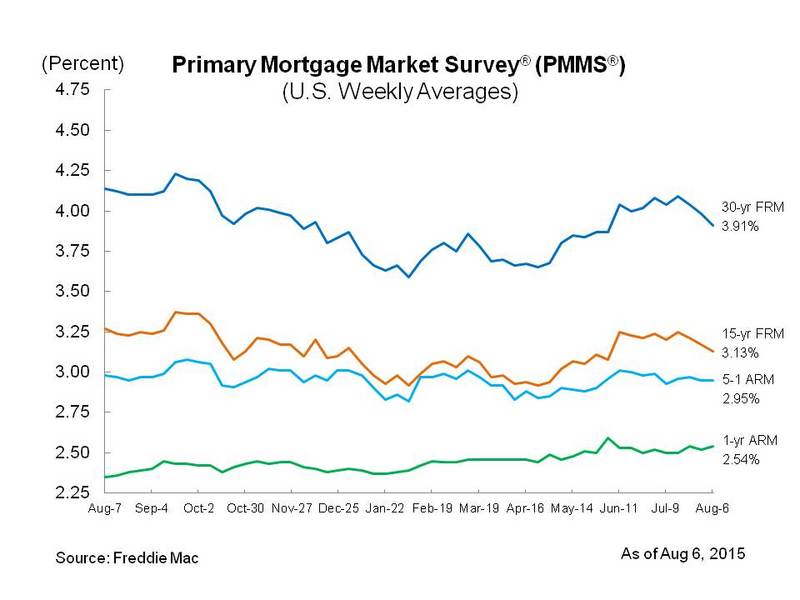 Home loan applications surge
Business was brisk for lenders during the past week as mortgage applications rose 4.7% for the period ending July 31. The Mortgage Bankers Association's weekly survey also found refinance activity accelerating, up 6% from the previous week.
"Despite recent concerns about the economy, both purchase and refinance applications increased strongly in response to lower interest rates last week," Lynn Fisher, MBA vice president, said in a statement. "Refinance activity was the highest since May when rates were last at this level. The increase in purchase activity was also notable for this time of year, up 23% relative to a year ago."
Home prices hit all-time highs in 15 states
Many homeowners are once again enjoying an appreciating asset, while prospective buyers may be facing a bit of sticker shock. Home prices rose 6.5% year over year in June, according to CoreLogic, with 15 states seeing their highest values ever.
"The current cycle of home price appreciation is closing in on its fourth year with no apparent end in sight," Anand Nallathambi, president and CEO of CoreLogic, said in a release. "Pent-up buying demand and affordability, together with higher consumer confidence buoyed by a more robust labor market, are a potent mix fueling a 6.5% jump in home prices through June with more increases likely to come."
The states notching all-time high home prices included: Alaska, Arkansas, Colorado, Hawaii, Iowa, Kentucky, Nebraska, New York, North Carolina, North Dakota, Oklahoma, South Dakota, Tennessee, Texas and Wyoming, as well as the District of Columbia.
Homeowners carrying highest non-mortgage debt in 10 years
Homeowners have gone on a credit card debt diet, but other forms of non-mortgage related debt have grown to their highest level in 10 years, according to a new report by Black Knight Financial services.
The research firm says the trend of higher debt loads could have a negative impact on the housing industry going forward.
Through June, non-mortgage debt averaged $25,000 per homeowner, the most in more than 10 years, mostly due to auto loans. The increase averaged $1,400 more than one year ago and $2,600 more than in 2011.
"Non-mortgage debt is another key piece of the home affordability puzzle — the more total debt borrowers are carrying and the higher monthly non-mortgage payments they have, the less money they have to put toward a new home purchase, or potentially even their current mortgage obligations," Ben Graboske, Black Knight data and analytics senior vice president, said in a release.
More from NerdWallet:
Hal Bundrick is a staff writer at NerdWallet, a personal finance website. Email: [email protected]. Twitter: @halmbundrick
---
Image via iStock