With the initial impact of the Fed's rate hike dying down, 30-year and 15-year fixed rates dipped, while 5/1 ARM rates remained unchanged Monday, according to a NerdWallet survey of mortgage rates published by national lenders this morning.
---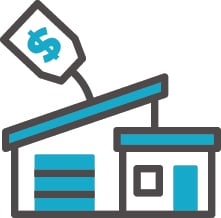 NAR: Closing times taking longer
Homebuyers can add another headache to the mix along with rising mortgage rates: longer closing times. The time to close averaged 40.5 days from November 2015 to November 2016 compared to a much brisker 36.7 days the year before, according to data from the National Association of Realtors.
Since new mortgage disclosure rules went into effect in 2015, closings are increasingly taking longer to get to the finish line, NAR reported. Many of the completed loans in November were already under contract during September and October, possibly causing backups, NAR said.
>> MORE: How to navigate the mortgage loan closing process
"These delays should ease in the coming months as refinance volume eases and as lenders continue to adapt to the new settlement process, but a longer average time-to-close may be part of the new normal," Ken Fears, NAR's director of regional economics and housing finance policy, said in a blog post.
Realtors report that a lack of affordable starter homes, as well as appraisal delays due to a shortage of professional real estate appraisers, are key factors stalling transactions, according to NAR's latest Realtors Confidence Index.
Homeowners looking to lower their mortgage rate can shop for refinance lenders here.
NerdWallet daily mortgage rates are an average of the published APR with the lowest points for each loan term offered by a sampling of major national lenders. Annual percentage rate quotes reflect an interest rate plus points, fees and other expenses, providing the most accurate view of the costs a borrower might pay.
More from NerdWallet
Compare online mortgage refinance lenders
Compare mortgage refinance rates
Find a mortgage broker
Deborah Kearns is a staff writer at NerdWallet, a personal finance website. Email: [email protected]. Twitter: @debbie_kearns.