Thirty-year and 15-year fixed rates saw significant increases on Monday, while 5/1 ARM rates increased slightly less, according to a NerdWallet survey of mortgage rates published by national lenders this morning.
---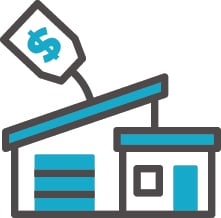 With rate uncertainty, consider acting soon
Casey Fleming, a mortgage advisor with C2 Financial Corp. in San Jose, California, says there's a chance that rates may go down slightly now that news of Donald Trump's election win has been digested. But even if that happens, Fleming doesn't expect rates to fall as low as they were this past summer. "We may have seen the last of that," he says.
Last week, Federal Reserve chair Janet Yellen said that an increase in short-term interest rates is likely in December. Such an increase would likely bump up mortgage rates as well.
With so much speculation around undulating rates, where does that leave consumers? As a prospective homebuyer, you might be worried about the best time to buy a home. Same if you're a homeowner who's thinking you missed the boat on refinancing your mortgage.
"If you want to buy a home, you have to move forward and buy the home," Fleming says. "You can refinance in the future if rates go down. If rates don't go down, you'll have gotten in the door with as good a rate as you possibly could."
Fleming says that we're still seeing historically low rates and that if refinancing makes sense for you, you should get things started right away. "Otherwise forget about it unless down the road something happens."
Homeowners looking to lower their mortgage rate can shop for refinance lenders here.
NerdWallet daily mortgage rates are an average of the published APR with the lowest points for each loan term offered by a sampling of major national lenders. Annual percentage rate quotes reflect an interest rate plus points, fees and other expenses, providing the most accurate view of the costs a borrower might pay.
More from NerdWallet
Calculate your mortgage payment
Compare mortgage rates
How much house can you afford?
Michael Burge is a staff writer at NerdWallet, a personal finance website. Email: [email protected].