Thirty-year and 15-year fixed mortgage rates went up a hair, while 5/1 ARM rates were lower Monday, according to a NerdWallet survey of mortgage rates published by national lenders this morning.
---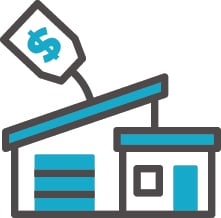 Forecast sees overall value growth, with Denver leading the way
A new report from Veros Real Estate Solutions, a company specializing in property valuation and risk assessment, predicts that 15 of the top 25 residential markets for home value increases into next September will be in Colorado, Idaho, Washington and Oregon. In a news release from last week, Veros' vice president of statistical and economic modeling, Eric Fox, said that this concentration is unusual. "In the 13 years that VeroFORECAST has been accurately producing forecasts, we have never seen such strong geographic polarization," Fox said.
The top five strongest markets are projected to be Denver (+10.8%); Boulder, Colorado (+10.5%); Fort Collins, Colorado (+10.3%); Seattle (+10.2%) and Boise, Idaho (+9.7%).
"In markets with this level of national appreciation, it is most common to see a broad distribution of markets contributing to the rise," said Fox. "What is remarkable from where we stand today is the possible concentration risk when home price appreciation and market activity become highly clustered in only a few regional areas."
The top five weakest markets are projected to be Atlantic City, New Jersey (-2.4%); Poughkeepsie, New York (-2.3%); Cumberland, Maryland (-1.7%); Longview, Texas; (-1.5%), and Waterloo, Iowa (-1.3%).
Homeowners looking to lower their mortgage rate can shop for refinance lenders here.
NerdWallet daily mortgage rates are an average of the published APR with the lowest points for each loan term offered by a sampling of major national lenders. Annual percentage rate quotes reflect an interest rate plus points, fees and other expenses, providing the most accurate view of the costs a borrower might pay.
More from NerdWallet
Compare online mortgage refinance lenders
Compare mortgage refinance rates
Find a mortgage broker

Michael Burge is a staff writer at NerdWallet, a personal finance website. Email: [email protected].