Thirty-year and 15-year fixed mortgage rates as well as 5/1 ARM rates continued their decline, according to a NerdWallet survey of mortgage rates published by national lenders Monday.
With rising home values across the country, though, are lower rates enough to coax potential homebuyers off the sidelines?
---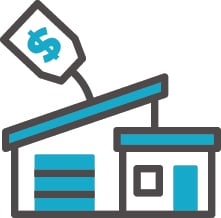 Zillow: Home values up
Homeowners will be happy with this news, but potential homebuyers might cringe a little when they hear that U.S. average home prices increased 5% nationally over last year to $188,100 last month, according to the August Zillow Market Report.
In some metro markets, Zillow reported that home values soared by double digits, especially in Portland, Oregon (up 14.8% to $338,9000); Dallas-Fort Worth, Texas (up 12% to $193,900); and Seattle (up 11.3% to $397,800).
And while the U.S. Census Bureau reports that Americans earned 5.2% more in annual household income in 2015 over 2014 — the first notable increase in eight years — wages in some of the country's pricier metro markets still aren't keeping pace with rapidly appreciating home values.
"The housing market is starting to smooth out ever so slightly, as the peak home shopping season winds down," Zillow Chief Economist Svenja Gudell said in a release. "This is good news for frenzied buyers tired of tight inventory, rapidly rising home prices and intense competition."
Gudell warned, however, that it's "still tough out there for buyers," especially in booming job markets in the West.
"Things won't switch from a sellers' market to a buyers' market overnight, but conditions are starting to improve," Gudell said.
Homeowners looking to lower their mortgage rate can shop for refinance lenders here.
NerdWallet daily mortgage rates are an average of the published APR with the lowest points for each loan term offered by a sampling of major national lenders. Annual percentage rate quotes reflect an interest rate plus points, fees and other expenses, providing the most accurate view of the costs a borrower might pay.
More from NerdWallet
Compare online mortgage refinance lenders
Compare mortgage refinance rates
Find a mortgage broker
Deborah Kearns is a staff writer at NerdWallet, a personal finance website. Email: [email protected]. Twitter: @debbie_kearns.