Mortgage rates across the board continued ticking upward Tuesday, but more modestly when compared with the wild surges the market has seen since Donald Trump's election win, according to a NerdWallet survey of mortgage rates published by national lenders this morning.
While the rate spikes still impact loan affordability, the smaller increments of change might be a sign that things are calming down — for now, at least.
---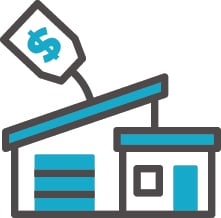 More borrowers apply for new-home mortgages year-over-year in October
Tight inventory in many markets across the country, especially in entry-level resale homes, is pushing more homebuyers toward new construction. Mortgage applications for new home purchases rose 8.3% in October 2016 over the same period last year, according to the Mortgage Bankers Association (MBA) Builder Application Survey.
While October applications were down by 2.3% month-over-month from September, the MBA reported, it seems more homebuyers are looking to new construction as existing-home options become less affordable or harder to find in competitive markets.
Compounding things for buyers: rising home prices.
Overall, 61.4% of new and existing homes sold from the beginning of July through the end of September were deemed "affordable" to families earning the U.S. median income of $65,700, according to the National Association of Home Builders/Wells Fargo Housing Opportunity Index. This is down from 62% from the second quarter.
As the national median home price increased from $240,000 in the second quarter to $247,000 in the third quarter, the NAHB found, low- to moderate-income families will feel the effects most, especially if homes prices keep rising along with mortgage rates.
New construction is particularly vulnerable to price fluctuations.
"Regulatory restraints along with shortages of buildable lots and skilled workers are adding to the cost of new homes, which is putting upward pressure on home prices," said Robert Dietz, chief economist for the NAHB, in a release. "Though these factors have negatively affected the marketplace, affordability still remains positive."
Homeowners looking to lower their mortgage rate can shop for refinance lenders here.
NerdWallet daily mortgage rates are an average of the published APR with the lowest points for each loan term offered by a sampling of major national lenders. Annual percentage rate quotes reflect an interest rate plus points, fees and other expenses, providing the most accurate view of the costs a borrower might pay.
More from NerdWallet
Calculate your mortgage payment
Compare mortgage rates
How much home can you afford?
Deborah Kearns is a staff writer at NerdWallet, a personal finance website. Email: [email protected]. Twitter: @debbie_kearns.