Members of retailer loyalty programs regularly get incentives like discounts, points, coupons and free shipping. What some might not know, though, is that they can take advantage of their standard program perks — and maybe even a few bonus ones — on Black Friday as well.
Here are 11 stores where memberships will come in handy this Black Friday.
1. Amazon
Amazon offers no shortage of products on Black Friday, and its membership doesn't skimp either. Amazon Prime members will get access to limited-time Lightning Deals 30 minutes earlier than other shoppers and a 50% discount on Prime Photos custom holiday cards. Plus, they'll have exclusive access to over 70 deals through Amazon's voice service, Alexa, on devices like the Amazon Echo or a Fire tablet. As usual, Prime members can score free two-day shipping on select purchases or, in some cases, just an hour.
2. BJ's Wholesale Club
All doorbusters and offers are exclusive to the warehouse club's members, both in stores and online. Nonmembers normally can shop on BJ's website with a one-day shopping pass, paying a steep 15% surcharge on top of the listed member prices. However, the wholesaler will not distribute these passes on Black Friday.
BJ's Black Friday ad features coupons for additional in-store member savings, like $30 off any Oral-B rechargeable toothbrush and buy one, get one free Herbal Essences shampoo and conditioner. On top of the discounts, BJ's Perks cardholders will earn double points through Nov. 28.
---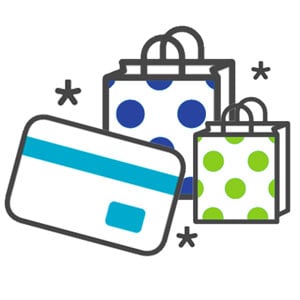 Don't pay interest on your holiday credit card balance. Find the best 0% card for you.
44% of shoppers carry credit card debt after the holidays
If you need to carry a balance make sure to put it on a low interest card
---
3. Costco
Like many other wholesale clubs, Costco is a retailer where you'll pay more than the sale price for an item if you aren't a member. This holds true on Black Friday. Nonmembers won't have access to in-store deals, like $160 off the Dyson Ball Complete upright vacuum. While they can shop on Costco's website, they should expect a 5% surcharge on top of the listed member prices. Plus, select online-sale items will be available just for members.
4. J.C. Penney
Shoppers in the free J.C. Penney Rewards program typically earn one point per dollar on purchases made throughout the year. These points accumulate as store credit that shoppers can apply to future purchases. Members who buy appliances this Thanksgiving or before 5 p.m. on Black Friday will earn double points, which means they'll have extra rewards dollars to redeem later.
» MORE: Are store rewards programs worthwhile?
5. Kmart
Kmart Shop Your Way members can earn a generous number of points on certain Black Friday purchases. For example, they'll bank $50 in points if they purchase the Samsung Galaxy Tab A or $20 in points with the purchase of the Paula Deen 12-piece nonstick cookware set.
Members can get an additional $5 in points on select buys of $50 or more when they pay with a Sears card. And there's one more advantage for loyal patrons: Shop Your Way members get $10 off layaway purchases of $50 or more through Nov. 26. Online customers will need to enter the code LAYAWAY10 at checkout first.
6. Office Depot
Office Depot members can get bonus rewards on Black Friday that allow them to score a few items practically for free. For instance, a three-ream case of copy and print paper is selling for $10.01, but members get $10 back in rewards with the purchase.
7. Petco
All of Petco's Black Friday ad prices are specific to Petco Pals Rewards members, who also earn points from their transactions. Members traditionally are treated to a gift with purchase for their pooches and felines, too. So while you don't have to join the program to shop at Petco post-Thanksgiving, you'll need a membership to get the special prices and merchandise.
8. Rite Aid
Virtually every Black Friday offer at Rite Aid is reserved for members as well. Shoppers need to have a Plenti rewards card to snatch up deals like buy one, get one free snacks and 40% off fragrance gift sets. And with your card, you can earn up to 1,500 extra points — worth $15 — on certain products like gift cards.
» MORE: What to buy, and skip, on Black Friday 2016
9. Sam's Club
If you don't have a Sam's Club membership or know someone with one who's willing to cover you, Black Friday sales are off the table. Deals roll out exclusively for members after midnight online on Thanksgiving and at 7 a.m. in stores on Black Friday.
10. Sears
Sears, like Kmart, uses the Shop Your Way rewards program. With the purchase of some items featured in the Sears Black Friday ad, members will get 100% back in points, or up to $50. Buy a pair of Reebok athletic shoes, for example, and you'll get the full amount back in points to use toward future purchases.
A new benefit for members this Black Friday is retroactive price matching. The Sears Holiday Guarantee gives members who bought items during the store's Member Bonus Event a partial refund if the same items sell for less on Black Friday.
11. Walgreens
Walgreens Balance Rewards members basically have a monopoly on the drugstore's Black Friday deals, including 50% off Sony and iHome headphones. Few offers are open to nonmembers. Shoppers can earn Walgreens gift cards or bonus points on certain items when they use their rewards cards, too.
Before you shop
Already a member at one of these retailers? Great. If not, it might be worth joining free programs at stores like Rite Aid and Kmart. However, paid memberships at places like Amazon and Costco don't make much sense if you're just looking to snag one-day discounts on Black Friday. Check with each retailer for possible time restrictions before you sign up.
Lauren Schwahn is a staff writer at NerdWallet, a personal finance website. Email: [email protected]. Twitter: @lauren_schwahn.
More from NerdWallet
How to make sure you're getting the best deal on Black Friday
Amazon's Alexa line comparison: Echo Dot vs. Tap vs. Echo
Shopping Dealfinder Newsletter
Get the best deals on Black Friday and beyond!