September means new Apple products, and for 2016, the tech juggernaut is rolling out two new sport watches: The Apple Watch Series 2 and Series 1.
The Series 2 is packed with features geared toward athletes. The Series 1 has a bit less in the features department, but works just as fast and has a starting price $100 less than the Series 2.
You don't have to be a tech geek to want the latest Apple products, but getting up to speed on all the specs and features can help you prevent buyer's remorse. Read through our comparison of the Series 2 and Series 1 to see which watch is a fit for you.
The watches: At a glance
| | Apple Watch Series 1 | Apple Watch Series 2 |
| --- | --- | --- |
| Price | Starts at $269 on Apple | Starts at $369 on Apple |
| Size | 38mm, 42mm | 38mm, 42mm |
| Color | Aluminum (silver, space gray, gold, rose gold) | Stainless steel (silver, space black); aluminum (gold, rose gold, space gray, silver); ceramic (white) |
| Processing chip | Dual-core processor | Dual-core processor |
| Software | WatchOS 3 | WatchOS 3 |
| Battery life | 18 hours | 18 hours |
| Wi-Fi capability | Yes | Yes |
| GPS | Tethered via iPhone | Built-in GPS |
| Water-resistant | Splash-resistant | Water-resistant (up to 50 meters) |
| Bluetooth | Yes | Yes |
| Heart rate sensor | Yes | Yes |
| Text notifications | Yes | Yes |
The watches: Up close and personal

Apple Watch Series 2

NerdWallet takes you shopping: Like the first-generation Apple Watch, the Series 2 has a heart rate sensor, activity monitor apps, calorie counter and step tracker. It can also receive smartphone notifications such as call, text and calendar alerts.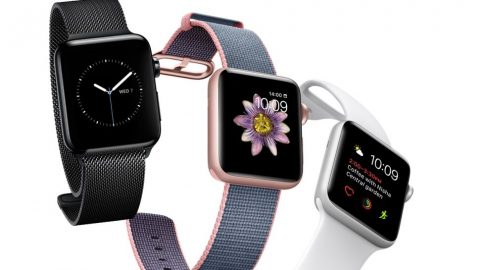 What sets it apart are the upgrades: The Series 2 includes speedy processing and graphics chips, the latest WatchOS 3 software, built-in GPS, comprehensive workout apps and a specialized hiking feature called ViewRanger that lists trail directions and details.
The watch is water-resistant up to 50 meters deep, or about 160 feet, and specially designed to push water out of the speaker hub with every swim stroke. A breathing app sets reminders for users to practice mindfulness throughout the day.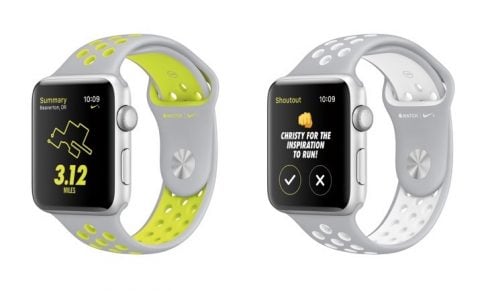 Runners in particular may like the Apple Watch Series 2 Nike Plus edition. This version comes in a lightweight aluminum case with a perforated band available in four colors. The preloaded Nike Plus app works with the watch's GPS to record accurate data on distance, pace and progress, sometimes using those recordings to motivate runners to hit the pavement.
Pricing for the standard Apple Watch Series 2 and Nike Plus edition starts at $369. The standard edition is available in space gray, black, gold and rose gold. Wearers can choose from a variety of bands, including sports bands, nylon, leather and more; prices may vary based on design.
Good fit for: Highly active Apple enthusiasts, no matter what the workout. Certain features cater to certain sports — swimming and running, in particular — but the Series 2 watch is great for anyone aiming to elevate their performance with the help of accurate stats reporting.
» MORE: Fitbit Blaze vs. Apple Watch Sport: How does the new Fitbit stack up?
Apple Watch Series 1
NerdWallet takes you shopping: The real improvements in the Apple Watch Series 1 are a powerful processor chip and the updated WatchOS 3 software. Wearers will experience faster performance and quicker load time than with the first-generation Apple Watch for tasks such as responding to messages, tracking activity or using third-party apps and Apple Pay.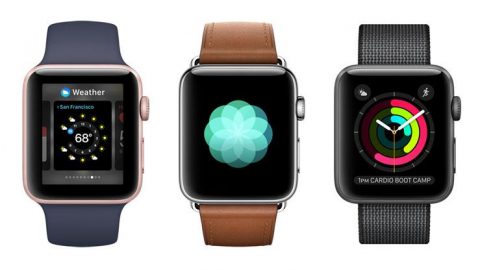 The improved hardware-software combo also enhances the Series 1's fitness capabilities. Active wearers can choose from 12 indoor and outdoor activities, including biking, hiking, rowing and elliptical. They also can record stats, set goals and track achievements or gaps in growth.
The Series 1 doesn't have an embedded GPS, however, so wearers will need their iPhone nearby when running.
Communication gets a boost as well: More message response shortcuts, stickers and full-screen effects are just a few new features. Wearers can even trace their finger on the watch's screen and it will translate handwriting to text. Apple also threw in an SOS feature that calls 911 and notifies emergency contacts when wearers push the button on the side.
The new Apple Watch Series 1 starts at $269 and is available in silver, space gray, gold and rose gold. Users can switch bands to their liking; prices differ based on design and material.
Good fit for: Apple fanatics with a casual fitness agenda. The Apple Watch Series 1 may not have all the features of the Series 2, but it's a big improvement from the brand's first-generation sports watch. The new processing chip provides a faster, more powerful performance to help users stay connected whether they're working on the clock or working up a sweat.
» MORE: Fitbit comparison: Which Fitbit activity tracker is best for you?
Time to decide
The Apple Watch Series 2 is geared toward more serious athletic types, especially swimmers and runners. The Series 2 is a powerful sports watch that can keep you connected as you get your workout on.
If sports isn't your forte, there's still an Apple Watch for you. Though it doesn't have a built-in GPS or water-resistant build, the Series 1 can monitor your general health — heart rate, step counter, activity tracker, breathing app — and provide the smartphone access you need.
Once you've decided which Apple Watch is right for you, make sure your phone is compatible. These devices require an iPhone 5 or later running iOS 8.2 or later.
More from NerdWallet
iPad Air vs. Kindle Fire: Which tablet is right for you?
Samsung Gear IconX Review: A small, versatile in-ear activity tracker
What to know about cash-back shopping sites
Nina Tabios is a staff writer at NerdWallet, a personal finance website. Email: [email protected].