If you're looking for a portable speaker that can do more than just play music, the Beats Pill+ and the Jawbone Big Jambox are two strong candidates. For instance, both function as speakerphones and are upgradeable.
Check out our breakdown to see whether either is the right choice for you.
At a glance
What we found: The Jawbone Big Jambox is, at full retail price, $70 more expensive than the Beats Pill+.
What you'll learn: These two versatile speakers can wirelessly play audio from your music, movies, games and more. While both are portable, the size and shape of the Beats Pill+ make it easier to tote around. But the Big Jambox might be the better solo performer.
| | Beats Pill+ | Jawbone Big Jambox |
| --- | --- | --- |
| Price | $229.95 | $299.99 |
| Connectivity | Bluetooth, AUX | Bluetooth, AUX cord, micro USB cord |
| Speakerphone | Yes | Yes |
| Battery life | 12 hours | 15 hours |
| Weight | 1.6 pounds | 2.7 pounds |
| Colors | Black, white | Customizable (10 color options for the body and 12 for the end-piece) |
| Buy on Amazon | | |
Design
These compact devices have similar designs. Both have minimal buttons and grilles that wrap around from the front of the speaker to the back. But that's where the resemblance ends.
The Beats Pill+ is capsule-shaped with rounded edges, as its name suggests. It's the smaller of the two, weighing 1.6 pounds and measuring 2.5 inches high, 8.27 inches long and 2.72 inches wide.
The Big Jambox is rectangular and has a brick-like appearance. It's a pound heavier than the Pill+ and measures 3.6 inches high, 10 inches long and 3.1 inches wide.
The Big Jambox lets you mix and match colors. There are 10 color options for the grille and 12 for the ends. The Pill+ has far fewer choices: It's available in either black or white.
» MORE: The Jawbone Big Jambox review
Features
Each speaker is designed to pump out loud, clear audio. They share a few extra features as well:
Speakerphone. Both devices have a built-in microphone that allows you to make and answer phone calls and video chats.
Multiple device pairing. The speakers can connect with two devices at the same time, so you and a friend can take turns selecting songs.
Software updates. Access the Beats Pill+ app or the Jawbone Accounts website to unlock features and updates.
Now let's take a look at what sets them apart:
Beats Pill+
NerdWallet takes you shopping: 

Because Beats is owned by Apple, the Pill+ has a feature that will be familiar to Apple users: It charges with a Lightning cable. It has a USB port, too, which you can use to charge your phone or another device while you play. The Big Jambox lacks this capability.
Additionally, the Beats Pill+ has its own app that lets you check for software updates, connect the speaker to a second device, or pair it with another Pill+ speaker. When paired, you can choose either a stereo sound mode, which designates a left and right speaker, or an amplified sound mode that plays your audio through both speakers simultaneously.
The Pill+ also comes with a drawstring carrying case to help you transport and protect it.
Jawbone Big Jambox
NerdWallet takes you shopping: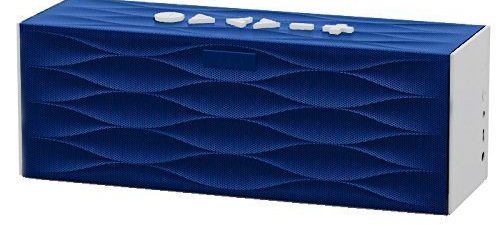 Jawbone calls the Big Jambox a "smart" speaker, because you can download software updates and apps for it through the website. This lets you enhance or add features.
Unlike the Pill+, the Big Jambox can't link up with another speaker, but it is equipped with something called LiveAudio technology. This means it can produce a realistic, immersive, surround-sound effect on its own.
» MORE: The best Bluetooth speakers
Battery life and connectivity
Both speakers are compatible with Bluetooth devices such as smartphones, smartwatches, laptops and tablets. They each have a 3.5mm auxiliary input for non-Bluetooth devices as well.
Their battery lives are in the same ballpark, but the Big Jambox can outlast the Pill+ by a few hours. It survives up to 15 hours on a full charge compared with the Pill+'s 12 hours. According to some user reviews, however, the Pill+'s battery drains more quickly than advertised.
Price
You can purchase the Beats Pill+ for a retail price of $229.95 from Apple. The Jawbone Big Jambox's full retail price is $299.99, but it's currently unavailable from the manufacturer. We recommend checking Amazon, where you might find both speakers at a discount.
The verdict
The Beats Pill+ and the Jawbone Big Jambox are both good choices for on-the-go listeners because of their compact, wireless designs.
But because the Pill+ is smaller and comes with a carrying case, it's the better suited of the two for travel. It can also charge your device, which means your music will always be ready to play. And it's convenient for those who already own an Apple device, such as the iPhone or iPad, because it uses the same charger.
When it comes to performance, the Jawbone Big Jambox has the upper hand. It offers three more hours of extended play on a full charge, and it doesn't depend on a second speaker to emit loud, immersive sound.
The Pill+ costs $70 less than the Big Jambox, but both are on the expensive side for small speakers. If you're a fan of their features but not their price tags, consider the comparable JBL Charge or Charge 2+, which cost less than $100.
More from NerdWallet
Bose SoundLink vs. Beats Pill
JBL Micro Wireless: The ultimate portable speaker
Sony speaker review: SRS-X3 vs. SRS-X5

Lauren Schwahn is a staff writer at NerdWallet, a personal finance website. Email: [email protected]. Twitter: @lauren_schwahn.