Don't miss out on all of NerdWallet's highly anticipated 2016 Black Friday ad leaks this season. Check back regularly for updates on the best holiday deals from your favorite retailers. Black Friday is Nov. 25.
Most of us will have at least one person on our shopping list who's requested an activity tracker or smartwatch. And whether that person is a hard-core athlete scaling new heights of physical fitness or a couch potato trying to change his or her sedentary ways, there's such a wide variety out there that you are likely to find one for nearly every fitness level and budget.
Trackers such as the simple clip-on Fitbit Zip or Misfit Flash are perfect for the low-tech burgeoning fitness buff, while the Garmin vivosmart HR+ or waterproof, what-doesn't-it-do Apple Watch Series 2 is a better choice for a serious gym rat.
---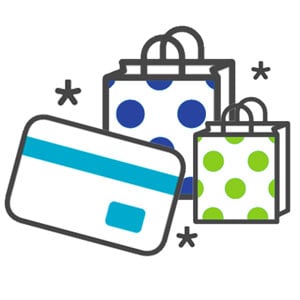 Don't pay interest on your holiday credit card balance. Find the best 0% card for you.
44% of shoppers carry credit card debt after the holidays
If you need to carry a balance make sure to put it on a low interest card
---
Best Black Friday Activity Tracker and Smartwatch Deals 2016
Still waiting for the best 2016 Activity Tracker and Smartwatch Black Friday deals? So are we. Keep checking back, because we'll post them here as soon as we get the details. In the meantime, take a look at what happened in 2015 for an idea of what you can expect this year.
Best Black Friday Activity Tracker and Smartwatch Deals 2015
Here are the deals different retailers were offering last year:
Best Buy
It's no surprise that the electronics superstore's 42-page, 2015 Black Friday ad had scores of great deals on activity trackers and smartwatches, but the "save up to $100" deal on Apple Watches priced $349-$699 was one of the more spectacular. On the other end of the spectrum, one of the most inexpensive trackers on the market — the Misfit Flash — had its already low price of $30 slashed in half to just $15. Various Fitbits were also well-represented in the sale, with significant discounts from $20 to $50 on the Fitbit Charge, Charge HR, Surge and Zip. The store also knocked $50 off the Samsung Gear S2 Sport and $70 off the Pebble Time.
Wal-Mart
The typical Wal-Mart Supercenter averages about 180,000 square feet, so it's possible to get a good workout just doing your holiday shopping. And if you wanted to count those steps, the 2015 Black Friday sale was the place to buy a Fitbit. The clip-on Fitbit Zip was marked down $20, to $39, while the more high-tech Fitbit Surge Fitness Watch had $50 lopped off its regular $249.99 price tag. The Fitbit Flex and Charge HR were marked down $40 and $30, respectively.
Target
Target's 2015 Black Friday sales price-matched Best Buy on Fitbit Charge, Charge HR and Surge, and the retailer was also giving away a free $100 gift card with the purchase of an Apple Watch. If you're looking for a less expensive smartwatch than Apple's, last year Target offered the Pebble Time for just $129.99, a full $70 off the regular price of $199.99. While it's not as trendy (or as spendy) as the Apple Watch Series 2, it's still an excellent smartwatch with myriad customizable features.
Amazon
With deals being rolled out at lightning speed over the course of a week, Amazon's 2015 Black Friday sale was hard to keep up with. But one of its better deals was a price chop of $79 on the Jawbone UP3, for a sale price of $100. While the UP3 is comparable to the UP2, its newest feature measures resting heart rate. While we don't know the details of Amazon's 2016 Black Friday sale yet, the retailer had already marked down the popular Pebble Time to $80 before Halloween, so keep on top of that.
Check out our full list of 2016 ad leaks for up-to-date deal news from a wide range of retailers.
Shopping Dealfinder Newsletter
Get the best deals on Black Friday and beyond!