Because Bluetooth speakers are wireless, they're usually considered synonymous with portability. But they're not all necessarily fit for travel: Some speakers are truly designed to be used on the go, while others are better indoors for home use.
But whether you want to bump tunes on a hike, at a beach picnic or in your bedroom, there's a Bluetooth speaker for you.
Our analysis: Based on 12,844 analyzed reviews
NerdWallet's scoring of the best Bluetooth speakers is based on our analysis of the opinions of experts and shoppers like you.
We looked at opinions from industry leader review sites, such as CNET and Good Housekeeping, to create a list of the most popular speakers on the market. Then we analyzed actual user reviews to see what shoppers were saying about each speaker's best — and worst — attributes.
Our scores range from a low of 1 to a high of 10. Here's how we devised them:
Overall score: This score shows reviewers' overall satisfaction level with the speaker across 16 criteria, including important aspects such as sound quality, features, battery life and durability.
Sound: This score reflects reviewers' satisfaction with the speaker's sound output. In addition to sound clarity and volume, we accounted for factors such as bass and treble.
Ease of use: This score indicates reviewers' satisfaction with how simple the speaker is to set up and control. Because convenience is a top consideration for many speaker users, we examined several criteria, including features, design, charging and setup.
These are our top picks, ranked in order of overall score.
The speakers
1. JBL Flip 3
The latest in JBL's popular Flip series, the Flip 3 is splashproof, durable and provides great sound balance in volume, bass, highs and mids. It can also be paired with other JBL speakers to amplify the listening experience, especially outdoors. Its 1.55-pound body and tubular shape make it portable; however, users noted that the speaker tends to roll due to a lack of "feet" on the bottom.
Buyers Like
Produces rich sound.
Has 10-hour battery life.
Splashproof.
Buyers Dislike
Doesn't come with case or wall charger.
Tends to roll.
2. JBL Charge 2+
JBL's Charge series speakers are slightly larger than the Flip series, but still portable. The Charge 2+ delivers sizable bass thanks to two small subwoofers on each side. And its Social Mode allows up to three people to sync their phones at the same time and take turns playing music, making it a great party speaker.
Buyers Like
Delivers clear, punchy sound.
Can be used as a phone charger.
Has Social Mode.
Splashproof.
Buyers Dislike
Lacks volume range.
Tends to roll.
3. Creative Sound Blaster Roar
The Creative Sound Blaster Roar has two features that set it apart: Roar amplifies music in loud environments, such as at a party or outdoors, and TeraBass serves as an internal equalizer for the bass component. For example, the feature will automatically increase the bass when playing rock music, toggle down for playing folk tunes, then balance out for soul jams.
Buyers Like
Roar and TeraBass features work well.
Provides big sound relative to speaker size.
Buyers Dislike
Bulky.
Struggles with high volumes.
4. Riva Turbo X
The Riva Turbo X is the most versatile of Bluetooth speakers: It can play movie and gaming audio, and even supports phono mode on record players. And its Trillium surround sound technology plays the single audio source through three channels to deliver a more natural, room-filling sound. It isn't suited for travel, but its sophisticated design makes it a great home speaker.
Buyers Like
Has a sleek, sophisticated design.
Offers Trillium surround sound.
Buyers Dislike
Doesn't have a thumping bass sound.
Bulky.
Has spotty Bluetooth range.
5. Sony SRS-X3
The Sony SRS-X3 is an unassuming speaker that can fit comfortably on a shelf or counter or behind your computer monitor. It can conjure a decent mix of highs and mids at moderate volumes, but like most petite devices, it struggles to produce satisfactory bass levels.
Buyers Like
Small and compact.
Produces clear sound.
Buyers Dislike
Weight.
Prone to random shut-offs.
Distorts at high volumes.
6. UE Boom
Similar in shape to the JBL Flip and Charge series, the UE Boom is another small speaker that delivers big sound. It doesn't come with a case, but users can clip its D-ring to a bag or piece of equipment for easy carrying. It's also water-resistant and durable and provides surround sound, making it the ideal travel speaker.
Buyers Like
Water resistant.
Loud and clear surround sound.
Durable.
Buyers Dislike
Doesn't come with a carrying case.
Lacks bass.
7. Creative Muvo Mini
The smallest of the bunch, the Creative Muvo Mini touts clear sound, long battery life and a speakerphone for conference calling. It doesn't have a solid bass component, but it's still great for traveling.
Buyers Like
Long battery life.
Portable.
Buyers Dislike
Lacks bass.
Doesn't come with wall charger.
8. UE Roll 360
The medallion-shaped UE Roll 360 is just as portable as the UE Boom, and it sounds just as good — though, like the other speaker, it lacks in bass. Some users also said the device's Bluetooth range is a little short at about 8 feet. And listeners must download the UE Roll app to connect a phone to the speaker, but the app does double as a customizable equalizer for audio fiends to tinker with.
Buyers Like
Produces crisp, loud sound that can fill a room.
Water-resistant.
Small, portable design.
Buyers Dislike
Has a short Bluetooth range.
Doesn't come with wall charger.
9. TDK Life on Record
TDK Life on Record is the speaker for life outdoors: It's weatherproof, loud and durable. Even better, it delivers rattling bass, crisp mids and highs that don't distort at high volumes. In an effort to save battery, however, the speaker will automatically reduce its volume when removed from its charger.
---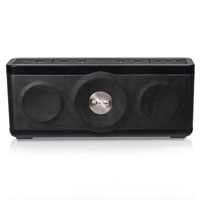 TDK Life on Record TREK Max A34 Wireless Weatherproof Speaker
Overall score: 8.85
Sound: 9.5
Ease of use: 9.1
Buyers Like
Good for outdoor use.
Produces loud, clear sound.
Charges phone.
Buyers Dislike
Automatically reduces volume when not charging.
Has a large charger.
Bluetooth connectivity can be tricky.
10. JBL Micro
The JBL Micro fits in the palm of your hand and offers booming sound to boot. Though it's a little more delicate than other Bluetooth speakers, it does come with a cloth bag to give you a little peace of mind when toting it around.
Buyers Like
Lightweight, compact.
Connects via Bluetooth or auxiliary cord.
Comes with a cloth carrying bag.
Has long battery life.
Buyers Dislike
Doesn't feel durable.
Lacks bass component.
More from NerdWallet
JBL Flip 2 vs. Flip 3
UE Mini Boom vs. Boom vs. Megaboom
The Best iHome Speakers
Nina Tabios is a staff writer at NerdWallet, a personal finance website. Email: [email protected].