You nailed the Christmas present and successfully selected a birthday gift, but now June is approaching — and that means it's graduation present season.
To help you out, we've rounded up our top graduation gift picks. Some of these items are useful and some are unique, but they all cost $50 or less.
1. Class of 2016 Mug: $10.95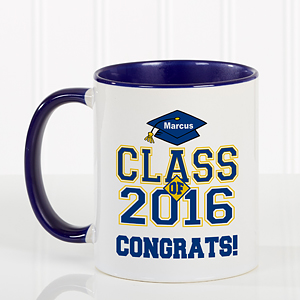 At Personalization Mall, $10.95 will buy you an 11-ounce mug that you can customize with your graduate's name. For $1.95, you can add hot cocoa mix to your gift.
2. Desktop plaque: $24.99
We found this 5-by-7-inch rectangular plaque, which can be customized with text and three pictures of your choice, for $24.99 from Shutterfly. This gift gives graduates a great way to preserve their school memories.
3. Reading pillow: $24.99
Bring your graduate literal comfort and relaxation with a reading pillow. We found the Shagalicious Bedrest in hot pink or lime for $24.99 at Amazon.
» MORE: Kindle Paperwhite vs. Nook GlowLight Plus
4. Travel journal: $28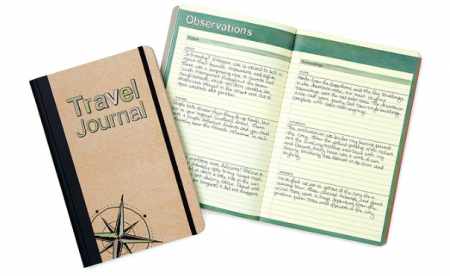 After all that studying, your graduate might be itching to do some sightseeing. Help him or her capture memories without social media with the gift of a travel journal. We spotted this one for $28 from UncommonGoods. It's made with recycled paper and includes sections for users to jot down plans, experiences, activities and reflections.
5. Luggage set: $39.99
As your graduate moves out of — or into — the dorms, he or she will need the right luggage for the job. The US Traveler Rio two-piece expandable carry-on luggage set includes a 21-inch upright suitcase and a travel tote. Get it for $39.99 from Amazon.
6. Amazon Fire TV Stick: $39.99
Aid your graduate in the transition from binge-studying to binge-watching with the Amazon Fire TV Stick. It plugs directly into a TV's HDMI port and offers access to more than 4,000 channels, as well as streaming services such as Netflix, Amazon Video, HBO and Hulu. This one also costs $39.99 on Amazon.
» MORE: Amazon Echo vs. Amazon Tap
7. Precious Moments figurine: $46.99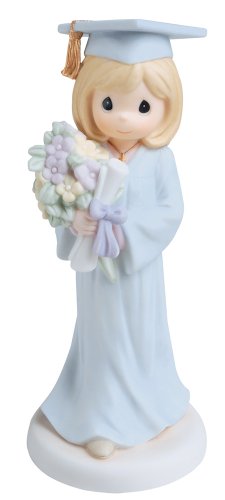 If you have a collector graduate in your life, consider a figurine from Precious Moments. There are many options, but we especially like this 8-inch porcelain "I Know Who Holds The Future" figurine. It will cost you $46.99 on Amazon.
8. Pendant: $48
Finishing school is a huge transition, and the Dogeared New Beginnings lotus pendant necklace will remind your graduate of the journey. This sterling silver necklace features the lotus, a flower that grows out of the darkness and into the sun. It's $48 from Nordstrom.
9. Gift card: $50
You can never go wrong with a gift card. Choose one from your graduate's favorite retailer or restaurant, or you can even opt for a gas card. Then decide how much you want to load the card with — $50 is a popular amount.
Don't think any of these ideas are quite right? Your graduate might have created a graduation gift registry — much like a wedding or baby registry — with a list of items he or she wants.
Courtney Jespersen is a staff writer at NerdWallet, a personal finance website. Email: [email protected]. Twitter: @courtneynerd.