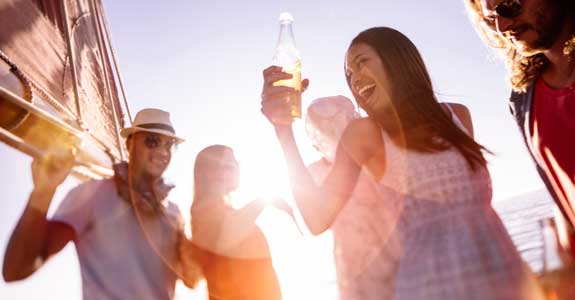 Sometimes when you're out on the open water, you want to hear more than rolling waves and the squawking of sea gulls. With marine speakers, you can add your favorite soundtrack to the mix — and who wouldn't want to set sail with Beyoncé or the Beatles?
Marine speakers are designed to replace the factory speakers in boats and open-air vehicles, such as convertibles. They're usually small — with 6.5-inch cones — sold in pairs, and made with weather-resistant materials that can withstand exposure to water, sun and salt. They won't provide especially thumping audio, but they'll ideally be an upgrade from your existing system.
We've combed through the pros and cons of some of the most popular marine speakers to help you find the best pair for your ride of choice.
Our analysis: Based on 12,844 analyzed reviews
NerdWallet's scoring of the best marine speakers is based on our analysis of the opinions of experts and shoppers like you.
We used industry-leading review sites such as CNET and Good Housekeeping to create a list of the most popular speakers on the market. Then we analyzed actual user reviews to see what shoppers were saying about each speaker's best — and worst — attributes.
Our scores range from a low of 1 to a high of 10. Here's how we devised them:
Overall score: This score shows reviewers' overall satisfaction level with the speaker across 16 criteria, including all-important aspects such as sound quality, features and durability.
Sound: This score reflects reviewers' satisfaction with the sound output produced by the speaker. In addition to sound clarity and volume, we also accounted for factors such as bass and treble.
Ease of use: This score indicates reviewers' satisfaction with how simple the speaker is to set up and control. Because convenience is a top consideration for many speaker users, we examined several criteria, including features, design and setup.
Here are our top picks for marine speakers, ranked in order of overall score.
The speakers
1. JBL MS 6200
The JBL MS 6200 earned high scores in nearly every category, including sound quality, size and setup. Reviewers had almost no complaints, but a few said the bass is less impressive than you'd get from larger speakers. JBL sells this model for $119.95 per pair; however, it's widely available for less from other retailers.
Buyers Like
Crisp, clear sound.
Easy to install.
Solid construction.
Buyers Dislike
2. Infinity Reference 612m
With 225 watts of power — the highest of the bunch — the Infinity Reference 612m speakers are more than capable of overpowering the sound of waves or an engine. But some buyers had to drill additional holes to properly secure the units. They're no longer available through the manufacturer, but you can find them on Amazon for around $100.
Buyers Like
Sharp audio.
Loud volume.
Sleek, durable design.
Buyers Dislike
Inadequate number of holes for screws.
Open design leaves the speakers exposed.
3. Polk Audio DB651
The Polk Audio DB651 speakers deliver virtually distortion-free sound. They're also certified by the American Society for Testing and Materials to handle moisture, but some users were concerned about the exposed components. A pair retails for $99.95.
Buyers Like
Balanced sound.
Relatively low price.
Decent bass.
Buyers Dislike
Imperfectly fitting mounting hardware.
Open design leaves speakers exposed.
4. Boss Audio MR60W
At $39.99, the Boss Audio MR60W speakers are the least expensive pair on our list. Given the price, buyers were pleasantly surprised with the quality of sound and construction, but said the installation process was a hassle. Some reported that they had to cut wider openings in their vehicles to accommodate the large grille.
Buyers Like
Surprisingly loud, clear sound.
Low cost.
Solid construction.
Buyers Dislike
Tricky to mount.
Too large to fit in some spaces.
5. Pyle PLMR60
The PLMR60 from Pyle's waterproof Hydra series is equipped with an aluminum voice coil, which contributes to its clear, accurate sound. Users liked the speakers' durability, but some noted that the included mounting hardware — such as screws — quickly rusted. The suggested retail price is $57.99 per pair.
Buyers Like
High quality sound.
Reasonable price.
Solid construction.
Buyers Dislike
Rusty mounting hardware.
Too large to fit in some spaces.
More from NerdWallet
Bose SoundLink Color vs. Mini II vs. III
Bose SoundDock Series III Review
The Best iHome Speakers
Lauren Schwahn is a staff writer at NerdWallet, a personal finance website. Email: [email protected].