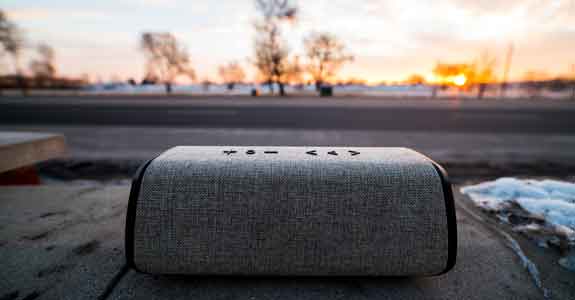 Outdoor speakers are a great way to keep the music flowing when the party moves from the living room to the backyard. Many of these speakers can be mounted to the house and are waterproof, allowing them to stand up to the weather, rain or shine.
If equipping your house with an outdoor speaker system is on your to-do list, check out our roundup of the best outdoor speakers to see which is right for you.
Our analysis: Based on 12,844 analyzed reviews
NerdWallet's scoring of the best outdoor speakers is based on our analysis of the opinions of experts and shoppers like you.
We looked at opinions from industry leader review sites, such as CNET and Good Housekeeping, to create a list of the most popular speakers on the market. Then we analyzed actual user reviews to see what shoppers were saying about each speaker's best — and worst — attributes.
Our scores range from a low of 1 to a high of 10. Here's how we devised them:
Overall score: This score shows reviewers' overall satisfaction level with the speaker across 16 criteria, including important aspects such as sound quality, features and durability.
Sound: This score reflects reviewers' satisfaction with the speaker's sound output. In addition to sound clarity and volume, we accounted for factors such as bass and treble.
Ease of use: This score indicates reviewers' satisfaction with setting up and controlling the speaker. Because convenience is a top consideration for many speaker users, we examined several criteria, including design, setup and attributes such as weather resistance.
Let's see which speakers made our list and how they fared. These are our top picks, ranked in order of overall score.
The speakers
1. Polk Audio Atrium 4
Users liked the Polk Audio Atrium 4 for sound quality and easy installation. Don't expect extremely high-quality audio to come from these speakers, but reviewers said it wasn't bad, given the speakers' size. They lacked a little in bass, but still delivered a full sound range and didn't distort at high volumes. The Atrium 4's weatherproof design was able to withstand rain and still operate well.
Buyers Like
Good sound range
Doesn't distort at high volumes
Easy to install
Buyers Dislike
2. Yamaha NS-AW150HW
Considering their compact size, these Yamaha speakers can push a decent sound quality. Although the speaker can project clear midrange and high frequencies, buyers said the bass lacks a punch, and the volume range wasn't as good as some would've preferred. Reviewers did say they liked how they could adjust the audio levels directly on the speaker to help improve the sound quality.
Buyers Like
Decent sound quality for size
Can adjust audio levels on speaker
Durable
Buyers Dislike
Lacks deep bass component
Doesn't get very loud
3. Dual Electronics LU43PW
A common issue with smaller outdoor speakers is that by sacrificing size, you're giving up bass. So while users loved how easy it was to mount the lightweight Dual Electronics speakers, they weren't satisfied with the bass levels. Overall, these speakers were able to deliver clear sound and survive all seasons, with the exception of the metal grille rusting after wet weather.
Buyers Like
Compact size
Weatherproof
Buyers Dislike
Small size sacrifices bass
Metal grille rusts
4. Acoustic Research Portable Wireless Speaker
Users said little effort was required to set up and play the Acoustic Research portable speakers. The easy installation, decent sound playback and low price point made them worth the purchase. The speakers come in two different styles — Main Street and Mission — so users can choose which design best suits their home's aesthetic. Some buyers dinged the speakers for having a short life.
Buyers Like
Easy to set up
Decent sound quality
Design options
Buyers Dislike
Distortion at high volumes
Short product life
5. Pyle PLMR24
The Pyle PLMR24 speakers are small, easy to install and can deliver decent sound for the size. However, some users said the Pyle speakers played best at low to medium levels and tended to blow out if pushed to max volumes. Although some users said the speakers seemed cheaply made, they held up against the elements thanks to their waterproof build.
Buyers Like
Lightweight, compact size
Decent sound for size
Reliably waterproof
Buyers Dislike
Feels cheap
Speakers blow out easily
More from NerdWallet
The Best Bluetooth Speakers
Bose SoundDock Series III Review
The Best iHome Speakers
Nina Tabios is a staff writer at NerdWallet, a personal finance website. Email: [email protected].