Advertiser Disclosure
Macy's Black Friday 2014 Ad – Find the Best Macy's Black Friday Deals and Sales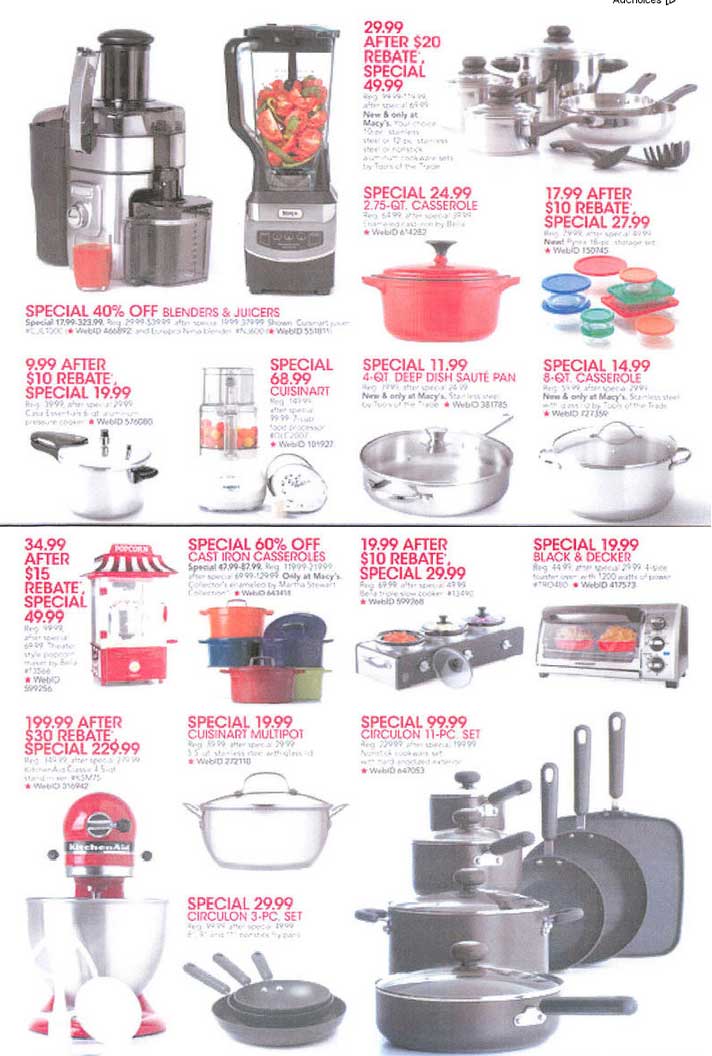 NerdWallet has got this year's 2016 Macy's Black Friday details covered. Looking for other stores? We're keeping up with all the latest and greatest 2016 Black Friday ad leaks this holiday season.
Macy's Black Friday 2014
The Macy's ad for 2014 is finally out. Check out the ad scan below to see what Macy's has in store for this year! After you take a look at the deals, scroll down to our analysis of the best deals in this year's offerings:
Whether it's clothes, kitchen appliances or bedding you're looking for, you're sure to snag great deals at the Macy's Black Friday sale this year. The retailer released a hefty ad featuring more than 50 pages of bargains, including some especially impressive doorbusters. Furthermore, the ad includes two coupons for added discounts.
The doorbuster sale begins at 6 p.m. on Thanksgiving, with deals offered until 1 p.m. Friday. After that marathon, the doorbuster sale continues from 7 a.m. to 1 p.m. Saturday. Before you head out to the store, make sure to clip the in-store coupons provided in the ad: $10 off any purchase of $25 or more (applies to all sale and clearance apparel, excluding doorbusters) and $20 off purchase of $50 or more (same restrictions).
If you'd rather shop from home, use the promotional code THANKS to get extra discounts at macys.com. You can choose either a 15% discount plus free shipping or a 10% discount plus free returns. Otherwise, free shipping is offered with orders of at least $99.
Macy's is offering great bargains on apparel, footwear and accessories for men, women and children. Some of the best offers:
Women's Rampage boots: $19.99 (regularly $59-$69)
Juniors' clothing (tops, pants and more): Buy one, get one free
Men's All American Rag outerwear, fleece hoodies, pants and more: Buy one, get one free
Women's DKNY and CK jeans: 50% off
Women's cashmere sweaters: $39.99 (regularly $139, sale $79.99, after 1 p.m. $69.99)
Men's designer overcoats and sport coats: $89.99-$179.99 (regularly $350-$625)
Juniors' coats: $15.99 (regularly $69.50, after 1 p.m. $34.75)
Slippers: $9.99 (regularly $28-$36, after 1 p.m. $19.99-$24.99)
Faux pashmina: $7.99 (regularly $24)
Kids' sweaters: Buy one, get one free
Kids' outerwear: 65% off
Timex watches: 40% off
Diamond-accent jewelry: 70% off
Leather coats: 50% off
You'll also find a number of items marked down 60%, including men's dress shirts and ties, Levi's jeans, men's polos, men's outerwear, women's wool-blend and down coats, Izod apparel, designer sunglasses, juniors' sweaters and tops, Carter's kids' clothing, kids' active sets, sleepwear and girls' dresses.
If you're shopping for fragrances, keep an eye out for free gifts, including free mini samplers, travel kits, tote bags, umbrellas and more.
Pick up some great stocking stuffers in the cosmetics department. For only $10, you can grab these makeup sets:
3-piece Smashbox mini bestseller kit (valued at $39)
Urban Decay eye makeup set (valued at $48)
Too Faced Amazing Eyes set (valued at $25)
Kitchen appliances feature prominently in the ad, with the following items available for $7.99 after rebate ($19.99 upon purchase):
Bella Rocket blender
Bella rotating waffler
Bella stainless steel toaster
Bella Hot Air popcorn maker
At $2 more ($9.99 after rebate and $19.99 upon purchase), you can expand your kitchen supplies further with these useful appliances from popular brands:
Black & Decker 12-cup coffeemaker
Black & Decker 16-cup rice cooker
Cuisinart 3-speed hand mixer
Cuisinart stick blender
Bella 12-speed blender
Bella 12-inch skillet
Bella electric griddle
Bella 12-inch skillet
Bella electric griddle
Bella panini maker
Fagor Casa Essentials 5-quart pressure cooker
But that's not all. We've selected some more of the best bargains on cooking essentials, from kitchenware to small appliances:
Nutribullet blender with 3 cups: $79.99 (regularly $159.99, after 1 p.m. $89.99)
Rachael Ray 12-piece nonstick cookware set: $99.99 (regularly $229.99, after 1 p.m. $199.99)
12-piece stainless steel cookware set: $29.99 (regularly $119.99, after 1 p.m. $69.99)
20-piece knife set: $29.99 (regularly $84.99, $49.99 after 1 p.m.)
Crock-Pot 4-quart slow cooker: $19.99 (regularly $49.99, after 1 p.m. $29.99)
Cuisinart compact griddler: $39.99 (regularly $99.99, after 1 p.m. $69.99)
Black & Decker toaster oven (4-slice capacity): $17.99 (regularly $49.99, after 1 p.m. $39.99)
40% off blenders, juicers and coffee, tea and espresso makers
This year's Black Friday sale is also the perfect time to stock up on new bedding and bath supplies. Check out these great markdowns on sheets, towels and more:
Heated bedding for $29.99 (regularly $100, $59.99 after 1 p.m.)
Charter Club plus throw: $12.99 (regularly $40, after 1 p.m. $19.99)
Quick-dry bath towels: $4.99 (regularly $12, $7.99 after 1 p.m.)
Sonicare Essence Classic electric toothbrush: $39.99 (regularly $119.99, after 1 p.m. $79.99)
All memory foam pillows and mattress toppers: 70% off
Damask bedding: 60% off
Other great deals for the home include a Delmont queen bed for $499 (regularly $799), an Augusta 7-piece dining set (table and 5 chairs) for $899 (regularly $1,673) and a 5-piece luggage set for $49.99 (regularly $200, $99.99 after 1 p.m.). To cover your floors, pick up a new area rug – all in-stock non-clearance items are marked down 75%.
And to keep your rug clean, pick up a high-end Dyson vacuum at up to 40% off:
Dyson DC40: $299.99 (regularly $499.99, after 1 p.m. $314.99)
Dyson DC65: $499.99 (regularly $749.99, after 1 p.m. $524.99)
Dyson DC59: $399.99 (regularly $599.99, after 1 p.m. $419.99)
You can find great deals in a lower price bracket too: The Dirt Devil hand-held vacuum is priced at only $9.99, compared with its original price of $29.99.
For similar products, check out Belk, Bon-Ton, JCPenney, Sears and Kohl's.
Update written by Melinda Szell
Best Macy's Black Friday Deals from 2013
In 2013, department chain Macy's kicked off the Black Friday savings a day early with locations around the country opening at 8 Thanksgiving evening – the first time the store opened its doors on Turkey Day. Deals and doorbusters were offered all night long to give shoppers ample time to take advantage of the store's 49 pages (plus eight more added later) worth of savings opportunities. Deep discounts lasted until 1 p.m. on Black Friday, when prices increased. Still, even these upped prices offered major savings for customers, making the three-day extravaganza – deals were offered Saturday as well – a major win for Black Friday fanatics.
Macy's doorbusters included huge price cuts on apparel. Perhaps most noteworthy were the $19.99 Rampage boots (regularly $59-$69), $39.99 Charter Club Cashmere Crew-Neck Sweaters (regularly $129) and $19.99 dress shirts and ties (regularly $49.50). Juniors loved the buy-one-get-one-free deal on American Rag sweaters, dresses, jeans, tops and coats.
Sales extended into other departments, too, with tons of deals on kitchenware and household goods. Prices on Martha Stewart memory foam pillows and mattress toppers were slashed 70%, while the home decorating queen's Enameled Cast-Iron Casseroles were 60% off. Java-drinking deal seekers who always wanted a fancy Keurig coffeemaker could score one for just $99.99, more than 50% off the regular $174.99 price. Savings of 50% or more weren't the only draw for Macy's shoppers, either. There was something for freebie fans, too: Purchasers of $95 worth of fragrance received a free eight-piece Deluxe Mini Scent Sampler.
For non-doorbuster products, Macy's offered $10 off any purchase of $25 or more on all sale and clearance apparel as well as select home items. Online shoppers joined in on the Black Friday spirit, too, as they took advantage of the coupon code "GOBBLE" for 20% off. And DealFinder isn't the only one with Black Friday ad leaks, as Macy's took to its Pinterest page in 2013 to reveal sale products ahead of time to savvy social media users.
Upping the holiday savings, Macy's also offered a separate Thanksgiving sale last year, complete with 44 pages of deals. Combine all of these discounts, and Macy's definitely secured and reaffirmed its spot as a go-to place for Black Friday clothing and home deals.
Looking for stores similar to Macy's? Check out what JCPenney, Bon-Ton and Aeropostale have to offer. For a full list of 2014 Black Friday ad scans, check out NerdWallet's Black Friday ad leaks page.

Image: Enriquecornejo / Wikipedia: Source