Advertiser Disclosure
Staples Black Friday 2014 Ad – Find the Best Staples Black Friday Deals and Sales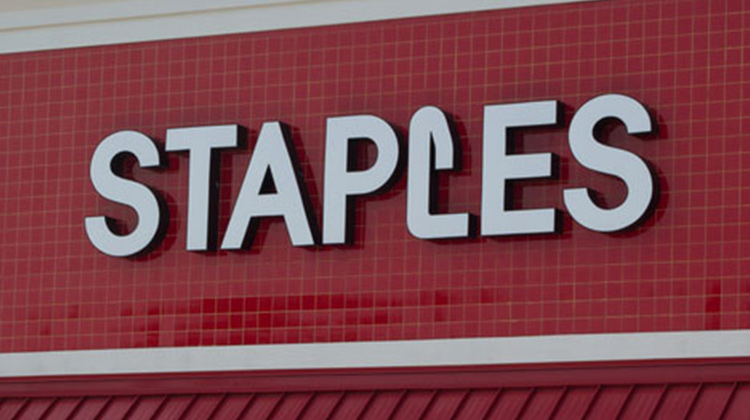 NerdWallet shares with you the deals of Black Friday ads when they arrive. If you don't see the store you're looking for, check back again soon! For year-round coupons and deals, too, check out NerdWallet's DealFinder tool. 
Staples Black Friday 2014
Deals for this coming Black Friday at Staples have finally hit the street! Check out the much-anticipated ad scan below to a get a head start on your office-products shopping trip! Then scroll down for our analysis of the best deals in the ad:
At only eight pages, the Staples Black Friday ad for this year is five pages shorter than last year's, but it's no less impressive, packed with amazing deals on electronics and more. Although the major office retailer is best known for office supplies, its selection of Black Friday bargains consistently feature some of the best prices on laptops, tablets and smartphones that you'll find on the market.
The sale begins on Thanksgiving and lasts through Saturday. Staples is kicking off the shopping season two hours earlier than last year, with doors opening at 6 p.m. Thursday.
This year's sale offers a new reason to get there early: Staples is offering all Black Friday customers 25 free 5-by-7 inch customized holiday cards. It doesn't matter what you buy, but don't miss out, since a minimum of 350 coupons are available per store.
Smack on the first page of the ad you'll find a record laptop deal: an 11.6-inch X205TA laptop from Asus (2GB RAM, 320GB HD, Intel processor and 500GB of Asus WebStorage for two years) is selling for only $99.99 ($150 discount). That price is nearly $80 below the prediction DealNews made for budget laptops this year, and although the computer offers limited specs its incredible prize makes it a great gift idea for someone in need of a portable computer and cloud storage.
If you're looking to spend a little more on a laptop, Staples is offering a free Kindle e-reader with any laptop purchase regularly priced at $399 or more. If you want to buy the Kindle separately, you'll have to pay $49 (regularly $79). The laptop selection includes some powerful Toshiba computers with strong specs, including 6 to 12 GB of RAM, storage from 750 GB to 1 TB and Intel Core processors ranging from i3 through i7. Prices for these devices start at $300 and stay well below $600, whether it's a touchscreen or non-touchscreen model you're after.
Rather invest in a desktop? For only $399 (that's a $230 discount), you can pick up a Dell equipped with an Intel Core i5 processor, 8GB of RAM, 1TB of storage and Windows 8. For only $99.99, you can find a 23.6-inch Samsung LED monitor (regularly $219.99) to accompany the computer.
If you're looking for Apple products, you'll find some decent markdowns on the iPad. The 16GB iPad Air is going for $319, a total of $80 in instant savings. Compare it with Walmart's $397 price tag, which beats Staples' price only if you apply the free $100 store gift card. Although you'll find a better price at H.H. Gregg – $299 each – Staples still offers significant savings for the popular tablet. Similar markdowns can be found on the iPad mini 2 ($60 off) and iPad with Retina display ($70 off).
Android users can find great deals on tablets for less than $100:
Samsung Galaxy 3 Lite (8GB): $99.99 (regularly $139.99)
Toshiba Encore Mini (32GB, includes 1-year subscription to Microsoft Office): $99.99
7-inch JLab tablet (8GB): $39.99 (regularly $69.99)
They may not be as flashy as new laptops and tablets, but storage devices also feature major markdowns. Get some SD cards for your camera or phone and stock up on flash drives:
SanDisk SDHC/microSDHC (16): $5.99 ($34 discount)
SanDisk SDHC/microSDHC 32GB: $10.99 ($59 discount)
32GB Lexar S50 USB flash drive 2.0: $9.99 ($30 discount)
64GB Lexar S50 USB flash drive 2.0: $19.99 ($50 discount)
64GB Lexar JumpDrive S23 USB 3.0 flash drive: $27.99 ($47 discount)
128GB Lexar JumpDrive S23 USB 3.0 flash drive: $49.99 ($75 discount)
When it comes to computer accessories, you can get 50-60% off on mice and keyboards from Microsoft and Logitech.
In the printer department, you'll find a range of inkjet and laser printers for less than $100, but one of our favorite finds is the Samsung Xpress M2830dw mono laser printer, which is selling for only $49.99, compared with its regular price of $159.99. You can also get a discount on ink and toner for your new printer: Buy two and get one 50% off.
If you've been thinking of getting a fitness device, take advantage of Staples' great Black Friday offer: Get a free $25 Visa card with any fitness device, including the Fitbit Zip for $59.99, Fitbit One for $99.99 and Jawbone devices ($79.99-$99.99). Although the prices for the devices themselves aren't the lowest we've seen, the Visa card can be spent anywhere, making it like an instant discount.
Don't forget about regular office supplies and furniture, because Staples is offering some sweet deals even beyond its electronics department:
Multipurpose white paper (500 sheets) for only a one cent a ream ($7.99 before rebate)
Brother P-Touch PTD200 handheld labeler: $9.99 (regularly $39.99)
Montessa II chair: $49.99 ($50 off)
Whalen Academy work center: $79.99 ($100 off)
Finally, remember to clip your coupons to rack up additional savings:
25% off one cleaning and break room item
Duracell CopperTop 24-pack of AA/AAA batteries: $9.99
For more deals on electronics, check out Target, Walmart, H.H. Gregg, Best Buy and Amazon. If you're looking for another store that combines electronics and office supplies, visit Office Depot.
 Update written by Melinda Szell
Best Staples Black Friday Deals From 2013
Office supply store Staples sells all the essentials for the work or home office. Products include paper, ink, furniture, technology and even iPhones. In addition to the standard equipment, the office giant also offers copy, print and recycling services.
In 2013, Staples revealed loads of Black Friday savings via a 13-page, black-themed ad, including a one-page preview of deals that began the Sunday before Black Friday. Across the pages were price cuts on small electronics, laptops, chairs, printers and various other accessories. Products were available while supplies lasted, and there was a limit of one item per customer on select merchandise. The store also joined the list of retailers who offered deals on Thanksgiving Day. Staples opened from 8 p.m. to midnight Thursday, then reopened at 6 a.m. on Black Friday.
Perhaps the most eye-catching deal of all was the Samsung Galaxy S4 smartphone, which was available for just one penny (after savings with a new two-year agreement or a two-year qualified upgrade). Other noteworthy deals were an HP 14-inch Chromebook for $179.99 (regularly $329.99) and a Toshiba laptop with AMD A4 Quad Core APU for $249.99 (regularly $449.99). Savvy shoppers were quick to note, however, that the Toshiba laptop deal required a rebate to achieve the advertised price.
Other than electronics, there were an array of other discounts and deals as well. These included up to $30 off on select Keurig brewers and a buy-one-get-one-half-off special on all brands of ink. Shoppers took home Turcotte chairs for $49.99 (regularly $149.99) and Canon MC5420 Wireless All-in-One printers for $49.99 (regularly $149.99).
Some items, however, may not have been the greatest deal. For example, the Kindle Fire 7-inch was advertised for $79, but this price was not on the HD version, as some techies had hoped for. Competitor Best Buy sold the tablet's HD version for $99.99. The HD version from Staples was $139.99 with a $25 gift card. So, at least last year, technology shoppers needed to do their homework before Black Friday, especially if they had a certain dream product in mind. Comparing NerdWallet Shopping's ad leaks could've saved deal finders dollars upon dollars.
Also important to note, Staples offered two coupons for holiday shoppers last season. They were: 25% off one cleaning or break room item and 30% off select furniture, excluding chairs and chair mats.
Looking for more? Check out other office supply stores that are similar to Staples, such as Office Depot. For a full list of 2014 Black Friday ad scans, check out NerdWallet's Black Friday ad leaks page.

Staples store from Shutterstock