LOOKING FOR THE 2014 AEROPOSTALE AD? CHECK IT OUT HERE. FOR A FULL LIST OF BLACK FRIDAY AD SCANS, CHECK OUT NERDWALLET'S BLACK FRIDAY AD LEAKS PAGE.
NerdWallet continues finding the deals in this year's Black Friday ads for your perusal. If you don't see your favorite store, come back for more soon!
Aeropostale Black Friday 2013
We've got the Aeropostale Black Friday 2013 ad scan, and it stands out from the competition in a couple of important ways. For starters, at only one page this is definitely the shortest Black Friday ad we've seen. Interestingly, in spite of its brevity Aeropostale's ad is already beating at least a few competing retailers when it comes to the quality of its discounts. The biggest one? Everything in the store will be 60% off on Black Friday only, which is a pretty incredible deal.
Aeropostale Black Friday Ad Scans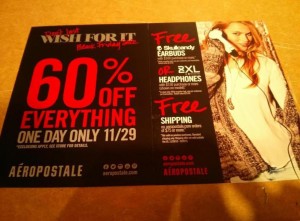 Aeropostale Best Black Friday Deals 2013
On top of that blanket offer of 60% off items store-wide, the store is sweetening the deal with a few other incentives. Purchases of $100 or more will be rewarded with a free pair of Skullcandy earbuds, while shoppers who spend upwards of $150 will receive Skullcandy headphones. Aeropostale hasn't forgotten their online shoppers either – from November 28 through December 2, orders of $75 or more will ship for free. No word so far on what specific items will be available on Black Friday, but with everything in the store marked down by 60%, shoppers can expect to find great deals on a pretty wide selection of apparel for girls and guys.
Best Aeropostale Black Friday Deals from 2012
For those clothing shoppers who just wanted a simple, big discount on everything in the store, the Aeropostale's Black Friday 2012 sale had just that. The store's 2-page ad was short, simple, but amazing: 60% off everything but previous markdowns, fragrances and beauty products in the store. This amazing Black Friday sale was for one day only and the opening store hour varied by location.
The main discount itself wasn't exactly a unique structure to the clothing retailer's Black Friday sale, as Tommy Hilfiger had a similar deal but 40% off the entire store, instead of the more generous 60% of Aeropostale. It appears that the store definitely kept in competition with other brands in the mall.
In addition to the overall discount, there were some great teenage clothing selections on the second page. The Micro Puffer Jackets and Guys Puffer Jackets were on sale for $20, and the Fleece Popovers and Sweats were at $12 each. Another good deal for those who had a lot they wanted to buy was the free pair of headphones or DJ Teddy if their total purchases were $100 or more. Since the ad stayed simple, there were most likely other sales taking place in the store, but those bargains privileged the shoppers who didn't plan out everything beforehand.
Black Friday in-store sales were lively in 2012, but there was a reason to shop online on Black Friday as well. For all orders over $75, shipping was completely free. This deal ended Cyber Monday, November 26th that year. It looks like Aeropostale decided to have their online sales kick in earlier than Monday.
For all the hype and crowds around Black Friday, the in-mall clothing retailer actually suffered in sales once the November shopping holiday was over. Into December and the rest of the holiday season, its main attractions, graphics and fleece, may not have been enough for the store to compete with other brands that offered a wider selection of fashion-based products like Urban Outfitters, American Eagle Outfitters, and Abercrombie & Fitch.
The in-store traffic for Aeropostale did well enough in the third quarter of the fiscal year 2012, August through October, but the fourth quarter results, starting with November and going into January, reflected its poor holiday season with a 1% decrease in net sales. With $797.7 million in 2012, Aeropostale endured a definite decline from its $808.4 million in sales of the same quarter in 2011.
If you're looking for similar stores with Black Friday deals, check out Macy's, Old Navy, and Tommy Hilfiger ad leaks!
Aeropostale Black Friday Store Hours
Aeropostale's Black Friday store hours aren't listed in this year's ad, but we'll post them here  as soon as they're announced. In the meantime, check out NerdWallet's Black Friday store hours page to see opening times for tons of other big-name stores in one convenient page.