Bath & Body Works Black Friday Ad Scan – Tote Bag Promotion
NerdWallet's analysis of the Black Friday 2012 ads continues. We'll keep reviewing the leaked Black Friday ads so check back in to find out the best and worst of your favorite retailer's ad.
The full 2012 Bath & Body Works Black Friday deals haven't been released yet but the retailer still knows how to get its fans excited early in the Black Friday season.  Bath & Body Works will be offering a 2012 V.I.P. tote bag with "7 merry must-haves" which amounts to over $100 in retail value. The bag will be available both in-store and online.
This Black Friday deal is very similar to last year, where Bath & Body Works offered the same tote for $20 when you made a $40 purchase. Here are the items that were in the tote bag in 2011:
Be Enchanted Body Lotion, Shower Gel and Shimmer Mist
Mistletoe Kiss Gentle Foaming Soap
Mistletoe Kiss Pocketbac
Pocketbac Holder
Liplicious Cranberry Kiss Lip Gloss
2oz Aromatherapy Nighttime Tea Body Lotion
Mini Gauze Sponge
Glitter Pump to be used with any Signature Collection Body
Lotion or Shower Gel
Two Cosmetic Bags
Coupon for $10 off any Slatkin & Co. Three Wick Candle
Here are the items from the 2010 tote bag:
Full-size Shower Gel (10 oz.)
Body Lotion (8 oz.)
Fragrance Mist (8 oz.) in Secret Wonderland
Anti-Bacterial Deep Cleansing Hand Soap in Sunburst Tangerine (8 oz.)
Wallflower Starter and Single Refill in Fresh Balsam
Men's Body Wash in Twilight Woods for Him (10 oz.)
Twisted Peppermint PocketBac (1 oz.)
Sparkly PocketBac Holder
Pink gauze sponge
Packette of Fekkai Glossing Cream
This year we can expect something pretty similar in the bag – a nice mixture of gels, lotions, soaps and creams. Because Bath & Body Works made it clear in this year's ad scan that there will be 7 items included in the tote, down from 11 on 2011 and 10 in 2010, hopefully each item might be worth a little bit more.
As for the Black Friday deals, last year Bath & Body Works offered 3 coupons last year in their Holiday Guide, the first of which could be used during Black Friday:
 $10 off any purchase of $30 or more (good from 11/14 – 12/11).
Spend $15, get a second item free (good until 11/13).
20% off entire purchase (good from 12/12 – 12/24).
Don't forget that last year the retailer offered special via social media as well either. Bath & Body Works blasted out special deals, online and in-store, via Twitter and Facebook. The merchant also allowed fans to post pictures of their Black Friday Bath & Body Works purchase on Twitter for a shot at winning a $25 gift card. One gift card was given away every hour from 5am – 3pm.
Check out the tote bag promo ad scan (click to view larger):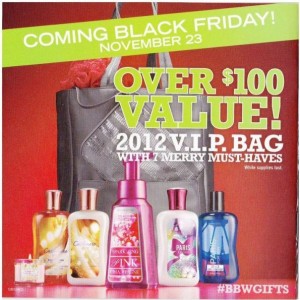 If you're looking to shop at Bath & Body Works before Black Friday, go armed with some Bath & Body Works coupons to save yourself a buck or two.