Each year, millions of Americans head for retail stores to take part in that famed post-Thanksgiving shopping extravaganza—Black Friday—with some even cutting their holiday short to get a jump on the seasonal deals.
Maybe they shouldn't bother. According to a new study by NerdWallet, the long-held idea that the day after Thanksgiving is the best day of the year for sales, with unprecedented deals there for the taking, is wrong. And, according to a recent online survey commissioned by NerdWallet and conducted by Harris Poll, 77% of Americans say they typically shop on Black Friday (or the evening before), and middle-class families will take longer to pay off their purchases than either lower-income families or wealthy earners will.
NerdWallet examined how the holiday season will affect consumers financially and how Black Friday offers more of the same deals that consumers have already seen.
Key findings
In a NerdWallet analysis of 27 Black Friday advertisements, 25 retailers listed at least one product for the exact same price in 2014 as in their 2013 Black Friday ad. That means 93% of retailers are repeating Black Friday products—and prices—from year to year.
Black Friday deals aren't only available on Black Friday. In fact, many of the exact same discount prices are offered during sales throughout the year.
In the Harris Poll study commissioned by NerdWallet, we found that middle-income Americans will carry holiday debt longer than lower-income consumers. Families with household incomes between $50,000 and $75,000 will take an average of 2.6 months to pay off holiday debt, whereas families with household incomes below $50,000 will take an average of 2 months.
Men appear to be more opportunistic holiday shoppers. According to the Harris Poll survey, four in five (81%) men say they will shop on Thanksgiving evening or Black Friday, compared with 74% of women, and men are more likely than women (34% vs. 22%) to have asked for a price match in the past six months.
The squeezed middle class
Middle-class families will take longer to pay off debt incurred during the holiday season than some other income groups will:
Families with an annual household income between $50,000 and $75,000 will take the longer to pay off holiday debt than will families with an annual household income of less than $50,000.
Families with household incomes less than $100,000 will take longer to pay off their holiday credit card debt (averaging 2-3 months) compared to those with household incomes of $100,000 or more (just one month).
"Those who spend more in an effort to 'keep up' end up paying the price later," says Matthew Ong, senior retail analyst at NerdWallet and lead analyst on the study. "Middle-class households could end up in a risky position this holiday season if they have ample credit to make purchases but incomes too thin to comfortably pay the bills later."
Americans are tricked into believing they're getting the best deals
If you think Black Friday sale prices are incredible, one-time-only deals, think again. NerdWallet looked at 27 Black Friday ads available at the time of this analysis, in addition to numerous other 2014 sales, and found:
93% of 2014 Black Friday ads contain at least one item at the exact same price as in 2013
Retailers will hawk derivative products (one-off models with limited features, created specifically for sales periods such as Black Friday), require rebates and use misleading original prices to trick consumers into thinking they're getting a better deal than they actually are.
"When you walk into a store on Black Friday, you can't have the mindset that everything you see will be a good deal," says Ong. "Sure, there are a handful of impressive Black Friday deals this year, but many big-name retailers are essentially serving up the same products at the same prices year after year. That's not exciting for consumers."
Repeated deals aren't only disappointing; they're also problematic. If you'll be paying the exact same price for the exact same item this year as you would have last year, that means you'll be taking home a year-old product for the same amount of money. This isn't an issue for consumers on products such as Christmas trees or luggage, but on electronics or appliances, these carryover deals aren't good buys.
Take a look at this comparison of 27 Black Friday ads from major retailers in 2014 and 2013.
| Black Friday Retailer | Black Friday Item Repeated for Same Price in 2014 as in 2013? | Which Item? | Price in both 2013 and 2014 |
| --- | --- | --- | --- |
| Ace Hardware | Y | Stanley Folding Workbench 250 lb weight capacity | $29.99 |
| A.C. Moore | Y | Timeless Lauren Portrait Wall Frames 10″x20″ or 16″x24″ | $17.00 |
| Bealls | Y | Hercules 3-pc. Spinner Sets | $59.99 |
| Belk | Y | Leisure 30″ Wheeled Duffel | $19.99 |
| Campmor | Y | MSR Denali Classic Snowshoes | $89.96 |
| Costco | Y | Sanus Simplicity Flat-Panel TV Wall Mounts 37″x80″ Low-profile Tilt Mount 125-lb capacity | $30.00 Off |
| Dell | N | N/A | N/A |
| Dollar General | Y | All Toys | Buy 1, Get 1 75% Off |
| Fred's Super Dollar | Y | Entire stock socks, bras, boxers, briefs, tees & more | Buy one get one 50% off |
| Harbor Freight | Y | Central Pneumatic Oilless Air Compressor 1.5 HP, 6 gallon, 150 psi | $99.99 |
| JCPenney | Y | Oster 16-speed Blender | $29.99 after $10 mail-in rebate |
| Kmart | Y | Plus Start Wheeled Battery Charger | $69.99 |
| Kohl's | Y | KitchenAid Artisan Stand Mixer | $299.99 plus an extra 10% off after $50 mail-in rebate |
| Meijer | Y | Hamilton Beach 3-qt. Slow Cooker | $9.99 |
| Michaels | Y | 6-ft. Pre-Lit Northern Tree | $59.99 |
| Microsoft Store | N | N/A | N/A |
| Office Depot | Y | Brother Digital Color Wireless Laser MFC9340CDW printer | $349.97 |
| Pep Boys | Y | 1.5-Ton Aluminum Jack | $69 after $20 mail in rebate |
| Peebles | Y | Robes and Sleep Sets from Hannah and Wishful Park | $19.99 |
| PetSmart | Y | Purina Friskies Cat Food 5.5 oz Can | $0.39 |
| Rite Aid | Y | Memorex Boomboxes. | 50% off regular retail with Wellness Card |
| Sam's Club | Y | Brookfield Playset | $599.00 |
| Sears | Y | KitchenAid Professional Stand Mixer 450 watts power, 5-qt. bowl | $199.99 |
| Sportsman's Warehouse | Y | Rustic Ridge 3.5MM Dura-Stretch Bootfoot Wader | $89.99 |
| Stein Mart | Y | 4 quart Crock Pot | $17.98 |
| Target | Y | Apple TV | $89.00 |
| Walgreens | Y | My Charge Portable Power Pack | $9.99 |
Repeated deals
In one example, Office Depot is selling the Brother Digital Color Wireless Laser MFC9340CDW printer for $349.97 on Black Friday this year, down from the regular price of $449.97. This discount seems impressive, until shoppers realize that Office Depot was selling the exact same printer for $349.98—effectively the same price—on Black Friday 2013. Although consumers might expect advances in printer technology to make older models less expensive, Office Depot will not be selling this printer for any cheaper this year. Check out the ad from 2013 on the left and the one from 2014 on the right: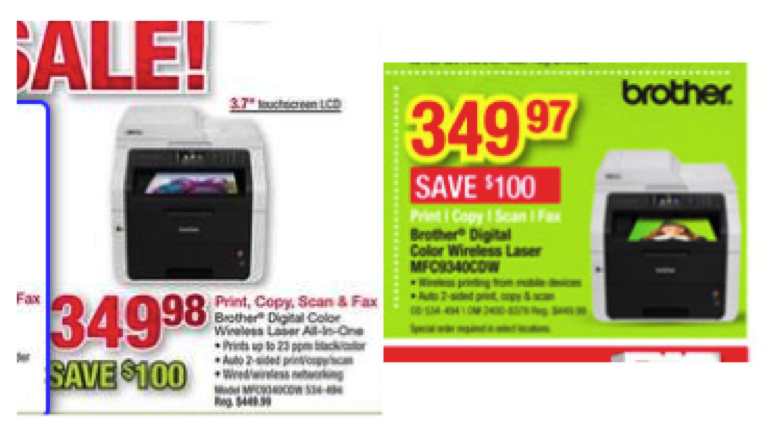 We also found Kmart is advertising a Craftsman 2-¼-ton floor jack with stands for $49.99, as part of the retailer's upcoming three-day Black Friday sale. The ad even boasts that the product will be sold for its "lowest price ever."

But in a side-by-side comparison with a recent Kmart ad, it's clear that the floor jack was available for the exact same price between Nov. 9 and Nov. 15.
A similar sort of duplicate sale is taking place at Ace Hardware as well. The DeWalt 18 Volt Cordless Impact Driver shown below has in fact been available for $89.99 all this month as part of the store's "Big November Savings" promotion.

Prices aren't always as they appear
Some retailers inflate the original price of an item to make the discounted price appear more appealing. Additionally, instead of comparing the Black Friday sale price to what it was selling for before the day, some stores will cite the manufacturer's suggested retail price, or MSRP, which is often higher.
What does this look like in practice? On Black Friday this year, Sears will be selling the Samsung 55-inch 1080p 120Hz Smart LED HDTV for $599.99. The store's ad presents this as a significant markdown from the original price of $1,199.99. But a quick check of the Sears website in early November revealed that the same TV was being sold for $807.49 in the weeks leading up to Black Friday. Thus, shoppers are actually getting a discount of $207.50, not $600. That's still something, but perhaps not a deal you'd be crazy to pass up.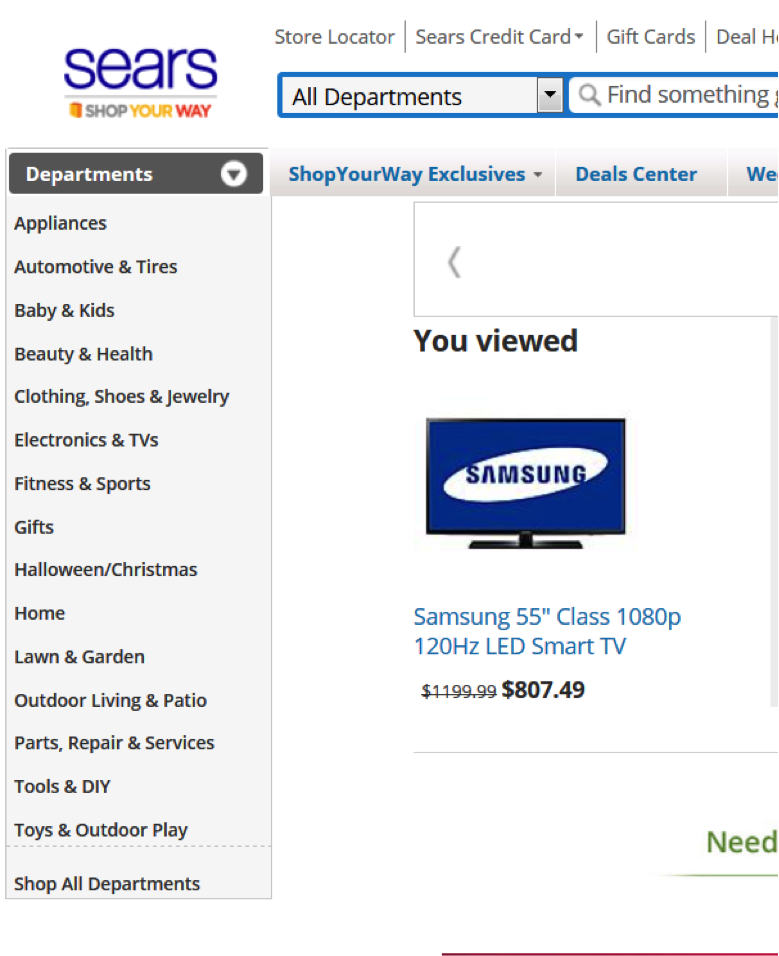 Or take the Cuisinart 10-Cup Thermal Coffee Maker at JCPenney. The Black Friday sale price of $69.99 is juxtaposed with a regular price of $180.00, but the retailer was selling the coffee maker for $99.99 in early November.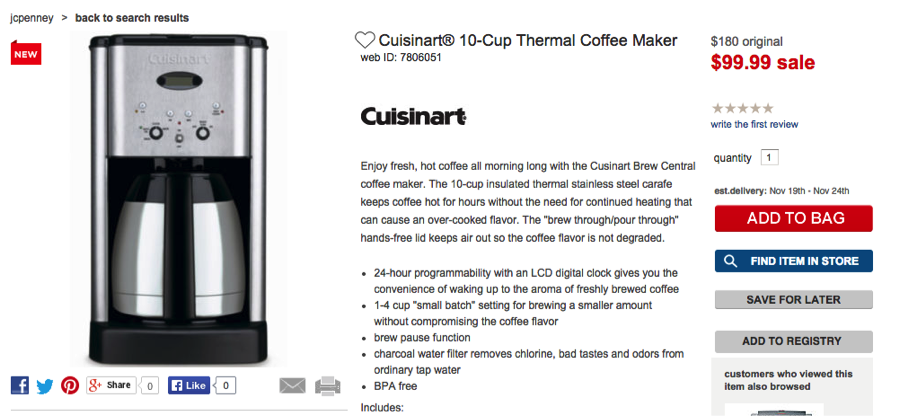 This year, too, Sears is advertising a variety of Kenmore kitchen appliances—the 12-cup programmable coffeemaker, four-slice toaster, four-slice digital toaster oven and six-speed blender—for a low price of $19.99 each. What's the catch? This price includes a $30 mail-in rebate, which means that if you decide to swipe your plastic on Black Friday you'll be immediately stuck with $49.99 on your credit card and your discount likely weeks away.
Similarly, the KitchenAid Artisan Series five-quart stand mixer is listed for $299.99 in the Sears Black Friday ad. But if you purchase this mixer on Nov. 28, be prepared to pay the product's $349.99 sale price. You won't get the $50 difference back unless you complete the mail-in rebate.
How men and women are shopping this holiday season
Men appear to be the more opportunistic shoppers compared to women:
34% of men report using a price match in the last six months, compared with 22% of women. Younger men are driving this trend—49% of millennial men report using a price match in the last six months compared to 30% ages 45 to 54, 19% ages 55 to 64 and 22% age 65 and over.
Younger men are also more likely than older men to use retail store credit cards for the perks. 41% of millennial men, 41% of men ages 35 to 44 and 39% of men ages 45 to 54 are very or somewhat likely to use a store credit card for the benefits, as compared to 19% of men ages 55 to 64 and 24% age 65 and over.
Men also appear to be more engaged shoppers on Black Friday and during the holiday season:
81% of men say they typically shop on Thanksgiving evening or Black Friday, compared with 74% of women. Younger men are again driving this—89% of millennial men and 89% of men ages 35 to 44 shop on Thanksgiving evening or Black Friday.
Men are also more likely to be marathon Black Friday shoppers—16% of men say they will spend 10 or more hours waiting in line, shopping in-store or shopping online on Thanksgiving evening or Black Friday, compared with 10% of women.
Men are also twice as likely as women to say they will spend more on holiday gifts this year than they did last year (28% vs. 14%, respectively).
While women appear to be more conservative with holiday shopping:
Women say it will take an average of 1.4 months to pay off their holiday-incurred credit card debt, compared with 2.1 months for men to do so.
27% of women report they'll spend less on holiday gifts this year than last, compared with 20% of men.
"In general, our poll revealed that men are the more opportunistic shoppers," Ong says. "Men are more likely to take advantage of consumer-friendly retail policies and more likely to be optimistic about spending more this holiday season. There's a downside here, though, as men will take longer to pay off credit card debt. Women are more likely to pay credit card debt earlier, on average, and have a more responsible attitude when it comes to holiday spending."
How consumers can get the best deals
 Plan in advance. As with any discount shopping, Black Friday is all about strategy. Before you trek through any crowded stores or stand in any super-long lines on Nov. 28, do your research. Cross-checking ads and comparing prices ahead of time is the best way to ensure you don't become a victim of the not-so-merry Black Friday tricks.
 Use price matching. According to NerdWallet's Harris Poll study, 72% of consumers have not used a price match in the last six months. These people are likely leaving money on the table. Pull up competitors' websites before you check out in a store, and if you find a better price somewhere else, ask a store associate or the customer service desk to match it.
Be cautious with store credit cards. If you sign up for any of those in-store offers that promise you a discount on your first purchase with their credit card, remember that these types of credit accounts typically carry extremely high interest rates. Weigh the pros and cons of any card you decide to use.
Methodology
For the Black Friday ads portion of this study, NerdWallet chose ads for which full 2013 and 2014 ad scans were available at the time of analysis. Some major national Black Friday ads from 2014 were not available at the time of analysis.
While some retailers repeated more than one item at the same price in both their 2013 and 2014 ads, we chose to list only one item per store in order to keep our data presentation straightforward.
For the Holiday Shopping Survey portion of this NerdWallet study, see below:
Full methodology:
This survey was conducted online within the United States between November 3-5, 2014, among 2,013 adults (ages 18 and over) by Harris Poll on behalf of NerdWallet via its Quick Query omnibus product. Figures for age, sex, race/ethnicity, education, region and household income were weighted where necessary to bring them into line with their actual proportions in the population. Propensity score weighting was used to adjust for respondents' propensity to be online.
All sample surveys and polls, whether or not they use probability sampling, are subject to multiple sources of error which are most often not possible to quantify or estimate, including sampling error, coverage error, error associated with nonresponse, error associated with question wording and response options, and post-survey weighting and adjustments. Therefore, the words "margin of error" are avoided as they are misleading. All that can be calculated are different possible sampling errors with different probabilities for pure, unweighted, random samples with 100% response rates. These are only theoretical because no published polls come close to this ideal.
Respondents for this survey were selected from among those who have agreed to participate in our surveys. The data have been weighted to reflect the composition of the adult population. Because the sample is based on those who agreed to participate in the online panel, no estimates of theoretical sampling error can be calculated.
---
Crowd of shoppers image via Shutterstock.