LOOKING FOR THE 2014 BUILD-A-BEAR AD? CHECK IT OUT HERE. FOR A FULL LIST OF BLACK FRIDAY AD SCANS, CHECK OUT NERDWALLET'S BLACK FRIDAY AD LEAKS PAGE.
NerdWallet delves through the deals and steals of this year's batch of Black Friday ads to help you prepare for the big day. If you don't yet see your favorite retail store, check back again soon!
Build-A-Bear Black Friday 2013
On November 29th this year, Build-a-Bear Workshop will be continuing its Black Friday tradition of offering up a pair of furry companions to celebrate the holidays. This year's all-stars are two adorable, limited-edition Sock Monkeys named Nick and Joy. The pair will only be available for purchase up until noon on Black Friday, giving shoppers an incentive to get there early. Each Sock Monkey will cost $10 each, but the better deal is to get them together for $15 total. And for those so inclined to spice up their Sock Monkeys, outfits will also be available for $6 each. The total for this Black Friday special would be under $30, so don't miss it!
Build-A-Bear Black Friday Ad Scan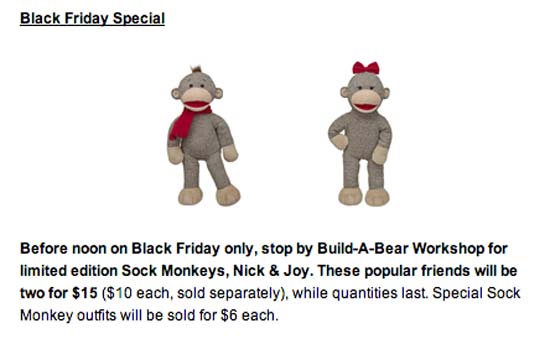 Build-A-Bear Best Black Friday Deals 2013
In relation to previous years, what is different about Black Friday 2013 for Build-A-Bear is the emphasis on buying the pair instead of one furry playmate over another one. Let's take a brief look at the Black Friday specials from 2010 to 2012 and see the trend.
Best Build-A-Bear Black Friday Deals from 2012
For Black Friday 2012, the pair on sale were snowman-inspired "flurry friends" for $5 each. For a complete set, you could buy Flurry Friends Signature Outfits, also $5 each. A year before that, 2011, Gingerbread Man and Woman also came at the price of $5 each, with their clothes at that price too. Back one more year, 2010, the furry critters were $5 Hal and Holly Moose, with an added combination coat and hat or coat and goggles for—you guessed it—$5.
This $5 trend has stopped with 2013, as prices have gone up slightly. With clothes a dollar more and the Sock Monkeys either $2.50 or $5 more (depending on whether one buys both or just one, respectively), Build-a-Bear is most likely experimenting with a new strategy to better its Black Friday turnout.
As crowded as the stores were last year for the late November shopping holiday, Build-a-Bear still had a slight decrease in total revenue for its fourth quarter results in fiscal year 2012, as compared to the same quarter in 2011. Total revenue in that 2012 period was $118.2 million, which was down 0.6% from 2011's $119.1 million for those same 3 months, October-December.
Nevertheless, the Black Friday specials are great deals every year. For instance, clothes for stuffed companions like My Little Pony and Halloween-themed ones generally range from $5-15, but more often than not, outfits tend to be over $10. Perusing Build-A-Bear's website is enough to realize that the under $30 package for both Sock Monkeys with outfits is a steal. Even with the price increase this year, Build-A-Bear animals fill a special niche, one where you just want to cuddle with customizable and adorable animals all day long.
For similar stores, see BJ's Wholesale Club and Blain's Farm and Fleet Black Friday ad leaks.
Check out last year's Build-a-Bear Workshop Black Friday special.
Build-A-Bear Black Friday Store Hours
Build-A-Bear's Black Friday store hours vary by location. If you'd like a full list of retailer Black Friday store hours, visit our store hours page for more information.
Image: Yuichi Sakuraba / Flickr: Source