LOOKING FOR THE 2014 HASTINGS AD? CHECK IT OUT HERE. FOR A FULL LIST OF BLACK FRIDAY AD SCANS, CHECK OUT NERDWALLET'S BLACK FRIDAY AD LEAKS PAGE.
NerdWallet brings you the latest deals of the Black Friday ads this season. If you have not yet seen the ad you seek, come back again to fulfill your quest!
Hastings Black Friday 2013
The Hastings Black Friday 2013 ad has leaked! The entertainment store is offering deals in waves from Thanksgiving Thursday until Hastings closes on Saturday. For the ad's highlights and specifics on store hours, read on!
Update: November 18th, 2013
Hastings has released a sneak peek at their Black Friday 2013 sale items. They'll be offering sales on Thursday, Friday, and Saturday, and some deals will last all three days.
Hastings Black Friday 2013 Ad Scans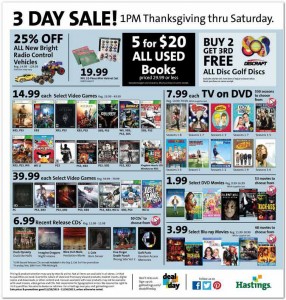 Hastings Black Friday 2013 Sneak-Peek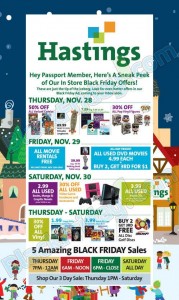 A few Black Friday deals featured on Hastings' sneak peek include:
Thursday
All Variant Comics: 50% off
Friday
Saturday
All Used Video Game Hardware and Accessories: 30% off
All 3 Days
Hastings Best Black Friday Deals 2013
Hastings' best Black Friday deals for 2012 include:
Thanksgiving 7 PM-12AM
250GB Xbox 360 Bundle: $149.99
Toshiba BDX3300 Refurbished WiFi BD Player: $34.99
Zeki 7″ 8GB Tablet w/Android 4.0: $59.99
All Board Games and Puzzles: 25% off
Spectrum Electric Guitar: $69.99
Friday 6 AM-Noon
50″ Seiki LED TV: $299.99
PS3 Black Friday 250GB Bundle: $199.99
Skullcandy Hesh 2.0 Headphones: $39.99
Casio 61-Key Keyboard: $79.99
Friday 6 PM-Close
All Movie Rentals: Free
TV on DVD: Up to 75% off
30 Blu-ray Movies originally $17.99-$29.99 ea.: $9.99 ea.
Saturday 8 AM-Close
Maestro by Gibson Acoustic Guitar: $69.99
Magnivox Refurbished Blu-ray Player: $34.99
Ematic 10″ 4GB Tablet w/Android 4.1 Jelly Bean: $109.99
3-Day Sale, 1 PM Thursday-Saturday at Closing
DreamGear Universal Headset: $29.99
Dualshock PS3 Controller: $29.99
Wireless XB3 Wireless Black Gloss Controller: $29.99
All Vinyl: 30% off
Best Hastings Black Friday Deals from 2012
The entertainment retailer Hastings (its online site, goHastings.com) started last year's Black Friday on Thanksgiving at 8pm, going until midnight for that first shopping window. The rest of the sale continued with Friday, Saturday, and all-weekend sales.
Two of the initial perks of the Thanksgiving sale included two coupons of Rent 1, Get 1 Rental Free for any video game or movie and Free Popcorn with any rental purchase. As far as the actual deals went, the Ematic 10" Tablet Android 4.0 4G was $40 off, at $159.99, and the Gibson 41" Full-size Maestro Guitar, originally $119.99, had the fresh price of $69.99. A vast selection of DVDs were on sale for $3.99 and $5.99 (and Blu-Ray discs at $7.99), but the even more appealing deal was the discount on TV seasons: up to 75% off all seasons. Season 6 of Criminal Minds and of Dexter were $19.99 and $22.99 respectively, and other ones also came in around that price range.
The Friday 4-Hour sale, 8am-noon, had deals such as the $69.99 Nextbook Premium 7" with Android 4.0 Bundle (53.3% off) and 40% off all PC & Mac accessories. The 32" Vizio LED TV went for $239.99. The 75% off all TV seasons was again in effect. Additionally, 20 DVD or Blu-Ray Disc movie titles had similar markdowns.
Weekend sales definitely had less of a "wow" factor—the Nextbook Premium went up to $99.99—but more items displayed with discounts. Some of the deals included 5 for $25 on all used books (priced $29.99 or less) or CDs (priced $9.99 or less), 30% off all cooking & humor books, and buy 1, get one for $1 all used DVDs and Blu-Rays.
For similar entertainment retailers, check out Best Buy, Half Price Books, and Target ad leaks.
Hastings Black Friday Store Hours
Hastings will be open from 1 PM-12 AM on Thursday, 6 AM-noon on Friday, 6 PM-closing on Friday, and all day on Saturday. Check out our store hours page for more information on opening times at different merchants.