LOOKING FOR THE 2014 OFFICE DEPOT AD? CHECK IT OUT HERE. FOR A FULL LIST OF BLACK FRIDAY AD SCANS, CHECK OUT NERDWALLET'S BLACK FRIDAY AD LEAKS PAGE.
NerdWallet is committed to preparing you for the great deals and doorbusting steals of Black Friday coming to stores near you. If you don't see a review of your favorite store yet, stay tuned for more!
Office Depot Black Friday 2013
The Office Depot Black Friday 2013 ad is here! Office Depot is offering its customers 6 pages worth of deals and, unlike last year, the sales will start on Thanksgiving Thursday this year. In fact, online sales will be going on all day on Thursday, November 28th. For store hours along with a closer look at the ads, read on!
Office Depot Black Friday Ad Scans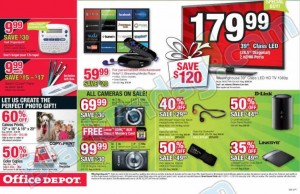 Office Depot Best Black Friday Deals 2013
Office Depot's best Black Friday deals for 2013 include:
Electronics & Accessories
Beats by Dr. Dre Solo Headphones: $174.99
Kindle Fire HD 8.9″ Tablet: 169.99 ($100 off)
M-Edge Cases and Screen Protectors for Kindle Fire: 60% off
Samsung Galaxy Tab 3 10.1″ in Gold Brown: $299.99 ($100 off)
HP Pavillion TouchSmart Laptop w/AMD A6 Quad-Core Processor: $269.99 ($230 off)
Dell Inspiron 15 Laptop Computer w/Intel Core i3 Processor: $349.99 ($300 off)
HP Pavillion Laptop Computer w/AMD A8 Quad-Core Processor: $369.99 ($300 off)
Westinghouse 39″ Class LED HDTV 1080p: $179.99
Canon PIXMA MG3520 Wireless InkJet Photo All-in-One Printer: $29.99
Norton 360 PC Security for 15 months: $24.99
McAffee LiveSafe 1-year Bundle: $49.99
Furniture
Realspace Magellan L-Shaped Desk: $198.98
True Innovations Big & Tall Heavy-Duty Series High-Back Chair: $149.99
Best Office Depot Black Friday Deals from 2012
Looking back at the best Office Depot Black Friday deals from 2012, the selection definitely focused on laptops, tablets, printers, and office chairs. The deals were available in the store from 5am on Black Friday through Saturday, though some online deals began at 7am EST Thanksgiving Day.
As far as the selection went, laptops stood out the most in the four pages of ads. The main brands with deals were Samsung, Lenovo, Toshiba, and HP laptops. The HP Envy laptop with a 3rd generation Intel Core i5 processor went for $300 off its original price, settling at $499, and the Samsung Series 3 laptop with an Intel Pentium Dual-Core Processor had $120 in savings, putting its price at $329. General savings across the board for all four brands of laptops were advertised around $200.
Apart from laptops, Office Depot highlighted tablets, desk chairs, and printers for sale. The main tablet deal was the Samsung Galaxy Tab 2 at $179.99, taking off $70 from its original. Other tablets like the Google Nexus 7 at $229, with $20 off, had more moderate discounts. Office chairs had a nifty discount of 50% off your chair of choice. The snazziest deal was the Ruzzi Mid-Back Chair on sale for $54.99, subtracting $55 off its original price. Printers had a diverse range of sales, from the 50% off EPSON Wireless All-in-One Printer at $149.99 to the cheap option of a $39.99 Canon printer.
One of the features of last year's Black Friday for Office Depot for both in-store and online customers post-purchase was the SurPrize coupon, a mystery coupon ranging from $10 to $250 on certain products and redeemable in the holiday season, November 27 until the end of December.
The store's expectations for its sales fell short of reality, however, as the Black Friday 2012 traffic was less than in previous years, according to Office Depot's Fourth Quarter 2012 Earnings Review. The sales for tablets did better than in 2011, but notebook computers (another name for laptops) saw less of a turnout than in the prior year. The hyped-up Windows 8 PCs did not lift off. The laptop discounts, then, did not help the sales enough in that last quarter of the year. The office chairs and other furniture sales did not have a good turnout either. Overall, the company decided to respond to this by reducing its peripheral products like software and bringing new emphasis to mobile accessories and headphones.
For more information on Nerdwallet's review of Office Depot for Black Friday last year, click here. If you would like to see similar stores that sell office supplies like Staples, click here.
Office Depot Black Friday Store Hours
Office Depot will be open on Thursday, November 28th, from 8 PM-11 PM. On Friday, November 29th, they'll open at 8 AM. For a complete listing of store hours, check out our Black Friday Store Hours page.
Office Depot store: Rusty Clark/Flickr: Source