LOOKING FOR THE 2014 TOMMY HILFIGER AD? CHECK IT OUT HERE. FOR A FULL LIST OF BLACK FRIDAY AD SCANS, CHECK OUT NERDWALLET'S BLACK FRIDAY AD LEAKS PAGE.
NerdWallet will be bringing you the best 2013 Black Friday ad scans all season long! Be sure to regularly tune in for the freshest ad scan analysis around.
Tommy Hilfiger Black Friday 2013
The Tommy Hilfiger Black Friday 2013 ad has leaked! The store will be offering discounts from Thanksgiving Thursday until Black Friday. Be sure to scroll down for a peek at the ad and for details on savings.
Tommy Hilfiger Black Friday Ad Scans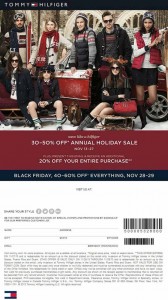 Tommy Hilfiger Best Black Friday Deals 2013
Tommy Hilfiger's best Black Friday deals for 2013 are the only deals they offer. That is, their only Black Friday deal is 40-60% off of everything in store, and the sale lasts from Thanksgiving Thursday to Black Friday. The ad also shows a sort of "pre" Black Friday sale from November 13th-27th. The sale is for 30-50% off of everything in the store, plus an additional 20% off of the entire purchase if you bring a printout of your receipt.
Best Tommy Hilfiger Black Friday Deals from 2012
The name Tommy Hilfiger might still be synonymous with two things in shoppers' minds: classic Americana fashion and racism. However, in a 2007 interview with Oprah, Hilfiger put the rumors to rest about claims that he didn't want minorities wearing his clothing. Now that those bogus allegations are out of the way, we can just focus on the amazing fashion apparel he has been offering shoppers since 1984.
Hilfiger consistently offers the same deals to its holiday shoppers year after year, so they must be doing something right if they're sticking to their strategy. The flyer in last year's ad scan was straightforward and modest in size, but it packed a big punch in savings. Unlike other retailers' coupons, which generally apply one recipient alone, Hilfiger's flyer offered saving for both you and a guest, which was quite a unique and generous extension.
The first, and biggest, deal of the ad applied to all shoppers regardless of whether or not they had a hard copy of the ad. The deal was for 40% off of the entire store, all day long. It's worth noting that there wasn't any fine print exclusion notice on the flyer, so it might be safe to assume that this discount applied to clearance items as well. If so, this deal could exponentially save shoppers on the store's otherwise expensive designer clothes.
Hilfiger offered additional savings on purchases whenever customers (or their plus ones) brought in hard copies of the flyer. With flyer in tow, customers that spent $150 or more would receive 20% off of their purchase. Under the same condition, all customers, regardless of how much money they spent, would receive an additional 15% off of their entire purchase.
By far, the biggest deal of the day was reserved for the early birds. Those carrying hard copies of the flyers would receive 25% off of all purchases of $200 or more. However, the only condition was that customers had to make their purchase before 10 a.m.
While 10 a.m. is a reasonable enough cut-off for holiday shopping, most other retail giants give their customers doorbusters until noon. Depending on which Tommy Hilfiger vendor you visit to make your purchases, you may only have a small window to get that remarkable deal. As always, we suggest you check out your vendor's specific hours and arrive early to get the most bang for your buck!
For our 2012 Tommy Hilfiger ad scan, click here. For 2013 Black Friday ad scans from other clothing retailers, be sure to check out our Macy's and JC Penney ads.
Tommy Hilfiger Black Friday Store Hours
Tommy Hilfiger's Black Friday store hours vary by location, but check out out Black Friday Store Hours page for updates on your other favorite stores!
Tommy Hilfiger store from Shutterstock