LOOKING FOR THE 2014 VICTORIA'S SECRET AD? CHECK IT OUT HERE. FOR A FULL LIST OF BLACK FRIDAY AD SCANS, CHECK OUT NERDWALLET'S BLACK FRIDAY AD LEAKS PAGE.
Don't miss out on NerdWallet's juiciest, most secretive 2013 Black Friday ad leaks this holiday season! For the best deals around, be sure to check back with us before you head to your favorite stores.  
Victoria's Secret Black Friday 2013
Update – November 25, 2013: Bra bargains and store hours
Victoria's Secret joins the growing number of retailers who will start offering Black Friday promotions on Thanksgiving; their Black Friday event begins at 8pm Thanksgiving night, and will continue for over 24 straight hours until 9:30 pm on Friday.
We're still waiting for the release of the Victoria's Secret Black Friday 2013 ad leak, but for now we can fill you in on some of the event's tentative details. According to multiple store associates, shoppers can expect to find select bras priced at Buy 1, Get 1 half-off, which is sure to be a popular deal. We also expect to see discounts on underwear and beauty items.
Plus, as expected, a tote (filled with "4 beauty must-haves") will be the store's free gift to shoppers who spend $70 or more on Black Friday. What exactly will you find inside this limited-edition, sequin-embellished cotton tote bag? 0.9 oz samples of four of the store's most popular fragrances: Sexy Little Things Noir Tease, Victoria's Secret Bombshell, Victoria and Dream Angels Heavenly.
Shoppers using an Angel Credit Card can receive the tote bag earlier than anyone else (starting November 27), so if you're really determined to take advantage of that incentive, either as a free gift or just a treat for yourself, you'll want to look into applying for an Angel card ahead of time. Another incentive to check out Victoria's Secret's store card: users with a VIP or Forever card can earn triple points on all purchases from November 21 through November 27.
Victoria's Secret Black Friday Ad Scan
Check out the Victoria's Secret Black Friday tote, as posted on the Victoria's Secret Facebook page on the evening of 11/25!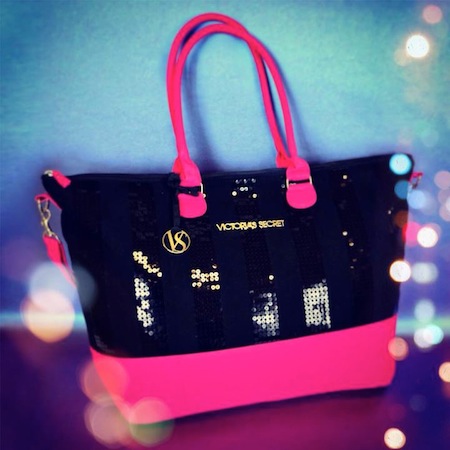 Victoria's Secret Best Black Friday Deals 2013
Coming soon! We'll have all of Victoria's Secret's best Black Friday 2013 deals.
Best Victoria's Secret Black Friday Deals from 2012
Each Black Friday, Victoria's Secret offers a Black Friday tote that is as coveted as the goodies inside. 2011's satin tote had thick vertical pink and red stripes and was bedazzled in rhinestones that spelled out "Victoria's Secret." In 2012, the Victoria's Secret logo shrunk and went silver, and the material switched to vibrant pink canvas. The stripes, once vertical, were tilted horizontally and created from pink sequins.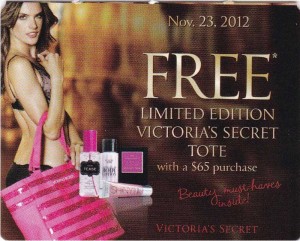 As for the contents, Victoria's Secret didn't shy away from shaking things up between 2011 and 2012. Specifically, 2012's bundle of treats included:
Sexy Little Things "Noir Tease" scented body mist (2.5 fl. oz.)
Beauty Rush "Shiny Kiss" flavored lip gloss (.46 oz.)
Victoria's Secret Seduction Eau de Parfum No. 1 Dark Orchid (.05 fl. oz.)
"Love My Body" body lotion (2 fl. oz.)
Card for $10.00 off a $50.00 Beauty Purchase for December 2-10, 2012.
As compared to 2011's goodies, which included:
VS Fantasies Sheer Love Hydrating Body Lotion (4.2 oz)
Victoria's Secret Bombshell Body Mist (2.5 oz)
VS Makeup PRO Airbrush FX Face Primer SPF 20 (.14 oz)
Victoria's Secret Angel Eau de Perfume (.05 oz).
It's perfectly safe to assume that this year's mix of beauty products and scents will be different enough to keep you on your toes. By the looks of it, you can expect one make-up item, one sample perfume, a body mist, and a body lotion.
Hopefully, 2012's coupon card is also a staple to look forward to this holiday season. Victoria's Secret products aren't cheap, and any little bit of savings counts when you're shopping there. If you're planning to snag the tote, you're already looking at a minimum $65 purchase. That being said, you can definitely spend smartly if you target your purchases wisely.
In the past, Victoria's Secret only selected a handful of items to put on their sale racks. The 2011 items included some of their bras (buy on, get one at 50%), pajamas ($39.50), a robe (39.50), a VS Pink crewneck ($25) or a Pink yoga pant ($25). If this trend continues, even with the sales, shoppers could easily surpass the $65 minimum for the tote. The best way to round out the savings this holiday season would be come back for more sale items with the coupon card in tow.
For a peek into Victoria's Secret's 2012 Black Friday scan, click here.
If you're looking for a few more deals to add to you holiday shipping list, check out our Macy's and Sears Black Friday ad scans.
Victoria's Secret Black Friday Store Hours
Victoria's Secret's Black Friday event will begin at 8pm Thanksgiving night, continuing all the way until 9:30pm on Black Friday, so shoppers looking for discounts on intimates and accessories have plenty of time to check out their nearest location's doorbusters.
For your other favorite stores' opening hours, be sure to check out our Black Friday Store Hours page.