If you're looking for a midrange phone that isn't too pricey, you have some options.
Among them are the BlackBerry DTEK50 and the Motorola Moto X Pure Edition. We compared the two side by side to see how the individual features and hardware stack up against each other.
The phones: At a glance
| | BlackBerry DTEK50 | Motorola Moto X Pure Edition |
| --- | --- | --- |
| Price | $299 from BlackBerry | $289.99 from Motorola |
| Dimensions (height x width) | 5.79 x 2.85 inches | 6.059 x 3 inches |
| Display | 5.2 inches | 5.7 inches |
| Resolution | 1,920 x 1,080 pixels | 2,560 x 1,440 pixels |
| Memory | 16 gigabytes; can support external microSD card of up to 2 terabytes | 16GB, 32GB, 64GB; can support external microSD card of up to 128GB |
| Software | Android 6.0 Marshmallow | Android 6.0 Marshmallow |
| Battery life | 17 hours | 10 hours |
| Carriers | Unlocked, but compatible only with GSM networks, such as AT&T and T-Mobile | Unlocked; compatible with AT&T, T-Mobile, Sprint, Verizon Wireless |
| Buy on Amazon | | |
» MORE: iPhone 7 vs. iPhone 6S
The phones: Up close and personal
BlackBerry DTEK50
Design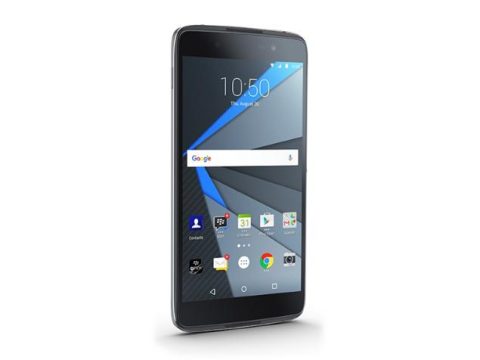 The DTEK50 is a sleek black device with a 5.2-inch touch-screen display. It has power on/off and volume buttons, in addition to a customizable "convenience key" on the right edge. Users can program this button to open any app. The phone also has two front-facing stereo speakers.
Features
Camera. The DTEK50 has front- and rear-facing cameras. Both cameras have an accompanying flash and can record video in 1080p HD (high definition) quality. The rear-facing 13-megapixel camera is capable of 4x digital zoom and HDR (high dynamic range) shooting. In the front is an 8-megapixel camera with image stabilization and a wide-angle lens — perfect for selfies.
Widgets. BlackBerry widgets give users quick and private access to information without activating apps. For example, through the bookmarks widget, users can access their saved websites without having to open a browser.
DTEK security. BlackBerry's DTEK security software constantly monitors the phone's operating system to see which applications are accessing their data and how often. The device then gives users a security rating so they know if and when their information is at risk. If the phone recognizes a threat, it notifies the user and immediately suggests options to resolve it.
BlackBerry Hub. This feature consolidates messages — email, social, calendar, phone calls — in one place for quick and easy access. Swiping horizontally to the left lets users take a quick peek at the sender of a message or to open the hub to read the whole message.
BlackBerry productivity apps. Working alongside Android for Work software, BlackBerry's apps let users access secure file-sharing, cloud services and messaging.
The DTEK50 might offer some peace of mind for the security-conscious. The smartphone comes unlocked, which means it isn't tied to a specific mobile carrier or contract. However, it's compatible only with wireless carriers that have GSM networks, such as AT&T and T-Mobile.
Some of the functional aspects could be improved: Users said the phone was slower than expected and experienced delays when loading apps or web pages. Every now and then, the phone would stutter, even when performing basic tasks.
» MORE: Kindle Fire HD8 vs. iPad mini 4
Motorola Moto X Pure Edition
Design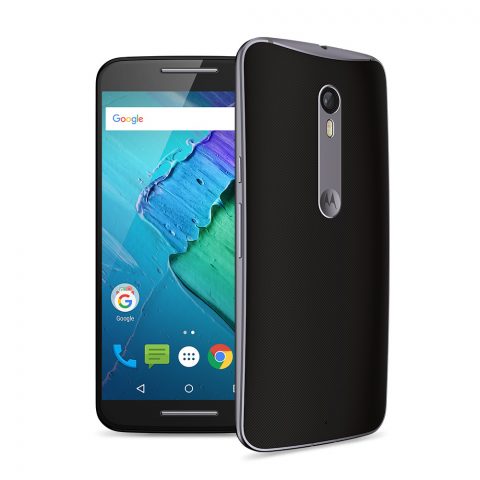 The Motorola Moto X Pure Edition is a big phone, sporting a 5.7-inch high-resolution screen with front-facing speakers. Power and volume buttons sit along the edge of the phone.
Similar to the DTEK50, the Moto X is an unlocked device, but it's compatible with all major wireless service providers, whether they use a GSM or CDMA network.
What makes the Moto X unique is its customizable exterior. Users can buy back plates in different colors to personalize their device.
Features
Camera. The Moto X's rear 21-megapixel camera has a dual flash and a 4x digital zoom. It can shoot HDR photos and 1080p HD videos. The front houses a 5-megapixel camera that has a wide-angle lens and flash and can record slow-motion video.
Moto App. The Moto App has three features to enhance user interaction. Moto Voice enables hands-free control of the smartphone; Moto Display lets users discreetly check text messages, social media updates or emails; and Moto Actions allows users to perform certain gestures and motions — a twist of the wrist or a chopping motion — to activate assigned features or unlock the phone.
Pure Android. Most Android phones come preloaded with applications that users may not need, but the Moto X has only the essential stock apps, which declutters the phone's interface and makes it faster.
TurboPower charging. Motorola incorporates a TurboPower charging feature to keep the phone going even when the battery is running low. The Moto X's battery can charge to its full 10-hour capacity in just 15 minutes.
Being able to personalize the phone with interchangeable colors and designs might draw in the average phone user, but mobile fanatics will appreciate the Pure Android feature. Couple that with speedy internal components, and you have a phone that is fast and powerful.
Some reviewers complained that the battery runs out quickly after mixed use, but the phone's TurboPower charging feature aims to mitigate that. Also, at 5.7 inches, the Moto X might be a little too large for people with smaller hands.
The verdict
Both devices have similar price points, so your choice depends on the features you want.
If you're looking for a personal phone, the Motorola Moto X Pure Edition might be the better option. The latest Android software, TurboPower charging and customization features make the Moto X comparable with the some high-end phones on the market but with midrange pricing.
If you're looking for a device for your business, the BlackBerry DTEK50 could be a good option. It doesn't have too many bells and whistles, but that's offset by its security features. You can work from your phone with the BlackBerry features and Android for Work software with the comfort that your files, data and documents are locked in and secure.
Nina Tabios is a staff writer at NerdWallet, a personal finance website. Email: [email protected].
More from NerdWallet
What to Buy (and Skip) in October
The Best Birthday Discounts and Freebies
You Got a Gift Card You Don't Want. Now What?