Going about your day with a child in tow can be stressful. But the right stroller can be a lifesaver.
The one you pick should keep your child safe and comfortable, while remaining easy to maneuver and store. And there are other factors to consider: Does it fold easily? Do you need it to hold a car seat? What kind of terrain will you be navigating? Do you need a lot of storage space?
If you're looking for a stroller that won't jostle your kids — and won't break your back when you try to put it in the trunk — the BOB Motion Travel System might be the right choice. Let's take a look at the features to see whether it meets your needs.
Design
This BOB Travel System is built for daily activity and can be used across all terrains. It comes with a matching BOB B-Safe infant car seat that snaps into the stroller. The stroller's suspension system — paired with air tires and high-impact polymer composite wheels, including two swiveling front wheels — offers your baby a stable and comfortable ride.
» MORE: The best strollers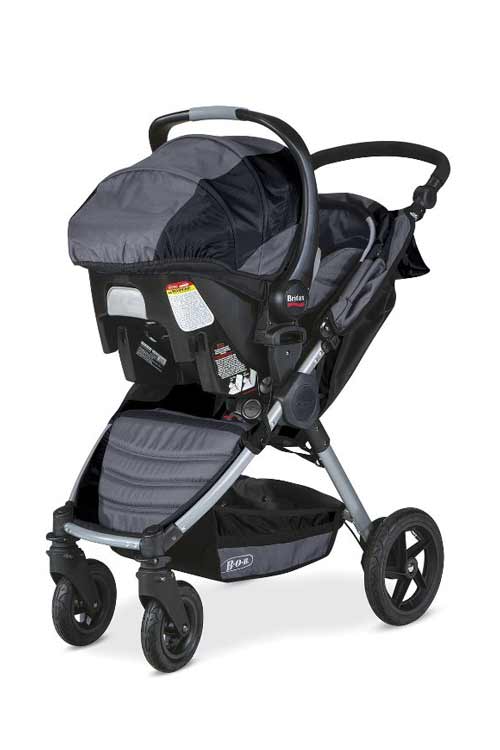 This BOB stroller also has an adjustable, five-point harness and multiposition canopy to keep your child secure and covered. The aluminum frame and padded, adjustable handlebar are designed to make the stroller easy to push.
Use the toggle switch to lock the front wheels when navigating bumpy terrain, or hit the foot-activated brake when you need to park the stroller. The one-hand, quick-fold capability lets you easily pack it away.
The BOB Motion Travel System comes in three color combinations and is listed at $519.99, but it might be available for less at retailers like Amazon.
Reviews
To find out how the BOB Motion Travel System performed, we evaluated expert opinions from review sites like The Sweethome and Good Housekeeping. We then analyzed user reviews and broke down the feedback, using a score of 1 (worst) to 10 (best).
The BOB Motion Travel System scored a reputable 8.4 overall, ranking second on our list of the best travel system strollers. It scored high (9.1) for functionality. Users loved the stroller's lightweight, easy-to-fold frame but disliked the small storage area and lack of accessories.
The pros
Safety is essential, and people praised the shock absorption and five-point adjustable harness for creating a secure, comfortable ride for their kids. The canopy also has a window opening on top, allowing you to keep an eye on your baby easily.
» MORE: The best car seat strollers
The BOB Motion Travel System scored high for functionality. Users were pleased with the stroller's performance, whether on the sidewalk or grass; the stroller is light, maneuverable and durable. The adjustable handlebar was a favorite feature among people of varying heights. And the stroller itself is easy to fold and not too bulky, making it convenient to stow in the car or closet. Users noted that moving the car seat from the stroller frame to a vehicle was effortless.
The cons
Users said that the storage basket was small and hard to reach, making it a poor choice for shopping trips or holding a diaper bag. Others were disappointed that accessories such as cup holders and trays are sold separately. Some also reported having difficulty contacting customer service.
The verdict
If you'll be packing light and want your little one to have a safe, smooth ride, the BOB Motion Travel System is a reliable option. It performs well on different terrain and is easy to lift and fold for those who are on the go.
But if you need your stroller to act as another set of hands, other lightweight options, like the UPPAbaby G-Lite or the Summer Infant 3D Lite, have more storage space.
More from NerdWallet
4 things you should know before buying a stroller
BOB Revolution Flex stroller review
Lauren Schwahn is a staff writer at NerdWallet, a personal finance website. Email: [email protected]. Twitter: @lauren_schwahn.