A stroller is one of the most important purchases you'll make for your child.
The perfect stroller keeps your child comfortable and safe, while being maneuverable and easy for you to push. You'll also need to consider how you'll use it: Will you be taking it along on jogs or just on the occasional trek around the shopping mall? Will you be carrying it up a flight of stairs? Do you need it to hold a car seat?
If you're looking for a stroller that will give your baby a smooth ride, whether you're running or walking, on- or off-road, the BOB Revolution Flex could be the right pick for you.
But there's more to this stroller than just good looks and a smooth suspension system. Read on to find out if the BOB Revolution Flex suits your needs.
Design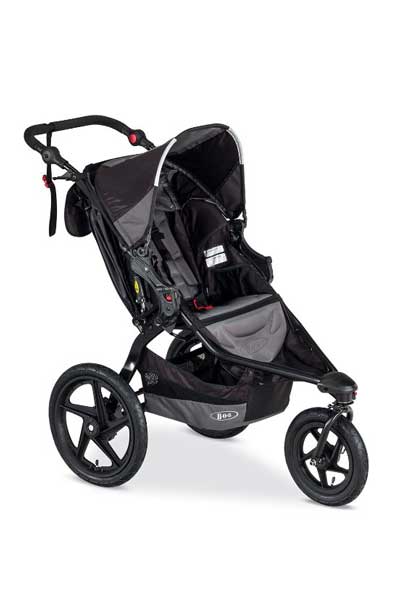 Built for all-terrain strolling and jogging, the Flex has two large rear wheels and a swiveling front wheel, all made from high-impact polymer composite with pneumatic tires and tubes, which — along with the state-of-the-art suspension system — combine to give your baby a very smooth ride.
Padded handlebars that adjust to nine positions make it easy to push regardless of how tall (or short) you might be. The adjustable canopy protects your child from the elements, and you can purchase an adapter if you want to use it with your BOB car seat.
A five-point padded harness keeps the baby strapped in, and a safety strap keeps you securely connected to your BOB, even during a downhill sprint. You can easily adjust the tracking of the front wheel in case you find the stroller veering off course. And when you're ready to park the stroller for a while, just hit the hand brake.
It's available in five color combinations.
Though it lists for $479.99, the BOB Revolution Flex is available for less at a variety of retailers, including Amazon.
The reviews
We evaluated expert opinions from well-known review sites such as The Sweethome and Good Housekeeping. Next, we analyzed user reviews to see what shoppers had to say about the BOB Revolution Flex and broke the critiques down, using a score of 1 (worst) to 10 (best).
The BOB Revolution Flex earned a spot on our roundup of the best strollers and on our list of the best jogging strollers.
Based on our analysis, the BOB Revolution Flex scored a respectable 8.8 overall. Users loved the stroller's durability and safety but were less enthused by its inconvenient and small storage compartment.
The stroller's highest score (9.6) was for safety; its lowest score was for customer service (0.0).
The pros
Users praised the sturdy, easy-to-maneuver Flex's adjustable suspension system and smooth maneuverability, whether they were walking or jogging, across pitted trails or polished mall floors.
They also lauded the large canopy that kept kids safe from driving rain and harmful UV rays; its clear vinyl "peekaboo" window let parents check on their child.
The BOB Revolution Flex scored high on safety, with parents feeling reassured by the five-point safety harness, wrist strap and easy-to-use brake. Users also loved the adjustable handlebars, which made it easy for people of disparate heights to use the stroller effectively with a simple move.
A stroller that opens and collapses easily is important to parents, and the Flex scored high in this department. Users said that once they had the logistics down, it was extremely easy to open and close.
The cons
Although the BOB Revolution Flex opens and folds easily, it's also a bit heavy, weighing in at a little over 26 pounds. Because of its plus-size wheels, it also was a tad bulky for some users; even when folded, it was difficult to squeeze into compact car trunks.
Users also complained that the storage basket was small and difficult to reach — though not as impossible as reaching a customer service agent, which also proved frustrating.
The verdict
If you're looking for a jogging stroller that will give your child a safe, comfortable, smooth ride, regardless of how fast or slow you're traveling, over a variety of terrains, the BOB Revolution Flex is an excellent option. And its adjustable handlebars ensure that it's a comfortable ride for you as well.
But if you need a lot of room to carry things besides your child, take a look at the Joovy Zoom 360; users loved its roomy storage basket. Because they need to stand up to rough terrain, jogging strollers tend to be heavy. So if you know you need a lighter stroller, you might want to consider an umbrella stroller instead. You won't be able to run trails with it, but you will be able to carry it up the stairs without breaking a sweat.
More from NerdWallet
4 things you should know before buying a stroller
The best travel system strollers