The BOB Revolution SE Duallie stroller is a great choice for growing families or families with two small children, especially if parents plan on taking their tots on jogs. It's the double stroller equivalent of the BOB Revolution SE, a jogging stroller from the same company.
The Duallie is comfortable, safe and easy to maneuver in most terrains. But other factors you'll want to consider are whether its weight and size are right for your family's needs.
The stroller
The Duallie is built exactly like its one-seater counterpart. It has two larger rear tires and a swiveling front wheel, which make it easy to maneuver.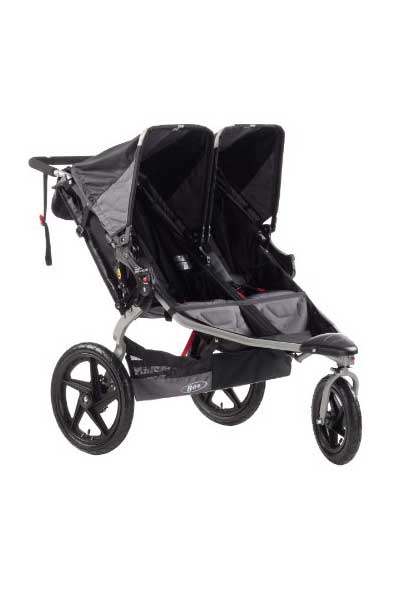 Many components of this stroller are adjustable to fit your needs. The handlebar is adjustable, so people of any height can push with ease. The large vinyl canopy is also adjustable, and it has a clear window so your child can still see while being protected from the elements. It also comes with an accessory adapter to attach a BOB Infant Car Seat or snack tray.
The stroller's reclining seats have heavy padding and a five-point harness to keep kids comfortable and secure. The seats also have four interior pockets, with two additional seat-back pockets for extra storage. The stroller's hanging basket is huge and can hold a large diaper bag to make it easily accessible.
The Duallie retails for $669.99 but can sometimes be found for less on Amazon.
» MORE: The best jogging strollers
The reviews
In order to compare the BOB Revolution SE Duallie against other double strollers, we evaluated expert opinions from sites such as The Sweethome and Good Housekeeping. After that, we consulted user reviews to find shoppers' overall consensus on the stroller.
The BOB Revolution SE Duallie made it onto our list of best double strollers as well as our list of best side-by-side strollers. Users said they love the smooth ride and easy handling but also said the Duallie is heavy and hard to fold and store.
The pros
The BOB Revolution SE Duallie received the highest praise for its suspension system. It offers an even ride while walking or jogging, regardless of surface. Couple that with a front-locking wheel to handle bumps or cracks, and this stroller can work well for parents who like to jog.
Users also praised its maneuverability, even when the children sitting in it were different sizes. Side-by-side strollers aren't typically known to handle turns easily because of their size, but the Duallie was praised for its agility, with some users calling out that they could turn it with one hand.
The Duallie also scored near the top on safety. The stroller has an easy-to-push foot brake and five-point harnesses to keep kids safe. The wrist strap adds extra reassurance for parents that the stroller won't get away from them when they're out for a jog.
The cons
The downsides for most jogging strollers, and especially double strollers, are their weight and size. At 34 pounds, the Duallie is no exception. Many users complained about the stroller's bulk and difficulty folding. Some people also commented that the Duallie was not ideal for tall children; the stroller's canopy may prevent taller kids from sitting comfortably.
Users were also frustrated at the stroller's lack of accessories. Extras, such as a cup holder, snack tray and a car seat, have to be purchased separately.
The verdict
The BOB Revolution SE Duallie scores highly for its safety, durability and especially its maneuverability. It's ideal for people looking for a stroller that can keep up with their active lives while wheeling around their kids in comfort.
If you're looking for a narrower stroller, check out our list of tandem strollers. If you have taller kids, the Baby Jogger City Mini Double or the Joovy ScooterX2 Double might be better options.
More from NerdWallet
Nina Tabios is a staff writer at NerdWallet, a personal finance website. Email: [email protected].
---
Image via BOB.