Strollers all serve the same basic purpose: to hold your child while you're on the move. But umbrella strollers in particular should also fold easily so they're simple to transport and stow.
The Chicco Liteway is durable yet fairly lightweight, a solid choice for on-the-go parents. It's also our highest-rated umbrella stroller.
Before you decide to make your purchase, check out our analysis of this stroller to help you determine if it's right for you.
Design
The Chicco Liteway is an umbrella stroller with a lightweight design, although at 17.2 pounds it's on the heavier end for an umbrella model. It has a backrest that can adjust five ways and fully recline to help your child nap comfortably. It also features a leg rest with two positions.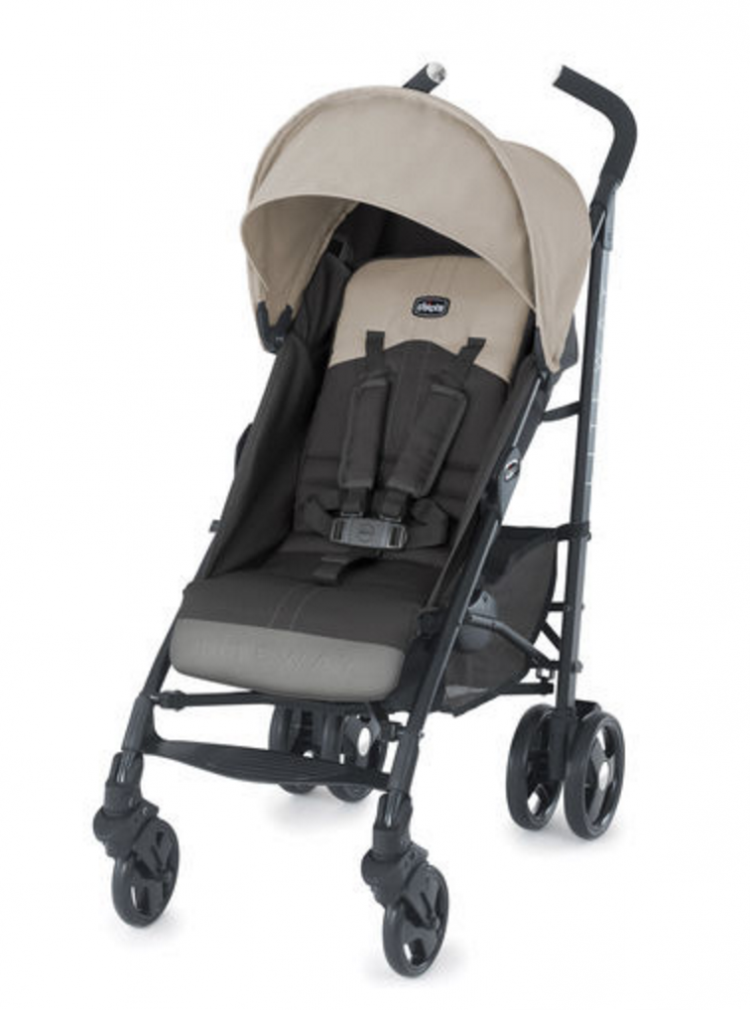 The Liteway's five-point harness is designed to keep your child safe and snug while the stroller's in motion. The rear wheels are equipped with suspension and foot-activated brakes. The front wheels swivel for easier maneuverability but can lock in place if necessary, such as when you're steering on bumpy sidewalks.
This stroller includes a few accessories parents might appreciate: a cup holder, storage basket and moveable canopy with a peekaboo window. It has cushioned handles to make pushing more comfortable.
This stroller is designed to fold easily. Once it's folded, the frame automatically locks into place, so it won't unravel while you're carrying it.
The Chicco Liteway is priced at $139.99 on the manufacturer's website, but you can often find it at other retailers — like Amazon — at a discount. The Liteway is built to hold children from birth to 40 pounds, but it isn't compatible with a car seat.
Reviews
To find out how the Chicco Liteway compares to other popular strollers on the market, we analyzed expert opinions from review sites like The Sweethome and Good Housekeeping. We then analyzed user reviews and broke down the feedback, using a scoring system from a low of 1 to a high of 10 to rate the stroller's attributes.
The Chicco Liteway emerged with a high score of 9.3 overall. It earned an almost perfect 9.8 for ease of use and scored 8.5 for functionality. The Liteway came in second place on our best strollers list and is our top choice among the best umbrella strollers.
» MORE: The best travel system strollers
The pros
The Liteway has quite a few strengths. Reviewers were generally impressed with the stroller's weight, and some said it was sturdy yet easy to maneuver, offering youngsters a smooth ride.
Other users noted that the Liteway was easy to open and fold up and that it did not take up much storage space. Some also found that the basket had ample space for toys, bags and more.
The cons
This stroller didn't completely satisfy all reviewers. Its lack of a tray for toddlers' snacks and other items bothered some users. Some also said the storage basket was hard to access while the backrest was in a reclined position.
Others would have preferred a larger canopy to better shield children from the sun.
And though the Liteway is recommended for children up to 40 pounds, some parents said their children outgrew the straps well before they reached that weight.
Is the Chicco Liteway right for you?
With its lightweight and easy-to-fold design, the Chicco Liteway is a good option for traveling parents. It's not too hefty to lift onto a bus or carry up stairs, and it can easily be stowed away in a trunk or closet.
But if you want a stroller your child can grow into, you might want to consider an alternative. It's also worth noting that the Liteway can't fit a car seat, so it might not be the best option if you need to easily move your child from the stroller to your vehicle.
More from NerdWallet
The best car seat strollers
4 things you should know before buying a stroller
Chicco Keyfit Caddy stroller review
Lauren Schwahn is a staff writer at NerdWallet, a personal finance website. Email: [email protected]. Twitter: @lauren_schwahn.