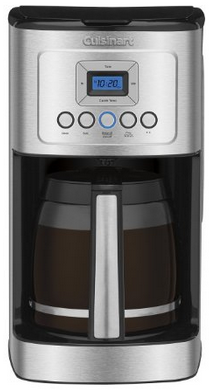 A programmable coffee maker can make getting out of bed easier. You can have a hot cup of coffee waiting for you as soon as your alarm goes off. But such a luxury doesn't have to break the bank: Amazon is offering the Cuisinart DCC-3200 programmable coffee maker for $85.
That's $100 off the normal price and it includes free shipping. Other features of this 14-cup coffee maker include:
An adjustable "keep warm" option
Auto shut-off
A self-cleaning setting
The choice between regular or bold coffee brew strength
A permanent metal filter
Room for up to three charcoal water filters in the water tank
Amazon hasn't listed when this sale ends, so buy now to take advantage of this massive discount. You can find the Cuisinart DCC-3200 here.