We don't have to tell you that the Dyson Supersonic is unlike any other blow dryer. You've probably already heard.
The futuristic-looking dryer with a sky-high price tag made waves well before it's fall release. Vogue said the device is changing the beauty game, and The New York Times said Dyson, already well-known for its vacuum cleaners and fans, is looking to create a hair dryer revolution.
So what do you need to know about this hyped grooming device? And is it worth the $400? (Yeah, we said $400.) We set out to find out on behalf of you and your shiny locks.
What is it?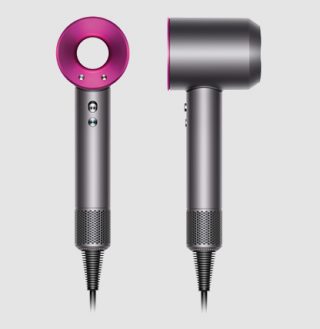 Touted by Dyson as "the hair dryer rethought," the handheld Dyson Supersonic replaces the bulkiness of a traditional dryer with a streamlined, state-of-the-art design. The device's motor is in its handle, offsetting the top-heaviness of most standard blow dryers.
The Supersonic packs 1,600 watts of power and produces airflow of 85 cubic feet per minute. It weighs 1.8 pounds, has a 9-foot cable, and measures 9.6 inches high by 3.1 inches wide by 3.8 inches deep.
Aside from the dryer's unique appearance, here's what else stands out:
Speed settings. Use a convenient push button to select from three speed settings, depending on your need. Options include ultra-fast drying, regular drying and gentle drying. The ultra-fast setting uses high-velocity air flow to minimize your hair's exposure to damaging heat.
Heat settings. Adjust the dryer's heat to fit your hair type and desired drying time with a heat push button. Most dryers include heat settings, but this one specifies the precise temperature. There are four settings: 212 degrees (fast drying and styling), 176 degrees (regular drying), 140 degrees (gentle drying) and constant cold.
Heat protection. Worry no more about fried hair. The Supersonic measures air temperature 20 times per second to prevent extreme heat damage.
Magnetic attachments. Easily switch from traditional drying to diffusing, thanks to magnetic attachments that fit onto the end of the dryer. Attachments have a heat shield, so you can switch them in and out, even while the dryer is in use, without getting burned.
» MORE: The best Dyson vacuums
How much does it cost?
The Dyson Supersonic starts at $399.99. The standard Supersonic comes in fuchsia/iron and white/silver color combinations. Both options include the hair dryer and a handful of accessories, including a smoothing nozzle, styling concentrator, diffuser, nonslip mat and storage hanger.
Paying $50 more for the Supersonic limited edition in fuchsia/iron will get you everything listed above as well as a limited-edition leather box designed by Dyson founder James Dyson. This version is a Dyson.com exclusive, but the others can be purchased elsewhere, like from Sephora.
Every machine comes with free shipping.
Will it blow over?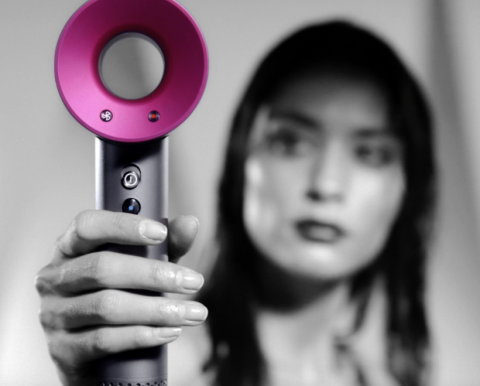 So will the Dyson Supersonic buzz blow over? Or is this a hair-drying trend that you'll want in on?
If hair care is one of your top beauty priorities — and you have some extra cash to spare — this dryer may soon be your most coveted accessory.
Granted, most typical dryers have similar speed settings and temperature control features, but Dyson's innovation takes it up a notch. Its precise temperature regulation and fast drying time are perhaps best suited to those who are concerned about preventing heat damage.
But if that's not you, you can sit this trend out. If you don't care about having the lushest locks in the land, we'd recommend sticking with something more traditional and affordable. For many hair types, standard dryers will do the trick for a fraction of the price. But of course, they're not as cool.
Courtney Jespersen is a staff writer at NerdWallet, a personal finance website. Email: [email protected]rdwallet.com. Twitter: @courtneynerd.
Updated Sept. 6, 2016.