Stick vacuums are easy to spot. They're slim, typically cordless cleaners that are best known for their proficiency in cleaning small spaces, not to mention their small footprint. But how do you know what makes one of these models superior to another?
We've broken down the factors you might care about in a new stick vacuum. Check out how the Dyson V6 Motorhead and Hoover Linx — two popular stick vacuums with many positive reviews — compare.
The vacuums: At a glance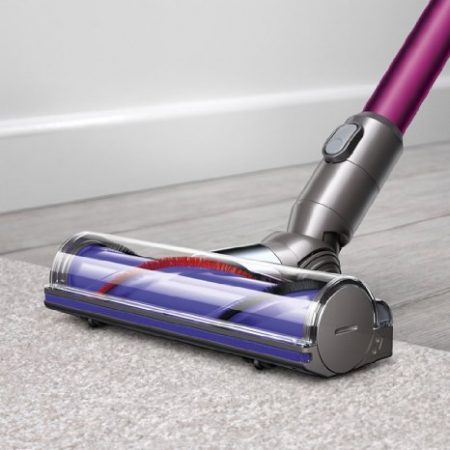 Before we get into the nitty-gritty of each of these stick vacuums:
What we found: The Dyson V6 Motorhead is more expensive than the Hoover Linx, but it's also lighter and has more accessories.
What you'll learn: The purple-and-pink Dyson V6 Motorhead is ideal for sustained all-over cleaning; its convertible design allows you to take it from your house to your garage. The Linx, on the other hand, is a stick best suited to spot cleaning and quick cleanups in compact areas.
The vacuums: Up close and personal
Let's take a closer look at the qualities that are most important to home users.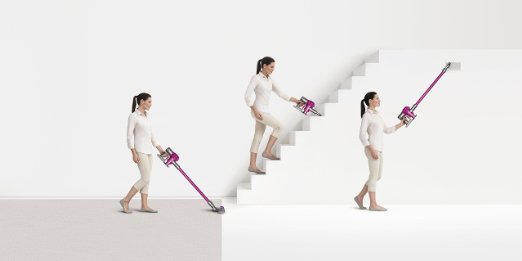 Surfaces
Both of these cleaners can be used just about anywhere.
The Hoover Linx has a powered brushroll that eases the transition from hard floors to area rugs and low-pile carpeting. It also has a low-profile base for easy maneuvering under low furniture. Similarly, the Dyson V6 Motorhead features a direct-drive cleaner head, which is what Dyson calls its carpet-cleaning bristles.
But unlike the Linx, the V6 Motorhead can be converted from a standard stick into a handheld cleaner. With the main body of the vacuum out of the way, you can reach small spaces for jobs like tidying up the car and cleaning out the couch cushions.
What other stick vacuum cleaners are on the market? Consult our roundup of the Best Stick Vacuums, based on 7,882 analyzed reviews.
Usage
Both models are similarly easy to use. They're both cordless, so there's no need to find a power outlet to plug in the device in every room. Each stick is light enough to carry up and down stairs, but the Dyson has a slight edge (5 pounds compared to 7.3 pounds).
The Linx has a wide cleaner mouth, so you can cover large areas of flooring quickly. And its brushroll on/off switch is located right at your fingertips.
When it comes to cleaning the device itself, both the V6 Motorhead and the Linx are a cinch — with a push of a button you can release the dirt and empty the vacuum after use.
Battery life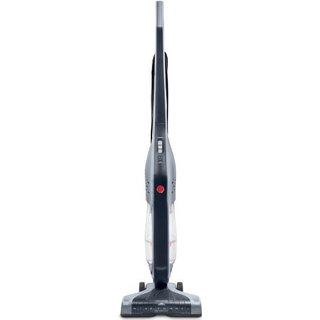 These stick vacuums are convenient because they don't have a power cord, but what good is a cordless vacuum if you constantly have to recharge it? Battery life should be a top consideration in your purchase decision.
The V6 Motorhead has a run time of 20 minutes and a charge time of 3.5 hours. The Linx doesn't have an official runtime listed on its product page, but we've seen users report a battery life of 15 to 20 minutes. The battery has a charge time of approximately 3 hours.
Dyson owners also have the option to initiate something called max power mode, a setting that cues six minutes of higher power and stronger suction.
Accessories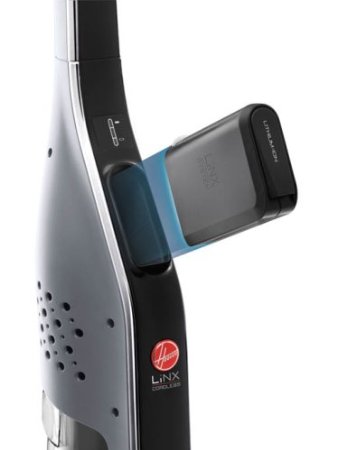 The Dyson V6 Motorhead comes with several accessories and attachments, including a docking station for charging, a combination accessory tool for detailed cleaning jobs and a crevice tool for reaching corners.
The Hoover Linx doesn't come with any cleaning tools, but it does have some extras. These include a battery fuel gauge, so you'll know how long you have before your cleaner needs a charge, and an extreme recline handle for extending the vacuum beneath furniture.
Price
The V6 Motorhead has a regular price of $399.99 from Dyson; the Linx will set you back $179.99 from Hoover.
Of course, you can usually find a deal on both of these models if you shop at online marketplace Amazon. It's not uncommon to see discounts of $50.
Wipe away the confusion
If you're looking for a multipurpose stick vacuum with a lightweight design, 20-minute battery life and plenty of extras, opt for the Dyson V6 Motorhead. We recommend purchasing this vacuum only if you intend to use it frequently for regular cleaning.
But if you're in search of a more affordable cordless vacuum that's simple to use and can spot-clean all floor types, go for the Hoover Linx.
Compare other popular vacuums here:
For more vacuum buying advice, check out:
Courtney Jespersen is a staff writer at NerdWallet, a personal finance website. Email: [email protected]. Twitter: @courtneynerd.
---
Top image via iStock.